Our Story
How We Met
There are many ways couples are introduced to one another. Some meet online, while others are introduced through mutual friends, some come across one another at work, and a handful are considered "high school sweethearts." We fit into none of these categories. For us, our special introduction occurred when we became college students at Oklahoma State University! GO POKES!
It all began in the Summer of 2010, when we attended a summer engineering program. Of course, as determined incoming freshman, you typically aren't looking for a relationship, so our relationship began as a friendship. As time passed, the friendship grew stronger resulting in us becoming best friends then progressing into a relationship. Although experiences as simple as summer school are often taken for granted, we are appreciative and blessed to have met our better half so early in life, and we are equally as appreciative that you are celebrating this union with us!

The Proposal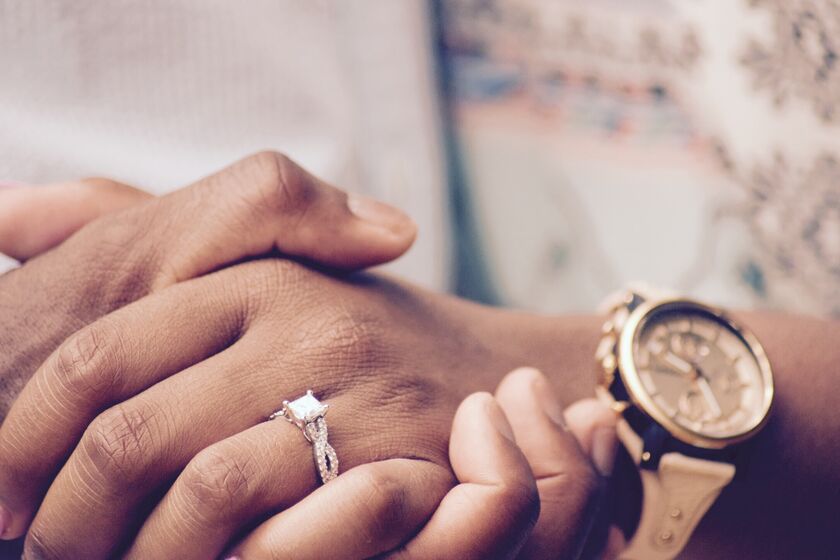 Many people know just how difficult it is to find the right gifts for women. But this past year, finding the perfect birthday gift for DeYawna came easy; I decided to ask my then girlfriend to spend the rest of our lives together. On June 17, 2016, I asked DeYawna if she would marry me, and of course she said YES!
Now, the planning process for this gift was a bit more difficult than deciding to pop the question because I couldn't think of exactly how I wanted to ask her. But, when DeYawna told me she wanted to take couples pictures for her birthday, I thought that would be a perfect moment to ask her THE BIGGEST question she would ever answer.
During the actual photo shoot, something happened that I will never forget. DeYawna and I were posing for one of MANY pictures in this spot that I designated as THE SPOT to ask her for her hand in marriage. A random lady walked passed DeYawna and I, while the photographer was snapping pictures, and said, "well don't you look like a beautiful bride." Keep in mind, the only people that knew what was getting ready to happen was myself and the photographer. Perfect timing, right?
Once the lady made her statement I decided to get down on one knee and the rest…well here we are now!
The Wedding
Saturday, September 30, 2017
3:30 PM
Attire: Semi - Formal
Ceremony
Friendship Baptist Church
1709 N Madison Ave, Tulsa, OK 74106
Reception
Hard Rock Hotel And Casino Tulsa
777 W Cherokee St, Catoosa, OK 74015
The reception will be located in the Sky Room on the 18th Floor.
Be sure to park and enter at the West Entrance of the Hotel.
Also, please only RVSP for the number of guest that was allocated to you on your invitation.
** Adult Only Reception **
Wedding Party
Joshua Abraham - Groomsman
Terrance McIntyre - Groomsman
Thomas Warrren - Groomsman
Timothy Abraham - Groomsman
Timothy Higgins - Groomsman
Tyler Phillips - Ring Bearer
Lindsey Corbitt - Maid of Honor
Rachel Morgan - Maid of Honor
Camille Adamson - Bridesmaid
Eliska Gauthier - Bridesmaid
Jelesa Johnson - Bridesmaid
Lorna Barkins - Bridesmaid
Destynn Whitaker - Flower Girl
Harper Johnson - Flower Girl