Our Story
First Fridays, Best Fridays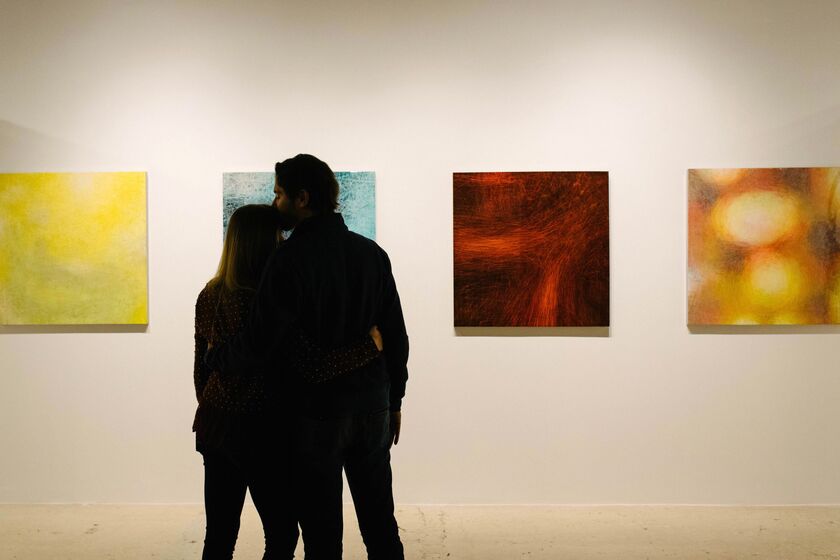 The happy couple met on March 31, 2017, at the wedding of Bryce & Abbey Schafer. Abbey is Jason's stepsister as well as Bethany's childhood best friend. Jason was struck by Bethany's prowess and joy on the dance floor and felt compelled to ask her to dance. They went back to a table and became engrossed in conversation for the rest of the evening. They went separate ways at the end of the reception and didn't even exchange numbers.

After a couple long days, Bethany added Jason on Facebook, they texted and talked all week, and he quickly invited her on a date: "I need to get some art for my apartment's empty walls. First Fridays is coming up on April 7. Would you like to join me?"

They had already discovered a shared love for Chipotle, so that is where they began their evening. After dinner, they hopped on the streetcar to head to Crossroads. While waiting for the streetcar, a man passing by hollered at Jason, "Better put a ring on that!" -- they both just looked at each other and laughed. They wandered around and managed to find a piece of art that they both loved.

Ever since that night of many galleries and wonderful conversation, they have been inseparable. In the 19 months leading up to their engagement, they have relished time with family and friends and grown in their faith. They've also had the great joy of traveling together on many trips: Chicago, Vancouver, Portland, Hermann, Nashville, Washington D.C., Austin, Arkansas, Oklahoma, Colorado, Sonoma & Napa Valley, Lake of the Ozarks, Louisville, Las Vegas, and San Diego.

On November 2, 2018, they got engaged! They had dinner in their apartment overlooking downtown Kansas City with a beautiful sunset. Then, they headed to Crossroads for their last First Friday of 2018. Jason told Bethany that there was a new gallery opening with a special reception.

They arrived at Weinberger Fine Art and Jason steered them to an area in the back of the gallery to "get a glass of wine." When Bethany walked into the room, she saw Jason's friends playing music: Jim was on piano and Richard on cello. She spotted the art from their first date, which Jason had secretly gotten framed.
As "All of Me" by John Legend played in the background, Jason got down on one knee and asked her to spend forever with him! Of course, she said "Yes!" And when she turned around, both of their families were standing there ready to embrace them.
The Wedding
Saturday, June 22, 2019
Ceremony and Reception
UNION
1721 Baltimore Ave, Kansas City, MO 64108, USA
Wedding Party
Christina Stanberry - Maid of Honor
Christina is Bethany's sister. Only three years apart, they have had the privilege of seeing each other grow up. They are excited to add this adventure to their memories together.
Chandler Grin - Bridesmaid
Chandler is Bethany's cousin, they were born months apart and their relationship has flourished throughout their lives. Chandler currently lives in Washington D.C. with her husband, Andrew.
Abbey Schafer - Bridesmaid
Abbey is Bethany's childhood friend and is Jason's stepsister. Abbey and Bethany met while growing up in their childhood neighborhood. They danced and played together and called each other sisters growing up. Little did they know that they would end up being sisters! Abbey lives in Corning, Iowa, with her husband Bryce -- they are expecting a daughter in March!
Claire McSpadden - Bridesmaid
Claire and Bethany met their freshmen year at Northwest Missouri State when they joined Alpha Sigma Alpha. They bonded on their faith and later on their passion for running. Claire lives in Lee's Summit with her husband Zach and puppy Rumely.
Emma Hulsey - Bridesmaid
Emma and Bethany met their freshman year at Northwest Missouri State when they joined Alpha Sigma Alpha. They lived together for two years during college and shared many memories. She lives in Lincoln, Nebraska.
Jon Sloderbeck - Best Man
Jon is Jason's brother. They are 10 years apart and have grown even closer since Jason returned to Kansas City.
Jesse Shea - Groomsman
Jesse and Jason were on the high school debate team together and quickly became great friends. Jesse lives with his wife Sarah and two children in Kansas City North.
Jim Mills - Groomsman
Jim and Jason became friends during college, when Jason would travel to Warrensburg to visit friends (and watch Richie's symphony performances). Jim lives with his wife, Amanda, and 3 daughters in Gladstone, MO.
Richard Henderson - Groomsman
Richard (aka Richie) was introduced to Jason in high school by Jesse. They now serve together on the board of the Northland Symphony Orchestra. Richie lives with his wife, Shea, and 3 children in Liberty, MO.
Ryan Wager - Groomsman
Ryan and Jason met in their sophomore year during Algebra II. They both shared a passion for technology and have worked together (in Kansas City and Silicon Valley) at 5 different companies. Ryan currently lives across the street from Jason in downtown Kansas City.
Rosabelle Shea - Flower Girl
Rosabelle is Jesse and Sarah Shea's daughter. Jason and Bethany have developed a close relationship with her through their friendship with her parents. She will be three years old at the wedding!
Lincoln & Pierce Stafford - Ring Bearers
Lincoln and Pierce are Jonathan and Lindsay Stafford's sons. Lindsay is Jason's stepsister and Bethany has grown up knowing both Lincoln and Pierce. Lincoln will be six years old and Pierce will be four years old at the wedding!