Our Story
Our Story
Told from Brendan's perspective:
I first saw Jennifer sitting in the Lantern Café at UC Merced while reviewing pending student government legislation with my friend Jake Malone. He and I were Associated Students of UC Merced (ASUCM) senators and our weekly meeting was going to begin in less than an hour. At this point, I was a Senior (planning to be a Super Senior) and had already scoped out all the pretty upperclassmen on campus, but for some reason I couldn't say that I knew who this gorgeous young woman was sitting a few tables away from me. I stared for a bit, then leaned in to Jake asking who she was, he also hadn't seen her before. The mystery woman was piquing my curiosity and I was already beginning to strategize my plan for approach and execution.
An hour passed by, I was then sitting at the big table in the Chancellor's Conference Room, where Alex Ela called the meeting to order. Lo and behold, this woman is not only in the same room, but was sitting in the line of audience chairs lining the wall directly across from me. I was floored. It was hard not to stare and wonder who she was, and why in the h*ll she would want to sit in during our legislative meetings. The meeting concluded, and the mystery remained.
Days passed by, I would occasionally see her on campus. I was waiting for the perfect moment, my grand entrance into her life. The first contact was made at one of the smaller parties hosted by my Fraternity (Sigma Alpha Epsilon). I was playing beer pong, she had just walked in with a group of friends and quickly remarked to one of my brothers how the lights were too bright and she wanted to talk to the person in charge about this pressing issue. I did not live at this house, but for some reason my brother quickly directed her to me (I seriously did not plan this out). We started talking and exchanged numbers, followed by her quick exit from the party. My other brother, Jon Chritton, took it upon himself to start texting her and calling her from my phone for us to meet up that night at another party. Needless to say, his 'suave' moves didn't pan out, but she wasn't totally put off by 'my' forwardness.
Halloween rolled around and Jennifer decided to go on a Napa Valley wine train tour with her friend, Kirsten Brown. After a few drinks on the train, she started texting me and we both agreed we needed to 'hang out' when she got back. I took that very seriously, and I called her a few hours after she got back, informing her I would pick her up in 15 minutes for our date. She was taken aback for only a second, and quickly replied with, "How about 30 minutes?" That night seemed to last forever, and is still one of the fondest memories I have. We have been almost inseparable ever since. I loved her the moment I saw her.
The Engagement
Told from Jennifer's perspective:
Brendan and I got engaged October 10th, 2015 at Malibu Wines. Brendan and I drove to Los Angeles on Friday night to care for my mom who had just been discharged from the hospital and put into hospice care. Before learning of my moms declining health, we had made plans to meet with with Adam Klein and Patricia Manuel (our college friends) for dinner. Our first night in LA was a very rough night, my sister and I stayed up most of the night helping my mom with her oxygen and administering her medications nearly every 30 minutes. The next morning we were physically and emotionally exhausted. I told Brendan to cancel our dinner plans because I felt extremely guilty leaving my mom, not to mention that I was extremely tired. My mom overheard me trying to cancel our dinner plans. She convinced me that I should go out and asked that I wear a dress. Her request was not an unusual one. Anyone that knew my mom, knows she never left the house until her hair and make up were prefect. She dressed up for every occasion and expected the same from all of us (my two sisters and I). I agreed. Saturday night came around, still skeptical, I told Brendan I was not going to dinner and that he should cancel our dinner plans. Brendan insisted, and convinced me to go by telling me that they would have to pay if we cancelled. I grew up catholic, so it is easy to guilt trip me. I got ready and we went on our way.
As soon as we got to the winery I was glad we had not cancelled. The night was warm, there was a live band, and a very lively ambiance. The second we were inside the winery Brendan and Adam left Patricia and I by the bar and went to go check on our reservations. I remember seeing Brendan and Adam pacing back and forth for about 20 minutes. I was wondering if they had a clue as to what they were doing. I remember thinking to myself, "how weird are they?" Finally, after about 30 minutes Brendan and Adam came to were we were standing and stood around awkwardly. I asked about our reservations. Brendan said they weren't ready and we would have to wait. Seconds later, the band started playing the song "Wagon Wheel," the first song Brendan and I slow danced to at a house party in Merced (and danced at nearly every house party after that). As soon as the song started playing, without hesitation, he grabbed my hand and rushed me through the crowd of people to a stairway that led to the upper patio of the winery. The area was closed for a private event, but to our luck no one showed, so we had the whole place to ourselves. We rushed up the stairs to "look at the sunset" with the song still playing in the background. Brendan held my hand a bit tighter and began telling me how much he loved me (I was still completely clueless), he told me that he had promised my mom he would always take care of me and love me. I began to suspect something was up, I looked back to check how far back Adam and Patricia were and saw Adam pointing his camera straight at us. My heart sunk. I knew what was about to happen and all I could think was, "OMG, OMG" and "don't make an ugly cry face". Brendan took the stuff I was holding (a jacket and my glass of wine) and set it down on the table. My whole body was shaking. He continued talking, but I couldn't hear anything, other than the same sound you hear in an empty warehouse (you know, similar to when you dive in a pool). He got down on one knee and said, "Jennifer America Borobia, will you marry me?" At this point, the ugly cry face didn't matter anymore. I just let it out."Yes!" (there was never any other answer).
Brendan truly had reserved a table and a special wine tasting for us. My sisters showed up to surprise me. We had cheese and wine until the winery closed. Turns out Brendan had asked my mom and dad for my hand in marriage a few months before and my mom knew the whole time what he was up to. When I got home, I showed her all the photos. This was the last time I got to see my mom smile. I know she is happy to know that I have a good man by my side.
The Wedding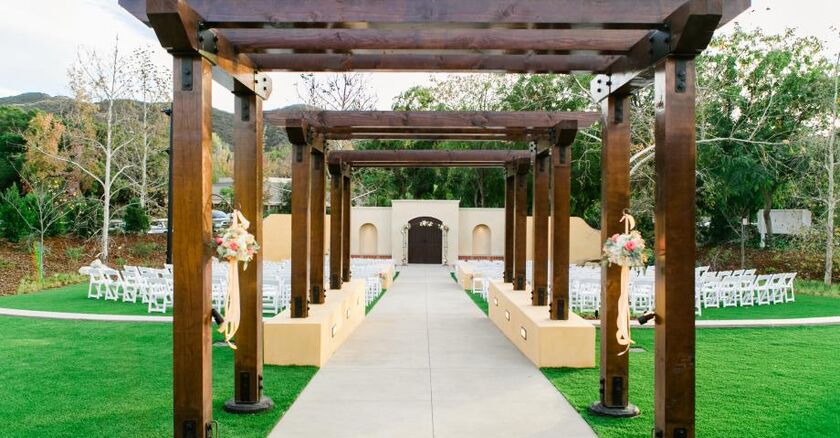 Saturday, August 19, 2017
4:30 PM
Attire: Formal
Ceremony and Reception
The Gardens at Los Robles Greens
299 South Moorpark Road, Thousand Oaks, CA, United States
If you are having trouble with the online RSVP feature or have any questions regarding any details please email me at:
The venue offers plenty of free parking on-site. Uber and Lyft services can be accessed from the venue and should be able to find the venue with ease. I have posted taxi and shuttle service information under the transportation portion of the site.
We really love our venue, here is their website for more photos: http://www.thegardensatlosrobles.com/
Wedding Party
Deborah Borobia - Maid of Honor
Deborah or Debbie, as she prefers to be called, has been my partner in crime since the moment she came into this world. I cannot imagine having anyone else helping me plan this day other than my little sister. We have practiced this moment from the time we were 3, ending every Barbie game with a glamorous wedding.
Mari Chritton - Bridesmaid
Mari is one of my best friends and sorority sister. She is one of the most beautiful people, inside and out. Although we both went to UC Merced our friendship began after college at a house party in Merced. We are trouble together, but I would be in trouble without her in my life. She is a good influence and an incredible friend. I got to be a part of her wedding and I am super excited to have her by my side during mine. ITB
Danielle Smith - Bridesmaid
Danielle is Brendan's baby sister and soon to (officially) be mine as well. I am very lucky to have her in my life. She is super easy to get along with and teaches me to just go with the flow. I can't wait until I can officially call you my sister.
Christie Medina - Bridesmaid
Christie is my cousin. I have always looked up to Christie, she is extremely intelligent and kind. She is one of the reasons education has played such an important role in my life. I can't imagine our wedding day without you by our side.
Christiana Valdez - Bridesmaid
Christiana aka Shana and I have been friends since High School. I don't think anyone else can make me laugh as much as she can without even trying. Some of my most fun times were with spent with Shana, whether it was dancing the night away at a party or watching dance videos in my room at 3 a.m. No matter where life takes us or how much time goes by we always pick up right where we left off.
Gloria Fletes - Bridesmaid
Gloria and I have been friends since we were 9 years old. She was my first friend in school, she did not care that I didn't speak English! ha! She is my comadre, partner in crime, and confidant. I got to be a bridesmaid in her wedding and I am super excited to get to share our day with her now.
Alisa Hajou - Bridesmaid
Alisa is my friend, sorority sister, and unofficial little (haha). Alisa has seen Brendan's and I's relationship from Day 1. She has witnessed our ups and downs, but remained confident that our relationship would persevere. So happy to have you stand by my side as we say "I do" ITB
Eva Fuentes - Bridesmaid
Eva has been also been there from the start. She saw our relationship develop and mature to the great love it is today. Eva is smart, kind, and everything you could ask for in a friend. She is also my sorority sister and I knew she would be my bridesmaid long before I knew I was getting married.
Jordan Schultz - Best Man
Jordan and I met early in college, where he was my fraternity pledge educator. Soon after, Jordan and I quickly grew our friendship and brotherhood. We've been together through thick and thin, and I'm happy to call him my best friend and best man.
Dr. Christopher Smith - Groomsman
Chris is my older brother by 6 years, and has truly helped pave the way for setting my educational and professional goals. When I was just a little guy, Chris would read me my favorite book over and over: "Monster at the end of the book". We've spent days upon days together during our family road trips to Oregon, and about half of that time fighting over the middle seat between mom and dad for the best view of the road. Chris has always been a good role model, offering me sagacious advice from lessons he has thoroughly researched.
Dr. Rory Smith - Groomsman
Rory is my eldest cousin. I grew up visiting his family in Camarillo, where we had large family dinners, swam, played basketball...oh and launched objects from their front porch using a water-balloon launcher, watched them shoot roman candles at each other, and ate way too much candy. Rory is incredibly hospitable and family oriented person, not to mention a great role model in my life.
Chris Brown - Groomsman
Pledge brothers, roommates and drinking buddies, Chris Brown and I have been good friends since early 2009. We've spent many a late night with our noses in engineering books and computer programs during the week days, and weekends getting our grove on at the Partisan or house party. Chris is a great friend and confidant for many years, and I look forward to many more.
Harrison Hassig - Groomsman
One of my oldest friends, Harrison and I have been on many adventures together. Over the years, we've spent countless hours building/debugging computers, working on all my crazy DIY projects, road trips or XBOX LAN parties. Harrison is a great friend and all around genuine person.
Adam Klein - Groomsman
Adam, is well, Adam. You gotta love the guy. He's a goofy, fun loving guy that can stick his nose to the grind stone and get things done. Adam is my big brother in my fraternity and really helped shape my college experience. I probably spent every weekend on his couch during my freshman year of college. Glad to call him my big bro.
Jason Knight - Groomsman
My oldest memory with Jason Knight is being invited over to his apartment for a jam session in college. I have very little musical ability other than piano and a few guitar chords, but he handed me a harmonica and some drums and we jammed. This really set the tone for our friendship, he's an eccentric yet down to earth guy. A great friend and brother.
Chris Huang - Groomsman
Chris and I met in China during my internship at Foxconn. An excellent engineer and mentor are only two of the great qualities Chris possesses. Our friendship started in China, but easily translated back in the states. One of my closest and wisest friends, I'm proud to call Chris an integral part of my life.
Ryan Alcaraz - Officiant
Ryan and I are fraternity pledge brothers (joined the fraternity at the same time) during my freshman year in college. Since that time, our brotherhood has grown tremendously and I can easily call him one of my closest friends and brothers. Beyond this, Ryan has supported our relationship through all its craziness and become a great friend of Jennifer. There isn't anyone else I see fit to be the officiant of our wedding.