Accommodations
Four Seasons Hotel Westlake Village, California
2 Dole Dr, Westlake Village, CA 91362, USA
(818) 575-3000
We have reserved a room block at the Four Seasons Hotel in Westlake. In order to get the discounted rate please call the reservation department (818) 575 - 3000 to book rooms. Mention the Borobia/Smith Wedding Room Block to receive the discount.
The hotel is about 10 minutes (5.9 mile) ride from the venue. Brendan and I have stayed here before and absolutely love it! We look forward to staying here again during our wedding weekend.
Sheraton Agoura Hills Hotel
30100 Agoura Rd, Agoura Hills, CA 91301, USA
8187071220
The earlier you book a room the better the rate, however if you decide to book at the Sheraton, you will receive a 15% dicount. To book a room at the sheraton click on the following link:
http://www.sheratonagourahills.com/wedding-rate

and use the promo code: SETWED
Travel and Transportation
Conejo Valley Eco Cab (TAXI SERVICE)
8052220144
https://www.yelp.com/biz/conejo-valley-eco-cab-thousand-oaks
Things to Do
Malibu Beach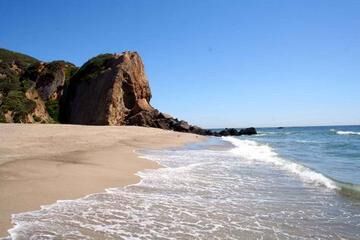 17201 Pacific Coast Hwy, Pacific Palisades, CA 90272, USA
(310) 305-9522
Malibu is about 19 miles west from Thousand Oaks, just over the Santa Monica Mountains. Jennifer's favorite beach is Zuma beach. Brendan's favorite beach is Surfrider beach. (photo is of Zuma Beach)
The Getty Villa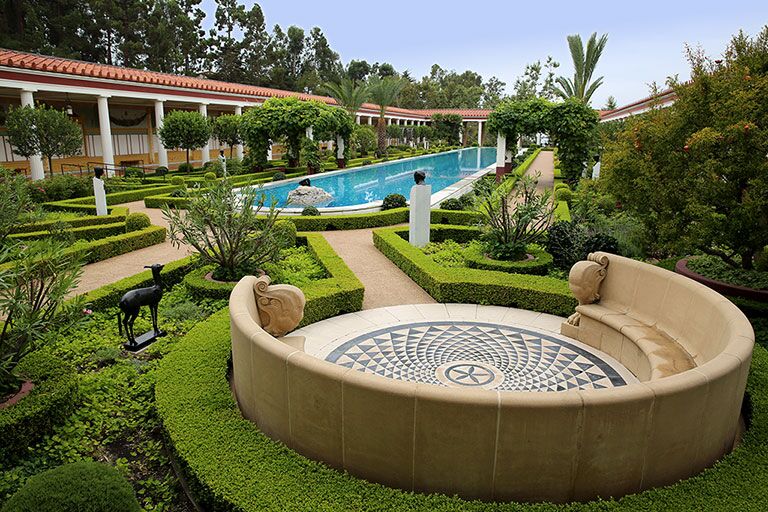 17985 Pacific Coast Hwy, Pacific Palisades, CA 90272, USA
(310) 440-7300
For the museum lovers and art enthusiasts. The Getty Villa is about 25 miles from Thousand Oaks. Tickets to the museum are FREE, but you do need to make reservations before your visit. I suggest reserving tickets to the Getty Villa as far in advance as possible.
Disneyland® Resort Tickets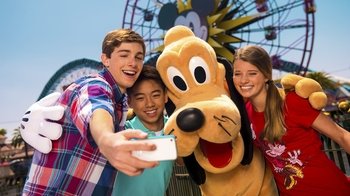 1313 Disneyland Drive, Anaheim, CA 92802
Magical kingdoms and storybook fairy tales come to life before your eyes at Disneyland® Resort Theme Parks. Discover why Walt Disney's enchanting Disneyland® Park is the happiest place on earth and see your favorite Disney and Pixar stories leap into reality at Disney California Adventure® Park.
Disneyland® Park
Enter a magical kingdom where you can sail with pirates, explore exotic jungles, meet fairy-tale princesses, dive under the ocean, and rocket through the stars—all in the same day. Embrace world-famous classics like "it's a small world," the Matterhorn Bobsleds, and those beloved Disney Characters you're never too old to hug. Then blast off into the Star Wars™ universe aboard Star Tours—The Adventures Continue. Disneyland® Park is a beloved Southern California destination where generations of families have made their Disney dreams come true.
Disney California Adventure® Park
Explore 7 exciting lands that bring to life Disney and Pixar stories and characters through amazing attractions, entertainment, and dining. Prepare to be floored at Cars Land, where the Disney•Pixar's hit movie "Cars" comes to life. Then hop aboard a vintage red trolley—inspired by the historic 1920s Pacific Electric Railway street cars—at Buena Vista Street. Take the day—and night—to discover the awe-inspiring and unforgettable themed lands of Grizzly Peak, Paradise Pier, Pacific Wharf, "a bug's land", and Hollywood Land.
Private Tour of LA's Best Cocktail Bars with a Local Bartender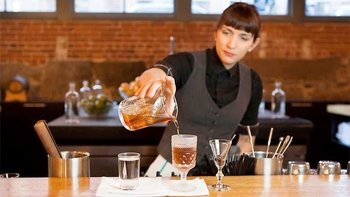 , Los Angeles, California
Sip your way through LA's trend-setting craft cocktail scene with a savvy local bartender leading the way. Discover swanky lounges and cool clubs, chat with the mixologists behind the bar about their art, and try signature drinks at each stop along the way.
Connect with your guide in advance to decide on a tour time that works for you, and chat about the areas of the city that interest you most. LA's vibrant neighborhoods each have a character all their own, plus their own unique bar and restaurant offerings to boot.
On the day of your tour, meet up with your bartender guide and set out in search of some of the city's finest libations. Get an insider's perspective on the city's best craft cocktails and most noteworthy drinking establishments, popping into 4–6 venues to visit with the talented bartenders and sample their signature sips. Before parting ways with your guide, be sure to pick up pointers on other great bars and restaurants to check out, and leave your tour feeling good in the knowledge that a portion of the proceeds from your ticket go toward the work of non-profit L.A. Kitchen.
LA in a Day Bicycle Adventure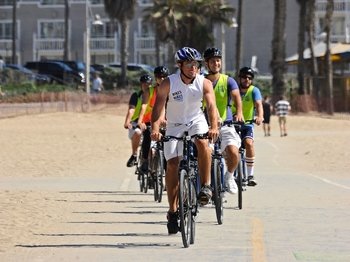 8250 Santa Monica Boulevard, West Hollywood, 90069
Hop on a bicycle and avoid the traffic as you see the best of Los Angeles. Take in the celebrity homes and movie filming locations, glide through posh Beverly Hills, and enjoy the ocean breezes of Santa Monica. Snap photos along the way of the many well-known neighborhoods and landmarks.
Meet at the bike shop to get fitted for your perfect ride, strap on a helmet, and follow your guide on a fun-filled adventure around iconic neighborhoods in Los Angeles. Begin the tour in West Hollywood and travel along famous Route 66, biking to the historic Greystone Mansion and continuing through Beverly Hills and Bel-Air, your chance to see celebrity homes and hot spots. Your friendly guide leads you to the beach cities of Santa Monica, Venice Beach, and Marina Del Rey, each with a distinct culture. Here you can enjoy the crashing waves and cool breezes, or even do a little shopping for souvenirs.
The tour is welcoming of all fitness levels, with plenty of breaks along the way and time to stop for lunch. The 32-mile (52-km) journey is one of the best ways to experience the top sites in the City of Angels.