How We Met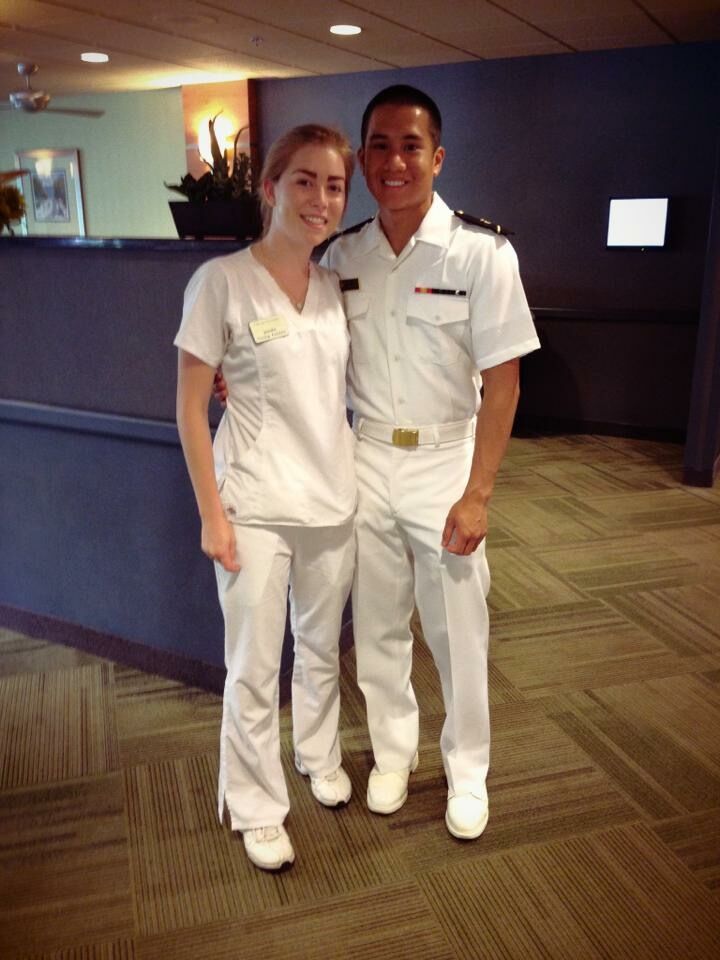 The story of how we met has two sides to the tale. The following is the most accurate version (Richard's). Please contact Jennifer if you would like her inaccurate take of the beginning of our lives. Let me preface she is strongly opinionated on her side of the story. Just smile and nod (it's not true).
It all started at Maplewood Nursing Home in our hometown of Webster, NY during our senior year of high school in the fall of 2010. I have been working there as a server in the kitchen for some time before Jenn was hired as a Unit Assistant for the residents providing care before, during, and after meals.
When I am working at a job, I like to keep busy and to make sure the residents are always taken care of. So during down time, I walk around and ask them if they are satisfied with their meals and if I could accommodate them anymore. There was not a requirement to continuously rove around the dinning room to make sure everyone was happy, but that was my thing I enjoyed doing. The other servers at the nursing home would talk to our manager at a central location where they could take a quick break and relax after the initial rush of first seating.
Most of the time, Unit Assistants (or UAs as they called them) would ask the congregation around the central location for food items in the back in order to deliver and feed them to their respective resident. However, one girl would always keep asking me while I was constantly busy ensuring quality for our residents. You guessed it, it was Jenn! While I would be all the way across the dining room, probably 75 feet wide, Jenn would track me down like a German Shepherd and a criminal; however, she did not attack me...that often. She would ask for me to walk all the way across the dining room, past the group of people in front of the kitchen doors, in order to get her a couple scoops of ice cream. Mind you, the other servers were extremely nice people and would help you out instantly if you needed anything, but Jenn insisted to ask me for everything.
Other times, I would work in the back and wash dishes, where I would only retrieve the plates, bowls, and utensils from the residents, bring them to the kitchen and wash them. Being on washer duty, you were not to serve any food, but maintain the constant flow of dirty dishes into miraculously clean ones. Guess who came around the corner to ask me for a couple scoops of ice cream when she was standing right in front of the ice cream cart and had to walk past the other servers in order to get into the kitchen? Yep, Jenn!
After probably the 7th time she asked me for something while we worked over a few months, I began to really like Jenn. I contemplated a way to get her number. So I thought of a few sly questions. No, I did not try this on other girls. I asked Jenn, "What sports do you play?" She responded with, "I am on the tennis team at Schroeder." I replied with, "Ew, only the cool kids go to Thomas." (Thomas and Schroeder High Schools are rival schools in Webster, NY where they are separated by the only highway in our town and are geographically about 2 miles apart). I then said "That's pretty cool though. I love watching tennis." Jenn was pretty shy and just smiled back at me.
I was on dishwasher duty again that night and usually the dishwasher duty person leaves last. So I was worried that I missed Jenn because everyone left before me. As I was walking down the back hallway to exit via the employee exit, I saw this beautiful blonde haired, grey eyed (I think her eyes are still grey... I swear) girl at the end of the hall. I was super nervous because the last question up my sleeve to ask Jenn for her number was about to happen. When I got half way down the hall she walked away and I was crushed because I didn't want to seem like I was a creep chasing her down. To my avail, she returned to her cart with food items for the residents just as I reached the back door. I just realized this while writing our story at this moment, but her cart was particularly placed right in front of the employee exit door, while her residents were around the corner...why would she place her cart out of the way....hmmm. BACK TO THE STORY. When I reached the end of the hall, I mustered up all my might and asked the final question. I asked, "How am I supposed to watch one of your tennis matches if I don't have your number?" Jenn looked so shocked and I'm pretty sure she was blushing, but she literally just walked away around the corner. I was bummed because I thought my tactic didn't work. Then all of a sudden she started saying her digits as she was walking away, while I frantically pulled out my flip phone and ferociously smashed my fingers into the buttons making sure I didn't mess anything up. It worked.
And THAT is the true story of how we met.
- Richard
The Proposal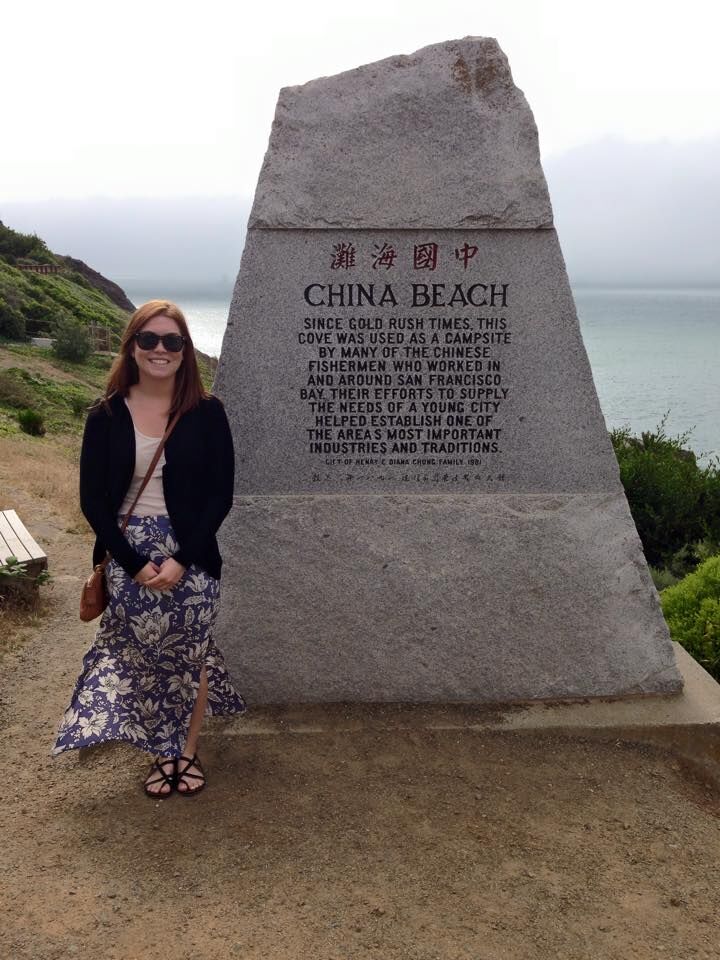 June 10, 2015-Preparation
Jennifer's dear Aunt Joanna had planned a girls day, the day before the proposal was to take place so Richard could meet with the secret photographer and come up with a game plan. Jennifer and her aunt went shopping at the outlets, had lunch, and planned to get their nails done (as Richard knew that Jennifer wanted to have this done before getting a ring on her finger). While the girls were busy, Richard met up with the secret engagement photographer, the sister of a friend of his at the Naval Academy to plan the proposal.
June 11, 2015- The Start of the Rest of Our Lives
A week prior to visiting California, we had been in Las Vegas visiting Richard's family. We had just arrived to San Francisco, Jennifer's favorite city, a few days before this special day.
That morning we went into the city and explored Fisherman's Wharf, looking at all the fresh seafood and the beautiful fog that blanketed the bay. When it was lunchtime we went to Boudin Bakery, where we had delicious grilled cheese sandwiches and tomato soup on authentic West Coast sourdough bread, also Jennifer's favorite. Later that afternoon we had made plans to head over to the Marina district within the city to see Jennifer's cousin Erick, his wife Alexis and their new little boy Liam. Richard and Jennifer were delighted to spend the afternoon playing with Liam and catching up with her family that she hadn't seen in a few years. As the day turned into evening, Erick and Alexis went out to dinner with some friends while Jennifer and Richard stayed back with Liam and his nanny, Gabby. As Gabby was preparing dinner for Liam, Richard suggested to Jennifer that they go and check out a beach nearby that his friend had recommended. It was called China Beach. Richard said they should leave soon as Liam was busy eating and he didn't want to miss the sunset. Jennifer and her child-loving personality, argued that she wanted to spend as much time with Liam as possible. Richard insisted that they could go see the sunset and return later to play with Liam. Finally, Jennifer reluctantly agreed to go to see the sunset at the beach. However, Jennifer realized that it was only five o'clock and the sunset would not occur for another hour or two. Again, insisting that they needed to leave now, Richard told Jennifer that the beach was far away and that it took a while to get there. Richard asked Jennifer to pull up the directions on her phone's GPS, as Richard's friends had already begun texting him to ask how the proposal had went and he did not want to spoil the surprise. Confused, Jennifer told Richard that the GPS said the beach was only ten minutes away, to which he did not respond. After much persuasion, we got into the car and headed to the beach.
On our drive to the beach I noticed that Richard was very quiet and not his usual talkative self. I asked him if everything was alright and he replied with "I'm just looking at the scenery." When we arrived at the beach it was very foggy and we could hardly see the sun. We walked down the wood steps and began exploring the beach.
Although there weren't many people there, I noticed a photographer in the distance. However, I thought nothing of it since it was a beautiful place where I'm sure many people had taken pictures before. It did not cross my mind at all that the photographer was taking pictures of Richard and I.
I was casually exploring the beach taking my sweet time when I noticed a creature in the sand. Richard told me we had to keep moving to see the sunset.
After we had walked for a few minutes, Richard stopped, stood behind me, and gave me a hug while resting his head on my shoulders. We admired the amazing view. Richard told me that on most days you could see the entire Golden Gate Bridge from this place, however today was an exception due to the excessive fog. He later told me that he was worried that I would be upset that we didn't get to see the whole bridge. I was just happy to be in a beautiful place with the man I loved.
I thanked Richard for pulling me away from Liam to come to this spectacular place. I told him that I loved him. He said he loved me as well. Then he asked me if I knew how much he loved me (which was/is not an unusual thing for him to say). I said "I think a lot". Richard replied by saying "Well then I have a question for you."

Richard got down on one knee. As soon as I realized what was happening, I put my hand over my mouth in disbelief (as you can see in our engagement pictures). He asked to spend the rest of his life with me. As I said "Yes!" he placed the ring on my finger.
I asked him if the photographer I had seen on the beach had really been taking pictures of us and not necessarily the scenery. Richard responded with a sly smile and I knew the answer was yes. We walked over to the photographer who introduced herself and shared in our joy.
As you can tell from our engagement photos, our wonderful photographer and friend captured the genuine moments that define Richard and I's relationship. We love to laugh together and explore together.
Following taking pictures on the beach we got in the car and headed to some nearby woods. Walking in the forest surrounded by the fog was absolutely magical.
Following the photographs Richard had planned a special dinner for us at a local restaurant. He had gotten me to dress up for the engagement photos by telling me the day before the proposal that we were going to dinner at a fancy restaurant the next day.
We enjoyed a delicious dinner at A16 in the Marina District. When we went to pay the bill, we were informed that my cousin Erick had already paid for our dinner.
Following dinner, we went back to my cousins house and were greeted with a champagne toast. After talking with my cousin following the engagement, I found out that he had been in on the plan. In fact, he had winked at Richard before we went out the door on the way to dinner without me even noticing.
Later that evening we returned back to my aunts house were we were staying and were greeted with another champagne toast. They had been in on the plan as well!
I called my mother and good friends to tell them the exciting news and I was surprised to learn they had already known about the proposal occurring that day. To this day, I still so many people knew about the engagement and I had no idea at all!
A few days later, I asked Richard how he had known that my dream proposal included a secret photographer. He said that he had gotten a Pinterest and looked at all of the things I had posted on my wedding board. Also knowing that San Francisco is my favorite city, he thought it would be the perfect place to propose. I also asked how he had found the perfect ring. Again, he had looked at my Pinterest and also consulted with my mother and good friend Erin.
Richard also explained that he had the ring custom designed. The middle stone was his grandmother's and mother's diamond. From her Pinterest, he knew that she loved the lotus design and he also liked it because the flower is a symbol of good luck. On each side of the lotus flower there are four diamonds. Richard said that these represented both of their immediate families. On the top and bottom of the ring, he had created a swirl design that included three diamonds. The three small diamonds, he said, represented the past, the present and the future.
It was an incredible day and a story we look forward to telling our future children.
We can't wait to start our lives together and share more memories with our closest friends and family.
-Jennifer