A Tale of Two Thompsons
His
I met Jill the fall semester of my senior year of high school. Everyone always wonders why we waited so long to get together, but the truth is, I had to work up the courage to finally talk to her. I always used to see her playing volleyball, so I guess I just assumed that this pretty, athletic girl would want nothing to do with me.
However, my senior year I ran cross country and through some of my friends on the team, which were some of her friends too, I was able to find out a little bit about her. To the weeks leading up to our first interaction, I always wanted to go up and talk to her, but she always looked like she was in a bad mood in the hallway, so I figured it was best to keep my distance (we joke about this now). I even sent her a friend request on Facebook and liked one of her pictures to try and show some interest. I know, cool right? Anyway, one night I was at one of our high school football playoff games and I saw that she was there, sitting just right below me in the stands. The whole time I was looking at her in hopes that she would look back up to me and we would make eye contact, but for the first part of the game that didn't work.
After a while I went to the concession stand and on my way back, I saw Jill and a couple of her friends walking towards me. I stopped and talked to them in hopes that Jill would notice me, but I still wasn't sure if she had any interest in me at all. After the game and later on that night, I texted one of her friends and asked for Jill's number, but I didn't text her right away because I didn't want to sound desperate. Two weeks later I finally texted her and the next day I sat with her at an in-school wrestling match and the rest is history. We absolutely clicked and became such great friends and starting dating one month later.
After she graduated high school, she started college at the University of Tennessee, and for the majority of our relationship we have been dating long distance. We've had our ups and downs, but at the end of the day the distance has made us stronger. With both of our graduations this year drawing nearer, I figured it would be a swell time to ask Jill to marry me. We have had many wonderful adventures so far, but nothing will compare to the adventures we will have after we are married. Jill brings out the best in me and I look forward to our lives together.
"And now these three remain, faith, hope, and love. But the greatest of these is love" - 1 Corinthians 13:13
Hers
Daniel and I met in 2010 in high school when he was a senior and I was a junior. Daniel later told me he used to see me walking by in the hallway, but I always looked like I was in a bad mood so he was scared to try and talk to me. Oops!

One Friday night at a home football game, Daniel was talking to a mutual friend of ours and I noticed him staring at me the entire time. Later that night while we were standing in the bleachers, I turned around to look for him in the student section and boom, magical eye contact.
That night, he asked our mutual friend for my number, but his nerves got the best of him and he didn't get into contact with me for two weeks! He finally did, however, and life has been one big adventure ever since. I often joke with Daniel that he takes his sweet time making decisions!
The day after Daniel and I finally started talking, we sat together at an in-school wrestling match. After just one conversation, I noticed how easy he was to talk to and there were never any awkward moments. That comfort and ease I felt with him from our first interaction has lasted throughout our relationship and is still one of my favorite things about him.
I never thought I would be one of those girls to marry her "high school sweetheart" or meet her future husband in the small town she grew up in, but I wouldn't have it any other way.
Daniel has stuck with me the past four years I've attended UT while he attended Volunteer State Community College and now nursing school at Tennessee Tech University, where he will graduate this December. The majority of our six years together has been long distance, so we are anxious to start our life together and not have to say goodbye every night!
"God proves to be good to the man who passionately waits, to the woman who diligently seeks." - Lamentations 3:25
Our Wedding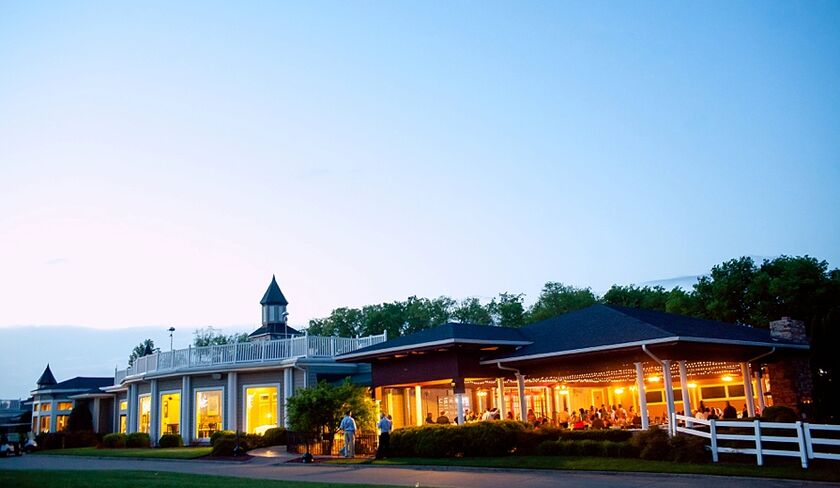 Saturday, March 18, 2017
5:00 PM
Attire: Semi Formal / Dressy Casual
Ceremony and Reception
Hermitage Golf Course
3939 Old Hickory Blvd, Old Hickory, TN 37138, United States
The Maids and The Men
Hayley Hatfield - Maid of Honor
Hayley and I have been best friends since 3rd grade and we have been a mischievous duo ever since! We used to get in trouble for laughing too loud and passing notes in class, we've been in two four-wheeler accidents together (I swear she breaks a bone every time we are together), and we will gladly eat our weight in ice cream without judgement of the other, so there really is no one else who would better fit this role than her.
Ellie Ayers - Bridesmaid
Ellie is Daniel's younger sister and I have known her for just about as long as I have known Daniel. I have had the joy of watching her grow into the beautiful, smiley person she is today. We have made fun memories from her family's big camping trip taken every year to beating her brothers at all kinds of sports! She is the best little sister I never had!
Mary Prince - Bridesmaid
Mary and I have known each other since middle school and we even won a free trip to Washington D.C. together in high school through an essay contest. Not only is she a stellar girlfriend to my brother, but she loves The Office and cats probably more than I do, which is pretty awesome in my book. Mary is one of the sweetest people I know and she always has a smile on her face. I've loved getting to know her throughout the years and I know she'll make a wonderful addition to our family someday!
Cameo Waters - Bridesmaid
Cameo and I met in college and I quickly realized that she was not like most other girls our age, and I think that's exactly what I love about her personality. She is a sucker for things that are a little out of the ordinary and will never pass up an opportunity for adventure. She is far from dull or mundane and always keeps you on your toes. She is the best gift giver I know and if you're lucky, she'll grace your mailbox with a postcard from her most recent escapade.
Marina Waters - Bridesmaid
Marina Jade is my fellow old soul. We met through her sister, Cameo, and the three of us were inseparable during our last couple years at UT. She is not only my pen pal, but my BBQ lovin', line dancin' sentimentalist. I don't know how I had lived as long as I did without her quick wit and easy going personality, but I've come to the conclusion that life is much more exciting with this loud laughing master flutist in it.
Hannah Ellis - Bridesmaid
Hannah and I were roommates our senior year at UT. We had known each other for a couple of years before then through a student organization we were both involved with, but it wasn't until we moved in together that we bonded over our love for sushi, The Office and the Vols! She is a cupcake mastermind, a photography aficionado and the most energetic person you'll meet! Hannah has been a great friend to Daniel and me and a wonderful roommate, so her role as a bridesmaid only adds to the long list of things at which she excels!
Josh Thompson - Best Man
Joshua is one of my younger brothers. We have been getting into trouble together since '95. Even though people say we look and sound alike, he is definitely the more laid back, easygoing version of me. We both love sports, being competitive and hiking. Even though I am the oldest, he definitely sets an example for me on how to lead a more Christ-driven life.
John Ayers - Groomsman
John aka "China Boy" is my youngest brother. We call him China Boy because of his unbelievable ping-pong skills. He is a belly flop specialist, construction worker, car repairman and the engine expert of the family. He is also my wide receiver/ QB whenever we play pickup football against my other siblings. John is a super fun kid to be around and he is growing up to be a very smart young man. If you spend enough time around him he might just teach you a little something about your car.
Kyle Vernich - Groomsman
Kyle is Jill's older brother. Kyle and I immediately got along when I first met him because of his easygoing personality and his love for the Vols, Preds and Titans. He is passionate about cars (mostly Mustangs) and could transform a rusty old tin can into a brand new Ferrari. When I first met Jill I was nervous about meeting her older brother because I was not sure how he would feel about me dating his little sister, but we have gotten along very well and I look forward to gaining another brother come March!
Braxton Douglas - Groomsman
Braxton was the first friend I made in nursing school at Tennessee Tech and later became my roommate. We hit it off pretty quickly due to his "punny" humor. Braxton is an only child, but for the past couple years, our friends Hayden and Tex and I have been brothers to him. Braxton is a Pokémon master, Magic dominator, and Call of Duty professional. He is a passionate Cardinals fans and a Fantasy Football mastermind thanks to yours truly.
Hayden Wood - Groomsman
Hayden and I first started hanging out our junior year of nursing school and we eventually became workout partners (or I attempt to be). I quickly realized that we had a lot in common. We are both very competitive, love country music, sports and picking on our younger siblings. Hayden is the oldest child in his family like I am, and we both strive to be role models to our siblings and set a great example for them to follow. If you want fitness advice, a competitive game of anything or a funny story, Hayden is your go-to guy.
Austin Pursley - Groomsman
Austin or "Tex" received his nickname our sophomore year of nursing school when one of our teachers chose to call him this because his first name reminded her of the capital of Texas. From then on, this is the only name that he goes by around us. I quickly became friends with Tex because of his kind nature and his ability to get along with anyone. I always look forward to my daily fist bump with Tex in class, our daily sports talk (even if he is a Vandy fan), and just being able to talk to him about anything because he will always listen. If you want a good challenge in NCAA or NHL on XBOX or even just a good conversation with a super compassionate person, Tex is the man for the job.