Our Wedding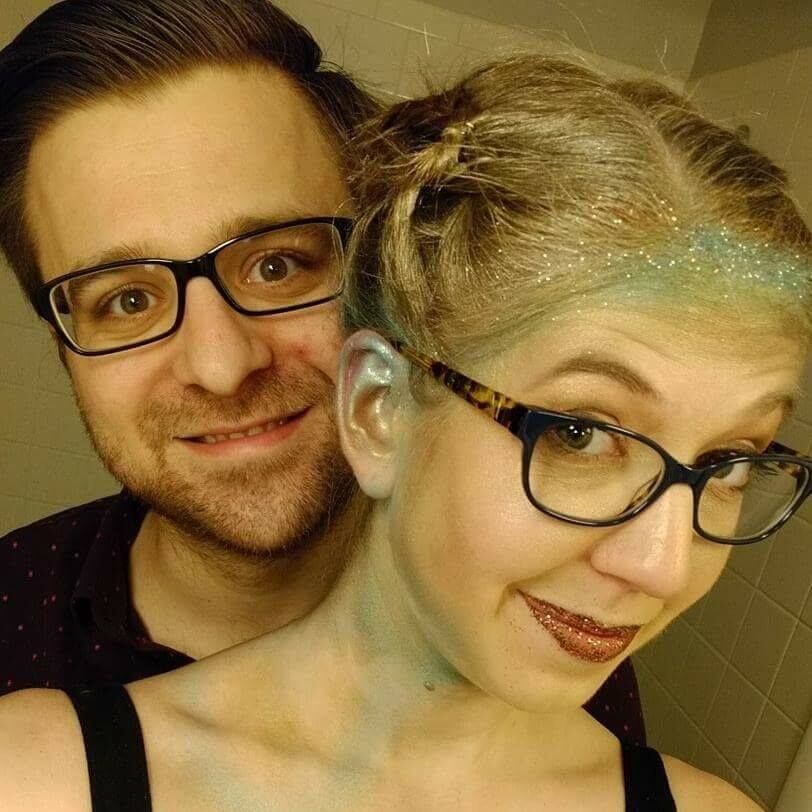 Saturday, July 29, 2017
4:30 PM
Attire: Lakeside Semi-Formal
Ceremony and Reception
Bill & Annie Atchison's House
4990 Sequanota Rd, Charlevoix, MI 49720, USA
Intimate lakeside Wedding Ceremony, Cocktail Hour and Dinner Reception to take place on Lake Charlevoix at John's Aunt & Uncle's house. Parking at the beginning of the driveway.
PLEASE RSVP on our Knot Website by July 8th
Our Story
A Match Made in Acme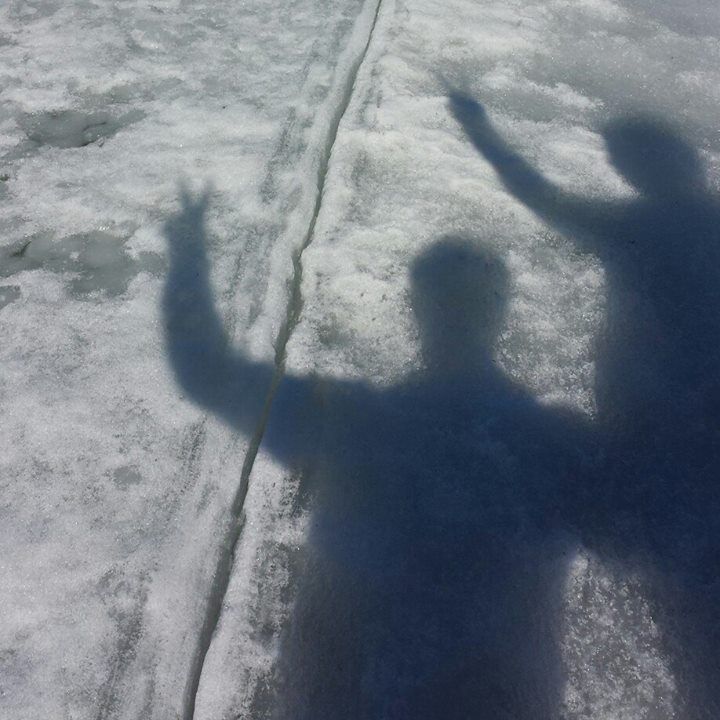 John and Jael first met at Bertha Vos Elementary School in Acme, MI back in 1993. However, the first time we spoke to each other was at a mutual friend's house in January 2015. Both of us left that night wanting to know more about each other. Our next opportunity would come in March—our first date! We went out to Leelanau county to view the ice caves on Lake Michigan, and it was instantly clear how comfortable we were around each other.
Our first real test came in April 2015, when Jael spent a month in Costa Rica for an internship. As they say, distance makes the heart grow fonder. Once reunited, we became inseparable.
That first year took us to a lot of weddings together, seeming to hint at what the future had in store for us. Weddings took us everywhere from Traverse City, MI to Philadelphia, PA, giving us ample opportunity to grow closer along the way. We have traveled to Ohio, Pennsylvania, Washington DC, and Florida, visiting friends and museums—our personal favorite being the Mütter Museum of medical oddities in Philly that sucked us in for hours! —enjoying the quiet calmness of the mangroves and the short escapes from the hometown that we love so dearly.
We've shared many of our hobbies together, including skiing, music, disc golfing, cooking and spending time with our dogs. We discovered that we had both been involved with our local community theater—Old Town Playhouse—John having performed onstage in Oliver as a kid and Jael becoming more involved in the pit orchestras in recent years on her cello. John has seen Jael onstage as well when she performs for floral shows. We spend a lot of evenings at home with our dogs and cooking dinner together.
Since we first started dating over two years ago, we have learned a lot about ourselves and each other, becoming a stronger couple every day. We have learned to practice patience with one another, teamwork, promised our commitment to each other, and always make it a point every day to say, "I love you."
We would like to thank everyone who has been a part of our journey, and look forward to making many new fond memories to share.
John's Proposal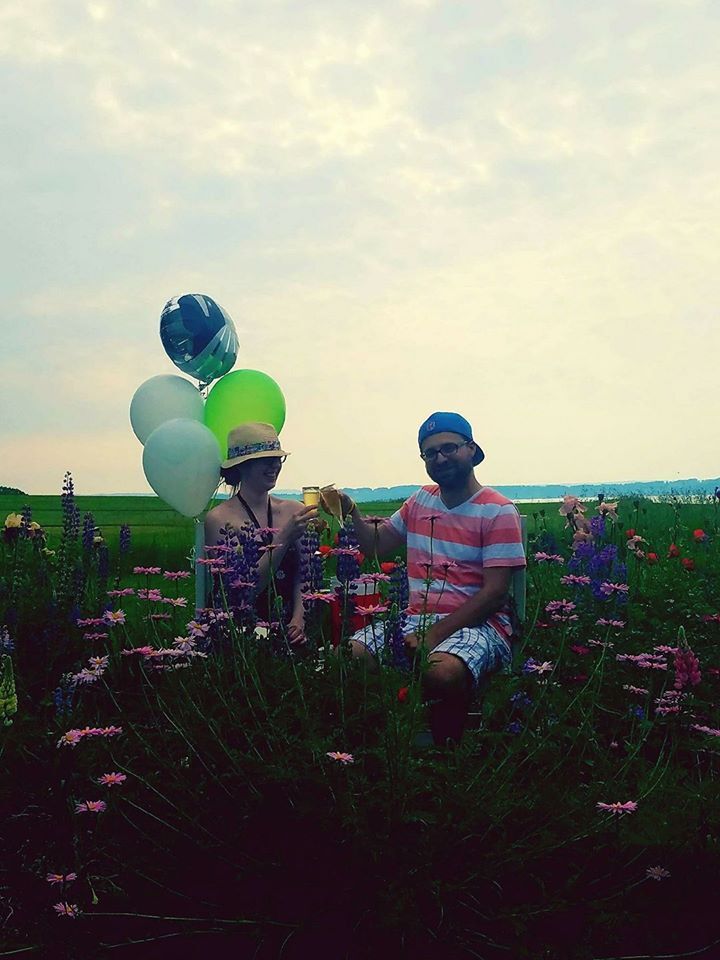 John and I were walking our dogs through the Cherry orchards, when suddenly we heard a buzzing noise up above us. We both looked up to see a drone flying overhead. It was not John's drone, and as I puzzled over it, one of the orchard workers, Carly, pulled up the hill on the 4X4. She was just as confused as I was. Clearly someone was stalking us. The drone hovered lower and lower, and John started grabbing for something hanging from a string beneath it. "Well, I guess you get to watch this!" he said to Carly, as he got down on one knee before me. "Will you marry me?" Of course, I said "yes!"
Wedding Party
Grace Reinhold - Bridesmaid
Jael's younger sister, who resides in Austin, TX
Hannah Reinhold - Bridesmaid
Jael's older sister, who resides in Austin, TX
Dacia Reinhold - Bridesmaid
Jael's older sister, who resides in Seattle, WA
Jennifer Pulcipher - Bridesmaid
John's younger sister, who resides in Traverse City, MI
Harrison Beeby - Groomsman
"Harrison has known the Groom since they were in diapers watching the Ninja Turtles together. They've since continued their strong friendship through high school and college at MSU together, and now reside in Traverse City as adults (sort of)."
Jake Niemi - Groomsman
"I met John in Traverse City and he was my first real good friend. We've been through a lot together."
Michael Miazgowicz - Groomsman
"I met John when we moved across the hall from each other Freshman year at Michigan State University. We became good friends and moved into the dorms again as suite-mates Sophomore year. We both got into the School of Packaging together and had several of the same classes. We both graduated in Packaging and had internships on the East Coast and eventual jobs. We would spend weekends in each other's city or meet up in NYC. We still keep in touch today."
Jeff Hoch - Groomsman
"I met John the very first day of Junior High in our very first class when we ended up sitting next to each other. Our friendship has remained strong since then despite being college rivals (UofM vs MSU, Go Blue!) and living hundreds of miles apart."
Dan Swan - Groomsman
"I've known John for 20 years and he hasn't changed a bit... which I'm pretty sure is a good thing."
Mitchell Griffis - Groomsman
"Hey I'm John's cousin which means unlike a lot of you, I didn't have a choice in this relationship. John was always the oldest of the cousins and also the only other male, which meant that growing up I always looked up to him. As I got older life happened and some things changed. And now, in almost a cruel twist of fate, [John] is stuck looking up at me for the rest of our lives."