Our Story
The Proposal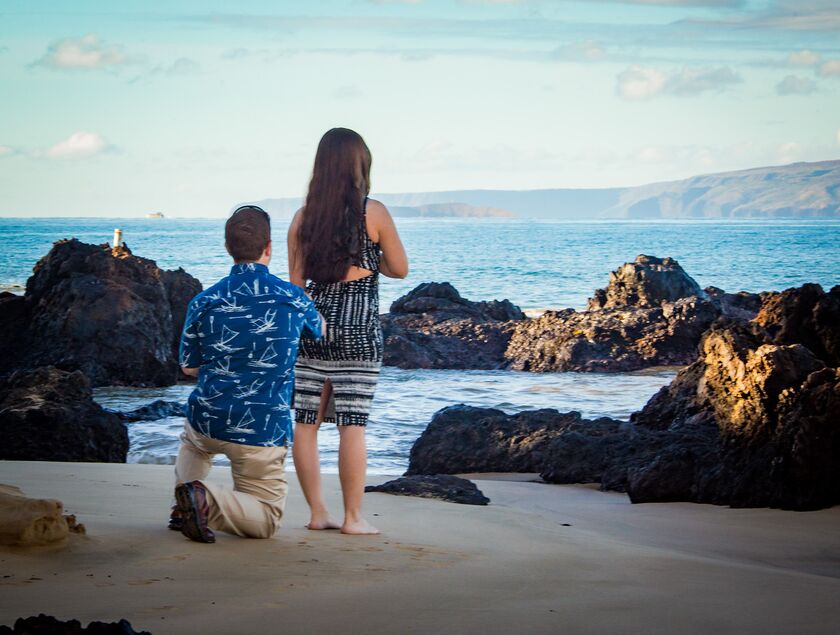 While Jon was visiting family for the holidays, Charlotte flew out on New Years' Day to meet his family and spend some time on Maui. On Tuesday January 5, 2016, Jonathan told Charlotte he had planned to take her out for a nice brunch on the beach in Kihei.
While on the way to breakfast, Jonathan mentioned to Charlotte that it looked like they were going to arrive early and suggested they stop to kill some time at the beach. Jonathan led her down to a small, private area on the ocean.
As they admired the early morning view of the ocean, Jonathan pointed and said "Look, whales!" Charlotte, having missed the opportunities to see humpback whales breaching or spouting on the trip so far, turned and intently began looking for the whales out in the ocean. After a moment, Jon tapped Charlotte in an effort to get her attention - and when she turned around, he was on one knee with a ring in his hands.
Needless to say, this story wouldn't be here if she hadn't said "Yes!". After taking more photos with a photographer that had been waiting out of sight, Charlotte and Jonathan went on to enjoy their first brunch as an engaged couple.
The Wedding
Saturday, June 10, 2017
Ceremony
Olowalu Plantation House
810 Olowalu Village Rd, Lahaina, HI 96761, USA
Reception
Olowalu Plantation House
810 Olowalu Village Rd, Lahaina, HI 96761, USA