Our story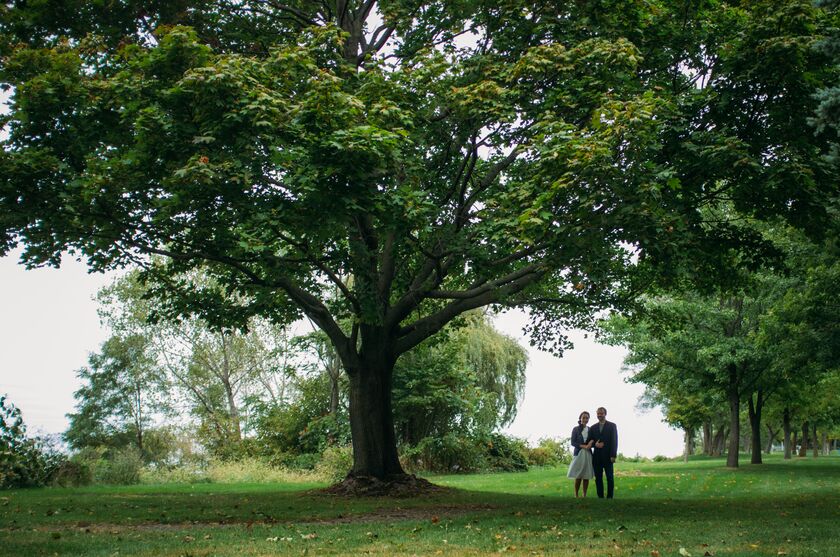 Nearly two years ago, during a massive snowstorm, I got a Facebook friend request from some random guy with a profile picture featuring the back of his head. After a short investigation, I determined we had mutual friends and decided it was safe to admit him. Soon after, Jonathon messaged me saying he had heard about me through a friend who had watched "The Wednesday Morning Breakfast Club." (This is the film I wrote several years ago.) He had questions about script writing and might he speak to me on the phone at some point? I agreed and we talked for about forty-five minutes a few days later while I was still snow bound. We hung up and drew our separate conclusions. I decided he had a great speaking voice with a rather nice southern drawl. He decided I was not very helpful. You see, he had in mind a great epic for his first film script. Though I was far more tactful than this, I basically told him to forget it and get good at writing stories first.
The next ten months passed with very little interaction between the two of us. He was interested in someone else and wasn't thinking of me beyond friendship. I was busy with all kinds of other stuff—mostly trying not to think about how my thirtieth birthday was right around the corner with nary a suitor in sight. So, we just made note of one another on Facebook. I noticed he was running for a political office in South Carolina. He noticed that I wrote a lot. I noticed he posted really great articles on Facebook that I enjoyed reading. He noticed that I was serious…really serious. I noticed his political opinions and asked him questions about them. He replied and asked for a contribution to his campaign. I figured I could afford about twenty-five bucks. I asked him how the campaign was going. He said, "Great! Can you make calls for me?" I groaned and then agreed. I am a consummate introvert and despise phone calls. I only make them when absolutely necessary. However, I knew by now that he was a principled man with good character, and Lord knows we could use a few of them in office. So, I gritted my teeth and did it. During that hour of phone calling, I got my first experience of being cussed out by an old lady for making calls on behalf of a Republican candidate. Then, he won.
Meanwhile, Jonathon was conducting The Great Wife Search and it wasn't going so well. The fewer details on that the better. So, he prayed for wisdom to know which direction to go next. In late October, he thought of me. I'd made a contribution earlier. Maybe I'd like to marry him too? But before he got in too deep, he thought it would be best to have a good look at me first. So, he sneakily invited me down to South Carolina to his swearing in ceremony under the guise that he was "inviting all of the folks who helped with his campaign." I knew exactly what he was up to and went anyway. It was a crazy few days with a lot of hustle and bustle, but we did manage to have one good conversation by ourselves right before I had to go home. After that talk, I didn't want to go back home and he didn't want me to go either. (We didn't tell each other that, though.) I knew several things: First, that he was the man of character I had thought he was. Second, I knew he would make a good husband and father. Third, I knew that he was someone I could marry. We were on the same page, so to speak.
Then came the wait. Jonathon decided to pray and wait one month before speaking to my Dad. I told Mom and Dad all about him, and they were quite impressed. By the time Jonathon had determined God was leading him to pursue me, my Dad gave him his speedy blessing and told Jonathon to hurry up about it. We began "dating" in January.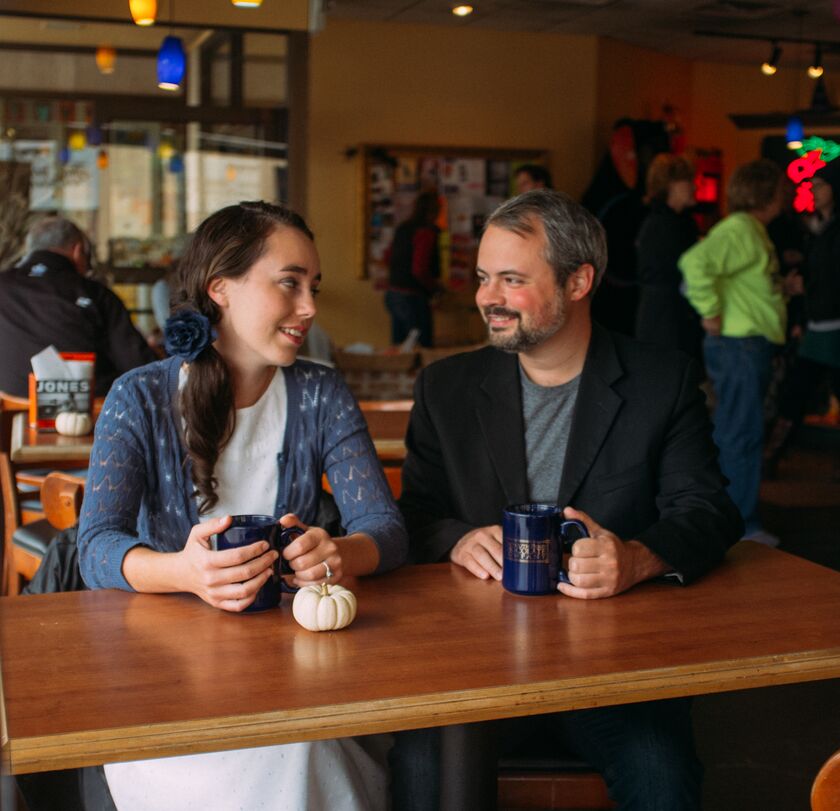 Every relationship is different. Ours was not a "love at first sight" relationship. We didn't "just know." We weren't perpetually happy, nor did we feel completed by one another. We didn't have butterflies for very long. My butterflies began their migration after the first week of knowing Jonathon and deserted me completely a month into our relationship. At first, this caused me a lot of distress, but I've learned lately that it was a blessing in disguise. I had a lot to learn, and I probably wouldn't have learned it if I were floating on the silver-lined cloud of infatuation. There wasn't a whole lot of romance to begin with. We both wanted to be completely honest about ourselves to each other. Within that first month, we'd laid all our cards on the table, the good, the bad, and the ugly. I know where Jonathon's weaknesses and flaws are. He knows mine. Oh, my. Does he know them! But with all that honesty, which was very painful at times, the gold started to emerge. He loved that I took life seriously and wasn't frivolous. I loved that he was impeccably honest. He loved that I was pious and committed to doing the right thing, no matter what. I loved that he was so kind and patient. He loved that I wanted to do right by him in the relationship. I loved his gentleness and fair-mindedness. He loved the way I interacted with children and treated animals.
We learned about love. God is love. With that at the beginning, we began to realize that love is a lot more than what we had originally thought. We learned that most of us have been sold a bill of goods about love through romance novels (Christian or otherwise), movies, articles, the checkout magazines, etc… But to write all that we have learned about love would take up a book, I have no doubt. After all, God is love and he is infinite. So, here is what we've learned about love in quotes, the condensed version:
"Here's what it means to fall in love. It is to look at another person and get a glimpse of the person God is creating and to say, 'I see who God is making you, and it excites me! I want to be part of that. I want to partner with you and God in the journey you are taking to his throne. And when we get there, I will look at your magnificence and say, 'I always knew you could be like this. I got glimpses of it on earth, but now look at you!'" – The Meaning of Marriage, by Tim Keller
"For God so loved the world that he gave…" John 3:16a (Love, boiled down, is always giving.)
"Love suffereth long, and is kind; love envieth not; love vaunteth not itself, is not puffed up, doth not behave itself unseemly, seeketh not her own, is not easily provoked, thinketh no evil; rejoiceth not in iniquity, but rejoiceth in the truth; beareth all things, hopeth all things, endureth all things. Love never faileth…" I Corinthians 13:4-8a
"The assumption is that there is someone just right for us to marry and that if we look closely enough we will find the right person. This moral assumption overlooks a crucial aspect to marriage. It fails to appreciate the fact that we always marry the wrong person…The primary problem is…learning how to love and care for the stranger to whom you find yourself married." – The Meaning of Marriage, by Tim Keller
"It is also good to love: because love is difficult. For one human being to love another human being: that is perhaps the most difficult task that has been entrusted to us, the ultimate task, the final test and proof, the work for which all other work is merely preparation. That is why young people, who are beginners in everything, are not yet capable of love: it is something they must learn. With their whole being, with all their forces, gathered around their solitary, anxious, upward-beating heart, they must learn to love. But learning-time is always a long, secluded time, and therefore loving, for a long time ahead and far on into life, is: solitude, a heightened and deepened kind of aloneness for the person who loves." – Letters to a Young Poet, by Rainer Maria Rilke
"…love is dependent upon neither the appearance of a mate nor the results of performance. This love transcends all other loves. It says, 'I love you in spite of your scars, in spite of your weight, in spite of your failure, even in spite of your sin.' This is the love of God, who said, 'I have loved thee with an everlasting love' (Jer. 31:3). And this kind of love is available to every person who loves with God's love. It is not conditioned on appearance, perfection, or performance but on the love of God, which is 'shed abroad in our hearts by the Holy Ghost' (Rom. 5:5). You, too, can enjoy this love. You must have this love if your marriage and other relationships are to prosper." The Ministry of Marriage, by Dr. Jim Binney
On September 27, Jonathon asked me to marry him and I said yes. We are excited! We are looking forward to being married, becoming parents, doing life, and learning about love together all sometime after December 27. But most importantly, we want our marriage to do what it's meant to do—be a living, breathing illustration of Christ and his love for us, the church. Come celebrate with us, yes. But don't forget to pray for us. We can only do this through God's strength.