Guest Accommodations
W Atlanta - Midtown
188 14th St NE, Atlanta, GA 30361, USA
404-892-6000
Check-in:
April 2nd, 2021 |
Check-out:
April 4th, 2021
Rate:
$209/night
Use Code:
Charles-Linen Wedding
Located in the city's most electric neighborhood, the W Midtown Atlanta is just a stone's throw from amazing shopping and nightlife, as well as attractions like Piedmont Park and Ponce City Market. Make yourself at home in sleek rooms and suites with tech-friendly perks, comfy beds and views of Midtown.
*IMPORTANT NOTE* There is a $500 deposit for incidentals at the W Atlanta Midtown. The balance of your hotel stay will be taken out of this amount. So, for instance, if you are only staying one night at a rate of $208, at check-in they will authorize $500 on your credit card. At the end of your stay, the $208 (plus taxes and fees) will be taken from your initial $500 deposit, and the remainder will be refunded to you. We are also told that it is better to use a credit card rather than a debit card, as the latter will take the entire amount from you bank account, rather than simply authorizing said amount the way a credit card would.
Additionally, if you have trouble booking a room with two beds, please email the Senior Even Manager, Pranisha Shabazz directly at [email protected]
Atlanta Marriott Suites Midtown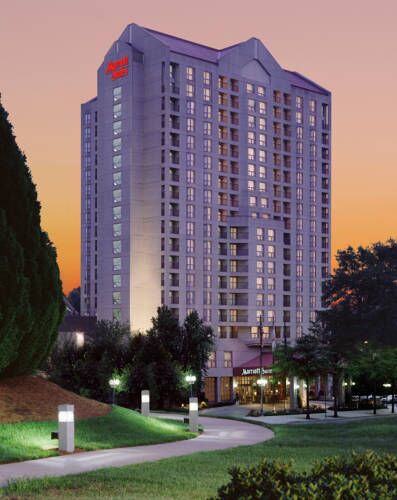 35 14th St NE, Atlanta, GA 30309, USA
404-876-8888
Check-in:
April 2nd, 2021 |
Check-out:
April 4th, 2021
Rate:
$115
Use Code:
Charles-Linen Wedding
Atlanta Marriott Suites Midtown provides an unbeatable location within walking distance of attractions such as The Fox Theatre, Piedmont Park and Atlanta Botanical Gardens. For active travelers, maintain your workout routine at our 24-hour fitness center or take a refreshing swim at our indoor/outdoor connecting pool. Satisfy your appetite at an on-site restaurant, Grille 35, serving delectable American cuisine and handcrafted cocktails before retiring to your stylish suite. You can take in the city views from many of the hotel suites featuring lavish bedding, thoughtful room service and spacious living areas.