Our Story
She Found Her Knight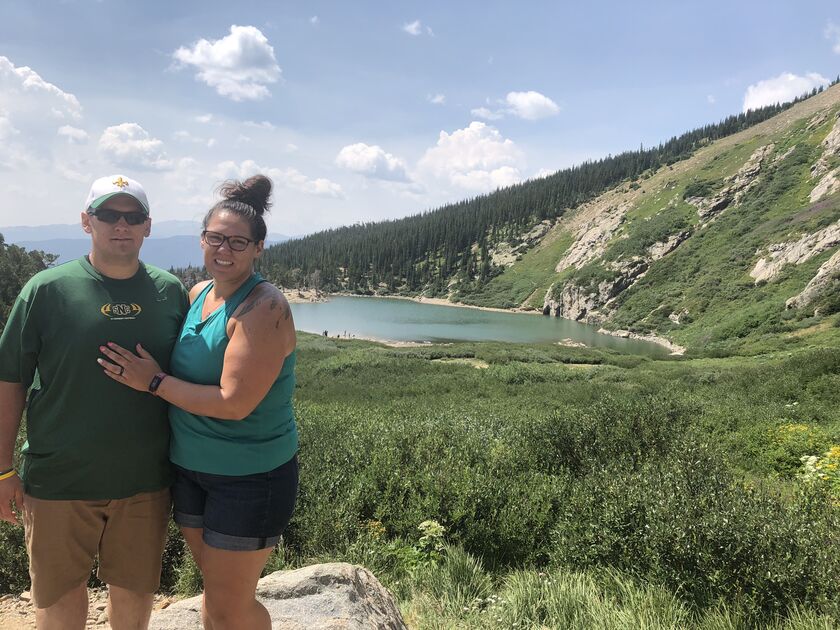 It was Kate's freshman year of college and Chris's senior year of college at St. Norbert. 340 College Ave had a house full of athletes, Chris being one of them. Kate was on the track team and was regularly invited over for the weekend "get togethers." Kate always admired Chris but with being a freshman, she knew better than to say anything to him. Chris graduated and stayed in Green Bay for a couple years. Chris's roommate, Gobert was one of Kate's good friends, so Kate found herself hanging out with them on different occasions after graduation. When Kate got wind that Chris found a job in Colorado and he would be moving soon, she knew the ship had sailed and she'd never tell him know how she felt.
After years of small talk and the occasional Facebook stalking session to see what each other were up to, the tables turned August 18, 2018. Chris was on his way to a Brewers Game at Coors Field. (Of course he has to support the Wisconsin teams when they visited Denver.) He had sent Kate a Snapchat and her first thought was, "Why is Dulmes snapping me?" Well he was sporting a Brewer polo and letting her know he was going to enjoy the series at Coors Field rooting on the Brewers. As the weekend progressed, Kate was headed to a wedding with her wing-woman Meghan. A snap chat was later sent to Chris with the response back of, "Looking good." Well Kate was sold, and couldn't hold off of letting him know exactly how she felt. The night came to a close and her last words to him was, "Be sure to call me out on this in the morning."
It was morning and she had a wonderful text waiting for her saying, "Good morning! How are you feeling this morning?" From there, their love unfolded and more people were catching on to what was happening. Especially when Kate started calling him Chris after years of calling him Dulmes.
Kate moved to Colorado in the spring of 2019 once school was over. Chris welcomed her in with open arms. He had to give up part of his man cave so that Kate could make the apartment more homey. (But all is fair in love and war, she let him has is TV during football season!) Kate knew things were getting serious when he started to make arrangements to FaceTime her Dad.
Chris asked Kate to go on a hike up to St. Mary Glaciers. It was the hike that they first took when Kate visited over Christmas of 2018. It was a wonderful idea since neither one of them had been there during summer. Little did Kate know, that day July 29, 2019, her life would be changed forever. Chris put the car keys in the back pack. (Red flag number one, he always has them in his pockets.) Then Kate noticed a ring outline in his pocket. (Red flag number 2, she thought is was a coin and she knows he normally doesn't carry change around.) They got up to a great look out over the glacier.
Kate was admiring the scenery when she turned around and saw Chris down on one knee. Her response, "No, No you can't be serious." Tears of joys streamed down her face and then Chris got the proper response of "YES!"
The Wedding
Saturday, May 1, 2021
2:00 PM
Ceremony
Devotions Wedding Chapel
7019 Dickinson Road, Greenleaf, Wisconsin, 54126, United States
Reception
Comfort Suites
1951 Bond St, Green Bay, WI
Ceremony starts at 2 pm. Cocktails and snacks from 5-6PM at the reception hall Dinner at 6pm and reception to follow.
Wedding Party
Meghan Braatz - Maid of Honor
Met at St. Norbert, the wing-woman
Lauren Schilling - Bridesmaid
Lisa Jordahl - Bridesmaid
Kelsey Stuebs - Bridesmaid
Friends since high school
Faith Fritz - Bridesmaid
Friends since high school
Martin Dulmes - Groomsman
Drew Oudenhoven - Groomsman
Jordan Gobert - Groomsman
Brandon Blatz - Usher
Bride's childhood neighbor and life long friend