62 DAYS AWAY!
3rd Time is the Charm
May is right around the corner, and we can't begin to express how excited we are to finally have our dream wedding! There are still room available on our room block, so please book ASAP if you are planning on staying the night!
COVID is still an active part of our lives and we truly understand the stress is may be causing. Please, and we cannot emphasize this enough, do not come if you do not feel safe. We completely understand and commend you for putting your physical and mental health first!
We are highly suggesting that people wear mask and be respectful to those around them.
Let's try this again?
Due to the ever-changing conditions, Chris and I have made the very difficult decision to postpone our special day. We are not thrilled to have to things about doing this again, but you all mean so much to us and wouldn't want anyone to become sick after celebrating our day. We apologize whole heartedly for any inconveniences this may cause.
Please stay on the look out for an updated card in the mail.
We are less than TWO MONTHS from our BIG DAY
November is right around the corner!
It feels like just yesterday that we were trying to figure out if June was going to go off without a hitch or if we needed to postpone. And now, here we are, 53 days away from officially tying the knot with all our friends and family.
We need all of our guests to make sure they RSVP by October 10 at the absolute latest!
If you need a room, there are still rooms available in our block. Check the hotel accommodation tab for more details.
As of right now... The Wedding HAS BEEN POSTPONED
5/20: RSVP'S
We had previously told you June 1st to RSVP by. However, that was if we were having the wedding on June 27. With postponing our date to November 7th, you do NOT need to RSVP until October 10.
Stay safe, Chris & Kate
5/2: WEDDING HAS BEEN POSTPONED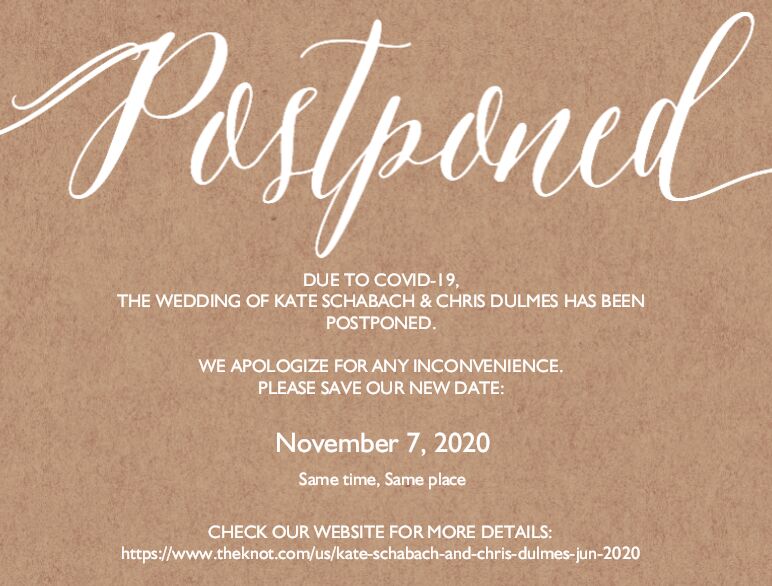 It was a difficult decision, but we have decided to postpone our wedding to November 7, 2020.
Things to know:
-Same time, Same place, new date
-If you already booked a room, we will be in touch!
-All guest will be sent a postponed postcard by the end of May.
-If you already RSVP'd, your reservation is safe and will be saved until our postponed date. If you need to update the reservation, please contact one of the moms, the bride or groom.
4/21/2020
Hello Family and Friends,
As most of you know, the "Safer at Home" orders have been extended until May 26. We are hoping that our wedding will still take place on June 27. However, we are looking at alternatives incase we need to change things around.
There has been a change to the Wedding shower. It is NOT taking place on May 9. Please be on the look out for more details to come.

We appreciate all the love and support during this ever-changing time.
Kate and Chris
4/1/2020
At this point, we have talked to all of our vendors and they are hoping all this COVID-19 shenanigans will be done by our wedding. We are keeping a close eye on everything and hoping too that is will all settle by June. Only time will tell! Keep checking back for updates as our date gets closer!