The Wedding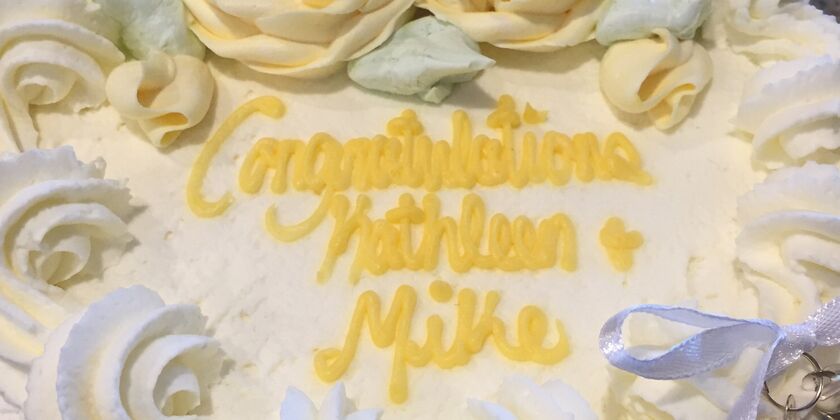 Saturday, October 6, 2018
3:00 PM
Attire: Cocktail Attire
Ceremony and Reception
St Mary Of The Sacred Heart
392 Hanover St Hanover MA 02339
Our wedding is an open invite- bring guests and family! RSVP to help us better prepare seating.

We will be getting the buffet started with steak tips and chicken ziti alfredo, and if you are able, we ask that you bring a dish to share in lieu of gifts to help us build a memorable and fun wedding feast for our community of family and friends!

Please submit your recipe via RSVP comment on the Knot, so that the kitchen team can prepare the buffet.

Please bring a recipe card so that we can combine them into a book to share and enjoy for years to come.

You are invited to drop off your dish at the parish hall, starting at 12:00 pm, before the wedding ceremony so you can enjoy the wedding without worry!
Our Story
A Meddling Priest or Two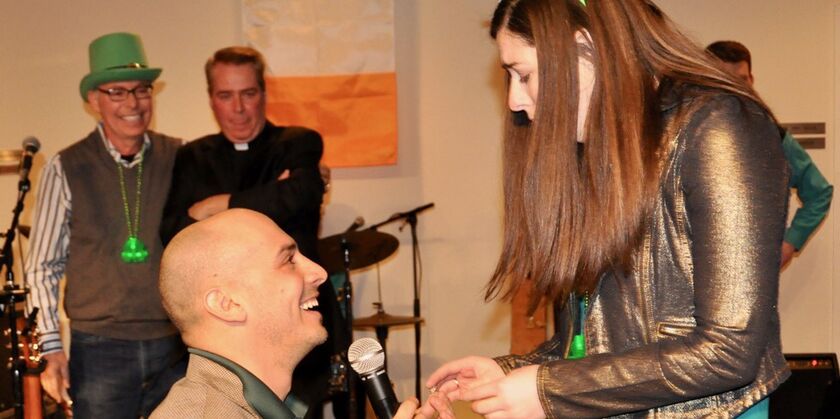 Soon after Christmas 2016, my brother Fr. Patrick Briscoe and I were spending time together as he finalized his move to the NorthEast. After teasing me for my serial dating habits, he suggested that I join catholicmatch.com. I balked. And end up with a Shiite Catholic spouse, a la Jim Gaffigan? No thanks. But then again, meeting people through Tinder wasn't exactly producing men who understood why I liked attending mass every Sunday ("Every single Sunday?? Why?"). I grudgingly signed up, and promptly came across a very interesting profile. His name was Mike, and I could tell he was indeed a very interesting person. If you ask him, he'll tell you he was on the website for two weeks before I started a conversation with him. We soon decided to meet up. I chose someplace public, in case he turned out to be an axe murderer (you can never be too sure), and one unusually sunny day in the month of February, we met in front of the Shaw monument in the Boston Common. We walked the length of bean town: we had burgers at the Black Rose, and stopped for a beer (or two) at the Pour House. After five hours, we grudgingly said our farewells.
After that first date, we spent as much time together as we could, and started to think about a future together.
In March 2018, Mike completely surprised me with a beautiful proposal in front of our friends and family, after colluding with another priest and good friend, Fr. Chris Hickey. We are so excited to celebrate our marriage with you!
Seismic Event Disrupts Thousands
Associated Press May 14, 2018


Earlier this year, on the evening of March 10, a sudden rumble disrupted thousands of people the world over. Seismic events are common in our world, but this was a unique disturbance. The tremor was reported in dozens of countries and on all seven continents, but at no point did the event register above a 4.7 magnitude.
"This is a highly unusual seismic event," said Dr. Bruce Chipman, chair of the seismology department of the University of Woolloomooloo, Australia. "A typical seismic event features an epicenter where the most destructive shockwaves are felt. The waves then propagate out in all directions, dissipating the kinetic energy. The further away from the epicenter you are, the less intense the event should be."
William Sanford Nye, better known by his public moniker "Bill Nye, the Science Guy" Described it like this: "Think of it like an inordinately obese man doing a cannonball into a pool. Where he hits the water, there's a giant splash. Waves go out in every direction and gradually get smaller. If you're right next to him, the wave can push you around. If you're far enough away, it's just a ripple and you don't even notice it."
But that was not the case this past March. "The event had no discernable epicenter," said Chipman. "It registered a 4.7 in Boston and New York City, but a relatively mild 2.6 through most of Rhode Island and Connecticut. Here on the east coast of Australia we experienced tremors in the 4.1-4.3 range. All over the world, the disruption was felt at different levels."
One popular theory had been that the epicenter of the disturbance was deeper than any previously recorded event – near to the earth's core. If this were the case, the event would be felt at low levels all over the world without a single "hot spot" on the surface. The theory was far from perfect, however. It did not explain how two communities within driving distance of one another could have experienced powerful tremors while the spaces between them were relatively calm. Instead, critics of the "corequake" theory argued that the event was really a series of connected seismic events, but were unable to name what might have triggered so many events so close together.
Then, last week, a considerable breakthrough all but confirmed that the critics of the corequake theory were correct. Lightning, or in this case a seismic event, struck twice. "This time we were ready for it," said Chipman. "When the reports of a second event started rolling in, I immediately dispatched all the Bruces and blokes I knew to the hotspots to see what they had in common." It turns out, the areas most affected by the tremors centered around recipients of a "save the date" card.
"Hearts break all the time," said cardiologist William Hamman. "It's not surprising that the simultaneous destruction of so many would be picked up by seismographs."
The most baffling seismic event in recorded history was caused by the simultaneous breaking of millions of eligible bachelorettes' hearts all over the world.
"It definitely checks out with what we saw here," said Chipman. "One poor girl was wandering down the street barefoot screaming 'it should have been me' at the sky. In her hand was a 'save the date' card. I don't know who this Briscoe girl is, but she's one lucky Sheila."
"What can I say?" asked Mike Habeeb, whose name was on the card as the groom to be. "There are a lot of beautiful girls out there, but I can only marry one of them. When I met Kathleen, I knew she was the one. I'm sorry it caused such a ruckus, but to be honest I'm not all that surprised."
When reached for comment, the bride to be, Kathleen Briscoe, rolled her eyes.
Wedding Party
Kristin Briscoe Parikh - Matron of Honor
My twin sister Kristin is my best friend and other half.
BriAnna Habeeb - Bridesmaid
Mike's sister Bri has become a great friend and sister!
Nick Habeeb - Best Man
Mike's older brother!
Ronald Boidi - Groomsman
Mike's closest friend!
Tim Habeeb - Groomsman
Mike's younger brother!