Accommodations
Camp Robin Hood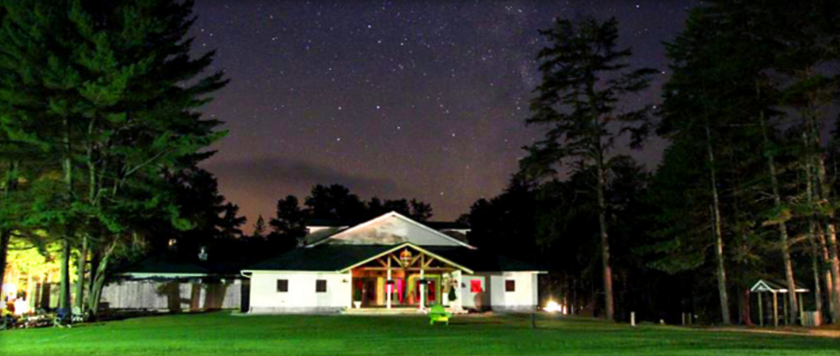 65 Robin Hood Ln, Freedom, NH 03836, USA

We'd love to have you join us and spend the weekend at Camp Robin Hood in one of their rustic, open air cabins. Each cabin is nestled under the pines on Lake Ossipee, sleeps 4-40 campers (if you have a large group you want to stay with, we can make it happen), and is equipped with full bathrooms.
Price: Camp Robin Hood charges $115 ($85 for children under 12) for a two night stay at camp (Friday and Saturday night), Friday night cookout dinner, Saturday brunch, and Sunday Brunch. All bed linens, pillows, and towels are included. Guests will be put together in small groups in the cabins, so if you have anyone in particular you'd like to stay with, please let us know!
Click here to reserve your spot at camp!
Or Stay Off-Site:

Camp a little too rustic for you? Feel free to reach out and we can suggest some nearby, more traditional accommodations.
Contact Info:

For any questions or to request people you would like to share a cabin with, please reach out. Katie's email: katheri[email protected]
Travel and Transportation
Portland International Jetport
1001 Westbrook St, Portland, ME 04102, USA

Portland Jetport is located just over 1 hour from Camp Robin Hood
Manchester-Boston Regional Airport
1 Airport Rd, Manchester, NH 03103, USA

Manchester Regional Airport is located 1 hour and 45 minutes from Camp Robin Hood
Boston Logan International Airport
1 Harborside Dr, Boston, MA 02128, USA

Boston Logan is located just over 2 hours from Camp Robin Hood
Things to Do
Camp Robin Hood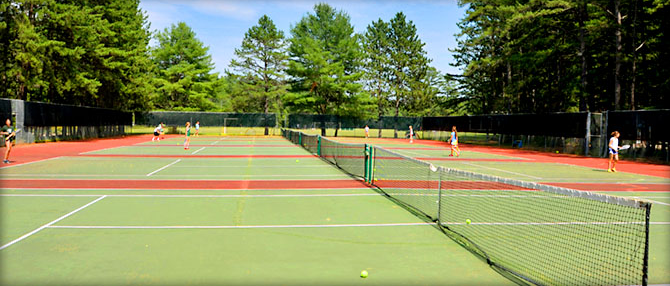 65 Robin Hood Ln, Freedom, NH 03836, USA

We have the entire camp to ourselves to enjoy for the weekend on beautiful Lake Ossipee. Check back soon for an updated schedule of activities that may include, swimming, canoeing/kayaking, boating, tennis, volleyball, and other lawn games.
Weekend Schedule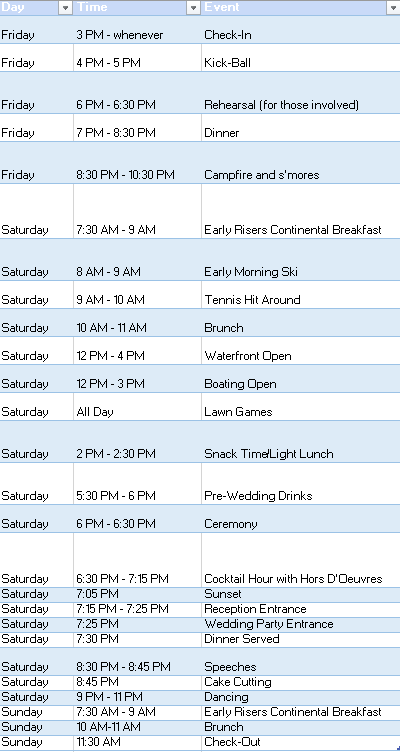 Let us know if you have any activities you would like to do that are not listed!
What to Wear
For the majority of the weekend, we will be 100% camp casual. Be aware that in September, though we are hopeful for warm weather during the day, as the sun goes down evenings can get a bit chilly.
Weather permitting, the ceremony will be outside on the shores of Lake Ossipee with an outdoor cocktail hour before moving into the dining hall for the reception. For the wedding, we and our family will be in dresses and suits, feel free to join us in that!
We'd recommend avoiding stilettos and opting for wedges for those so inclined.

What to Bring
- a bathing suit
- warm clothing for potentially chilly nights (expecting 50 degree temps in the evenings)
- casual day clothes (expecting around 70 degree temps in the day)
- umbrella/rain jacket (the weather is looking like we may see some rain)
- dapper wedding attire (semi-formal)
- flashlight/headlamp (or you know, your iphone)
- comfy walking shoes
- toiletries
- athletic clothes (for kickball or other activities if desired)
- a sense of adventure and childhood nostalgia
*all sheets, bath towels, pillows, and blankets will be provided
Food
If you are joining us for the weekend at camp, your stay will include a cookout on Friday night and brunch on Saturday and Sunday.

Additionally, heavy appetizers will be provided in the afternoon to tide guests over to cocktail hour and reception dinner being hosted by the couple and their families.
FAQ
Q. What does open air cabin mean?
A. The cabins are rustic, large rooms with a bathroom area containing multiple shower and bathroom stalls in each. The cabins are equipped with screened in windows and hatches that can be lowered in the event of bad weather (we're crossing our fingers these aren't necessary).
Q. Do the cabins have hot water?
A. Yes.
Q. Do the cabins have electricity?
A. Yes.
Q. How close is the camp to stores?
A. The camp is located approximately 30 minutes of North Conway, NH, one of the largest towns in the area. North Conway is a great town with lots of restaurants, grocery stores, tax free outlet shopping, and lots of boutique shops. We personally recommend checking out Flat Bread Co. for a tasty bite if you have time. Additionally, there are smaller grocers and quick stop areas located around Freedom and the surrounding areas.
Q. Can we choose who we bunk with?
A. Yes, feel free to email us with any cabin requests you may have at [email protected]
Q. Is there food/beverages for purchase at the camp?
A. No there is not. Beverages and snacks will be available in a public area for individuals to grab at any time. Heavy appetizers will be provided in the afternoon to tide over any hungry individuals post brunch and until the reception cocktail hour and dinner.
Q. Do we need to bring a cooler with ice?
A. No, not unless you are planning on bringing your own private food/drink that you would like to store.
Q. What time do festivities begin Friday?
A. We are tentatively planning for anytime after 5pm, however the schedule will be formally finalized as the date gets closer.
Q. What time do festivities end Sunday?
A. We are tentatively planning for around 1-2pm, however the schedule will be formally finalized as the date gets closer.
Have any more questions? Feel free to reach out at [email protected]