Our Story
Reel Love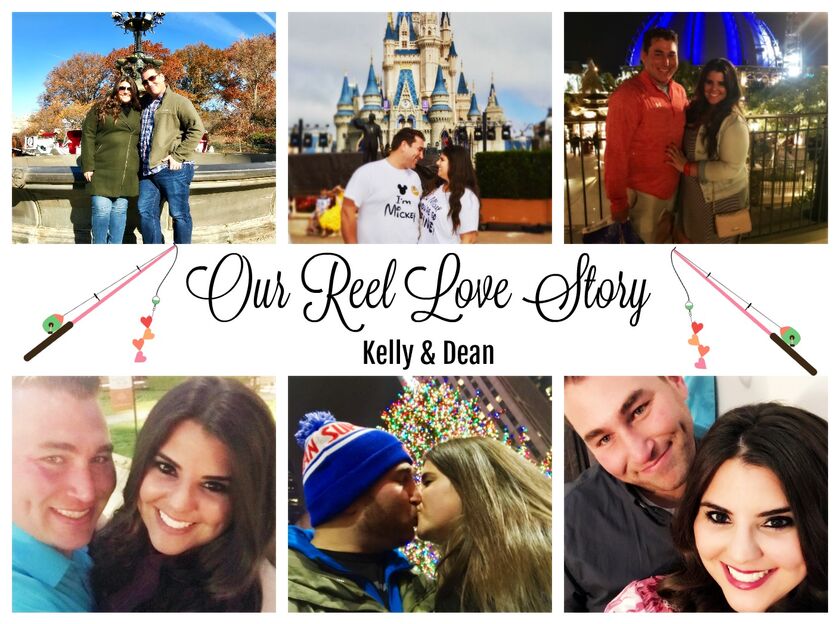 In a world full of technology, it's no surprise that our love story began with the swipe of a button. We both had online dating profiles on Plenty of Fish and our share of horror stories to go along with it. I was at a point where I barely even checked my messages anymore, but Dean never gave up hope that he'd find a catch of his own.
I logged into my account one day and viewed my new messages. With no rhyme or reason, I clicked on Dean's message which was a generic "Hi, how are you?" Any other day I would have hit the delete button because of that standard message, but something in me told me to respond. I was at a point in my life where I had given up searching for someone and was just letting life take its course. With nothing to lose, I responded.
Dean on the other hand was a bit more optimistic. After getting out of a bad relationship and taking the time to assess what he wanted, he was ready to start the next chapter of his life and not willing to compromise his happiness.
We talked for a few days over the dating app and the conversation really flowed. Dean was easy to talk to and very interested in learning more about me. He was very persistent in wanting to meet me. I had my guard up and must have come up with a dozen excuses about how busy I was before giving in. He was so thoughtful rearranging his schedule and coming up with suggestions to make our first meeting happen that week.
I had come up with the idea of meeting Dean on my lunch break. This way I had a reason to leave if things weren't going well and there was no pressure that came along with a formal first date. We decided to meet at a local Dunkin Donuts for coffee. I remember the butterflies I had when I was sitting in my car waiting for Dean to arrive – crazy because it wasn't even a real date. He pulled up and got out of his car and I could literally feel my heart racing. He looked so adorable with his spiked hair, checkered button down shirt, and khaki pants. The pictures he had on his profile did not do him justice! I couldn't decide which was more attractive, his piercing blue eyes or his crater-like dimples.
Dean remembered feeling intimidated because of how tall I was, not realizing I was in heels that day. He was extremely nervous and admitted to having some serious pit stains and sweaty palms before getting out of his car.
I paid for our drinks which Dean claims made him uncomfortable; despite the fact all he got was a 99 cent iced tea. We sat down in a booth and got to know each other better. I was actually really into Dean after meeting him in person and loved the fact he could hold a conversation. It's funny because I could hear my mother's voice in my head the whole time saying "personality is more important than looks Kelly Rose." Yes, Dean was physically attractive, but it was his personality that I fell in love with. However, the vibes I was getting from him were not the same. He was very fidgety which actually made me a little nervous.
When we left to go back to work, we gave each other an awkward side hug and I remember thinking "okay, I'm not going to see him again." I was bummed because I went into it having no expectations and a "whatever happens, happens" attitude and ended up really connecting with him and felt like he just wasn't into me.
I got a text from him when he got back to work saying how nice it was to meet me. I thought it was just another way of saying "thanks, but no thanks," so rather bluntly, I let him know that he didn't have to sugarcoat things and I could tell he wasn't into me, so no sense in wasting each other's time. I didn't hear back from him immediately and thought it was over, until I received a text from him later that afternoon. He was actually shocked I felt that way because he felt quite the opposite. Dean reassured me that the connection I felt was mutual and his nerves got the best of him.
Taking a leap of faith, I decided to meet him again that Friday for dinner. I met him at his condo and he drove us downtown where we went to this little place that had homemade grilled cheese and dipping soups (he scored major points for that because I LOVE grilled cheese,) but it was the car ride there when I knew I had found a keeper. There was nothing on the radio so Dean put his Pandora playlist on and the first song to play was "Everybody" by the Backstreet Boys and he started to sing to me at the top of his lungs and act like a goofball with the windows rolled down. Dean remembers feeling so embarrassed because now I knew he listened to the Backstreet Boys. Naturally, I had to join in and sang our hearts out. We could be ourselves around each other without judgment and felt completely comfortable.
From the night forward, Dean and I have been inseparable and couldn't be more excited to spend the rest of our lives together.
Out of all the fish in the sea, I couldn't be happier that he swam to me.
The Wedding
Saturday, June 22, 2019
Ceremony
The Manor
Reception
The Manor