Our Story
The First Encounter
Nick and Kirsty officially met in the spring of 2014, after an encounter at their college's Subway (of all places). Kirsty was eating with some of her Basketball teammates while Nick was grabbing a quick bite before hitting the library. After some playful banter, Nick and Kirsty ended up at the same table. As Nick and Kirsty began to talk and introduce themselves (as they had mutual friends but had never officially met), Kirsty ended up with Nick's phone. With a few sly lines, Nick asked for her number, "since you're holding my phone, you may as well put your number in it", but Kirsty insisted on making him work for it. Kirsty said she would give him the number, but it wasn't going to be under her name. It was at this moment, the games began between Nick and Kirsty.
The night ended and they went their separate ways, but that didn't stop Nick from searching for the name later that night. Since Nick didn't recall knowing anyone named "Shaniqua" he made the decision to text Kirsty to confirm he now had the number.
Beginnings
So the statement 'the games began' is due to the fact that after that moment, Nick and Kirsty never really texted, called or anything. Instead, they would hang out in person or just speak in passing, with each meeting ending with a " Bye, text me" from both of them. The truth is, both Nick and Kirsty were too stubborn to text the other first. It wasn't until one afternoon, a couple of weeks later, while hanging out with Kirsty, that Nick figured he could use a little company on a 7-hour drive to FSU in Tallahassee to see his friend Andrew, that he asked Kirsty if she wanted to go. This was the decision that developed their friendship into a relationship. The 7-hour drive went by perfectly, without a single pause, or awkward silence. The two simply hit it off.
That weekend was the spark of something great, as Kirsty met Nick's friends, danced the night away, and the two had some genuine quality time. After the two returned back to Newberry, it was the start of something new, although the summer was coming soon.
The First Test
That summer Kirsty would return home to Australia to play basketball, see family, and work, while Nick would return to Florida, before attending his summer Army Training. Before Nick left for his Training, the two made sure they kept in contact, Face-timing and texting whenever they had the chance. They were constantly battling the 14-hour time difference, and they really began to miss each other.
When it was time for Nick to go to his Army Training (a period where he wouldn't have availability to his phone), he wasn't going to let the time developed with Kirsty go to waste. Nick wrote Kirsty a letter to be read each week that he was going to be gone, and had them sent all the way to Australia. The two also made an impromptu plan for Kirsty to come to Florida prior to school starting. This would allow them to see each other as soon as possible, and would enable Nick to show Kirsty Florida, as well as getting the chance to meet his amazing family.
'Officially' Dating
The 6 weeks flew by, and ended with relief when they met each other at the airport. The time apart solidified the fact that they wanted to be together, as they barely survived the summer without each other. Kirsty spent the next week before heading back to school meeting Nick's family, and on the last weekend of the summer in Cocoa Beach, Nick and Kirsty made their dating official.
Kirsty and Nick had an amazing first year, going on trips to the Lucido's cabin in North Carolina, traveling to Cancun with friends, and cheering each other on in their respective sports. They knew it was the start of something great!
Then It Was Time To Meet Kirsty's Family - Trip Down Under
Upon Nick graduating and commissioning into the US ARMY, the two knew with Nick's Army career and with Kirsty finishing up her last year at Newberry, they had to make the most of their time together. They decided to do a trip "Down Under" to meet the Dunsmore's and see what the amazing country of Australia had to offer.
Kirsty showed Nick an amazing time at her home near Sydney and Nick was able to meet her family and friends, and share countless great times adventuring on Australia's East Coast.
The Second Test
When it was time for Nick to leave, they both knew they had to start their long distance relationship – 6 months in Arizona for Nick, and a year at Newberry for Kirsty.
The two went 3 months apart before the Lucido's and Kirsty were able to visit Nick and see what Arizona had to offer. The Grand Canyon, Flagstaff, Sedona, and Tucson were the highlights of the Christmas trip, followed by another 3-month long distance relationship for Nick and Kirsty.
And Then He Popped The Question
After Kirsty completed her senior season on the court, and Nick completed his Military Intelligence school, the two decided it was time to meet up in California to celebrate and drive back across the country together. The two met up in San Diego and traveled to LA before heading back through Arizona, and finally the halfway point - Austin, Texas. What Kirsty didn't know was, that this is where the two's life would truly begin together. Nick felt it was only fitting that he propose there in Texas to start his life with Kirsty, the very same state where Nick started his life (his birth place). The first day in Austin brought rainy weather, but that didn't stop the two from exploring the city, taking photos and enjoying each other's company. It wasn't until it stopped raining that Nick decided to take Kirsty to a well renowned coffee shop on South Congress Street. The Coffee shop is known for its mural that reads "I Love You So Much." What Kirsty didn't notice prior to arriving at the mural was the big ring box bulging out of Nick's jacket pocket the whole day. As Kirsty went around to order a coffee, Nick slipped away and asked a girl to have her phone ready because he was about to ask his girlfriend a very important question. The stranger happily agreed. As Kirsty came around the corner looking for Nick, he pulled her close, kissed her, and asked her if she was ready for forever, speaking the words "I love you so much", a common line Nick always told Kirsty over the phone before bed all those months away from one another. After a few lines, Nick asked Kirsty the most important question of all... "Will you marry me?" Obviously she said yes, you're invited to her wedding aren't you?
The two celebrated the night by hitting 6th street, dancing the night away, and hitting roof top bars before the journey finished by heading back to Savannah, Georgia, where the two would soon move into their first place together.
P.s. The Stranger Nailed The Shot!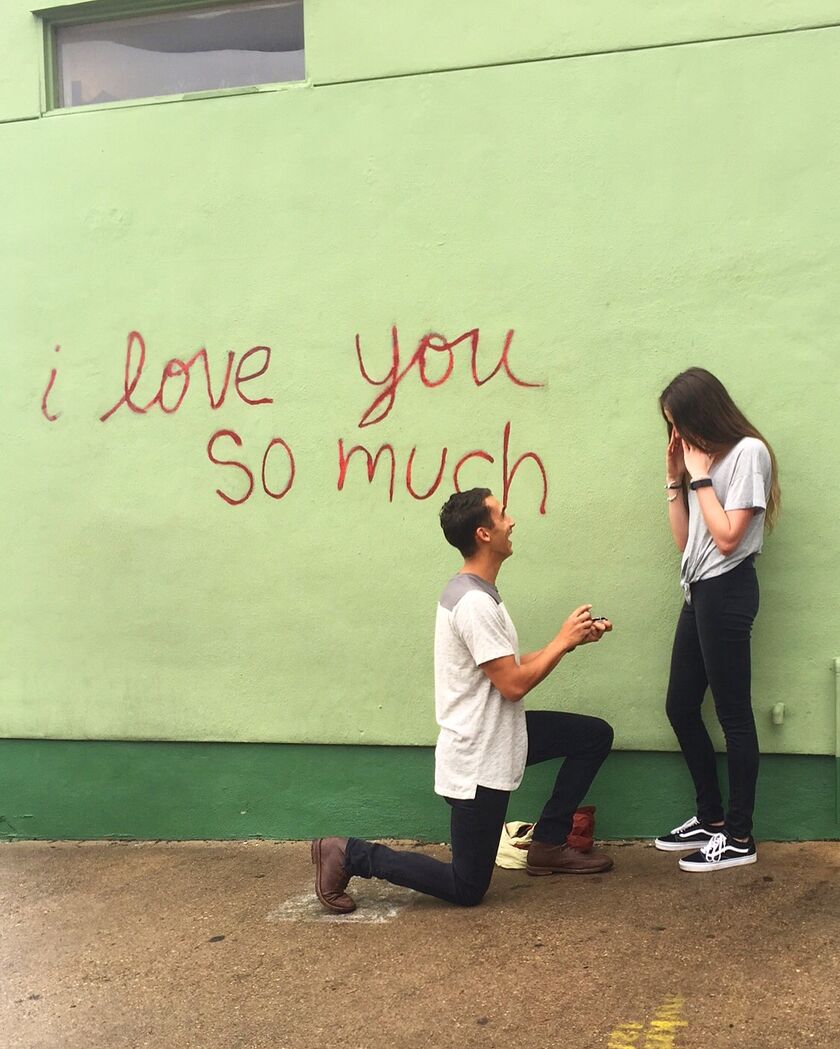 And There He Goes Again
Unfortunately, the fun times were once again nearing to an end when Nick quickly received word that he would be deploying for 6 months to varying spots in Europe in response to Russia's increased threat to Ukraine and the Baltic States. Although it was tough, Nick and Kirsty attempted to make the most of the time the two had together - moving in and decorating the apartment before Nick left. When the time came for Nick to go, Kirsty (like Nick did that very first Army Training apart) handed Nick a bundle of letters that she had wrote to push him through his deployment. She wrote thirteen to be exact.
Saying the goodbyes were tough, but the two stayed strong and kept telling themselves that the time would go by fast. During the first couple of weeks, Kirsty was able to finish her senior year strong, graduating with a double major in Graphic Design and Social Media, and a minor in Communications.
While Kirsty is living back and forth between Georgia and Florida, trying to get everything together for the wedding, she is still counting down the days till Nick jumps back into her arms. Nick is due to get back in late September, the time where the adventure continues.
Worth The Wait
Nick was finally done with his deployment in Europe and headed home! It took two delayed flights and a 16-hour plane ride but Nick finally arrived back stateside (Fort Stewart) at 3am. His parents and Kirsty were there waiting anxiously. The moment the two had spoke and texted about for thousands of hours was finally over! Nick quickly found Kirsty amongst the hundreds of soldiers and families in the parking lot that very early morning. Nick could not stop hugging and kissing his girl. They were finally back together again.
The two have settled in right back to their old ways. They have been dreaming and planning for their future together.
They are looking forward to a wonderful wedding celebration April 1st. They can't wait to have all of their friends and family together to celebrate with them.