Our Story
How we met
How we met
Morgan and I met in 2008 during a community theatre production of "Kiss Me, Kate." He says I ignored him and that's mainly true. Obviously, I was an idiot. Over the next year Morgan and I would see each other at various events, including once when were in the Christmas Parade together and he pulled me up on to a moving trailer while dressed as Indiana Jones. I was starting to take notice!
In the summer of 2009 our theatre group did a production of "Seussical: the Musical" based on the Dr. Seuss books. He played his guitar and sang at the audition and now I was really starting to take notice. I called my best friend Leighanne (who also happened to be the director) that night and said, "so. . . what do you think of Morgan?"
"What do you mean what do I think," she asked.
"Well, he's hot." I replied.
"Well, duh," said Leighanne.
We hung out together all summer, but mostly with our other theatre friends and never alone so I just wasn't sure if he was in to me or not. The topic was hotly discussed amongst my friends and co-workers.
One night during dress week I couldn't stand it any longer so I slipped a note with my phone number on it into his pocket right before he went on stage. He was the Cat in the Hat, by the way. After the rehearsal we shared a very romantic kiss in the parking lot. Well, it was romantic until Leighanne drove by and honked the horn at us.
And the rest, as they say, is history!
Our Wedding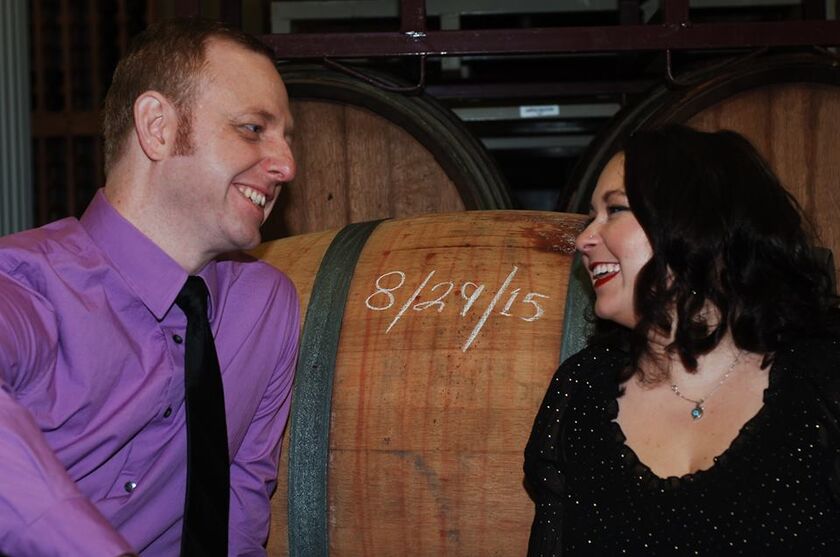 Saturday, August 29, 2015
7:29 PM
Attire: Cocktail attire suggested
Ceremony and Reception
RagApple Lassie Vineyards
3724 Ragapple Lassie Lane, Boonville, NC 27011, United States
We are so excited to share our special day with you, our beloved friends and family. The wedding ceremony will take place at 7:29 p.m. outside in the gazebo behind the winery. A dessert reception will follow inside the winery.