The Wedding
Saturday, December 30, 2017
2:00 PM
Ceremony and Reception
Holy Rosary Catholic Church
202 Minnesota Ave, Kranzburg, SD, United States
The reception will be right across the street from the ceremony

Dance to follow at the Goodwin Community Center
No "Save the Dates" or "Formal Invitations" will be sent out. We would love for you to help celebrate our special day!

Our Story
How We Met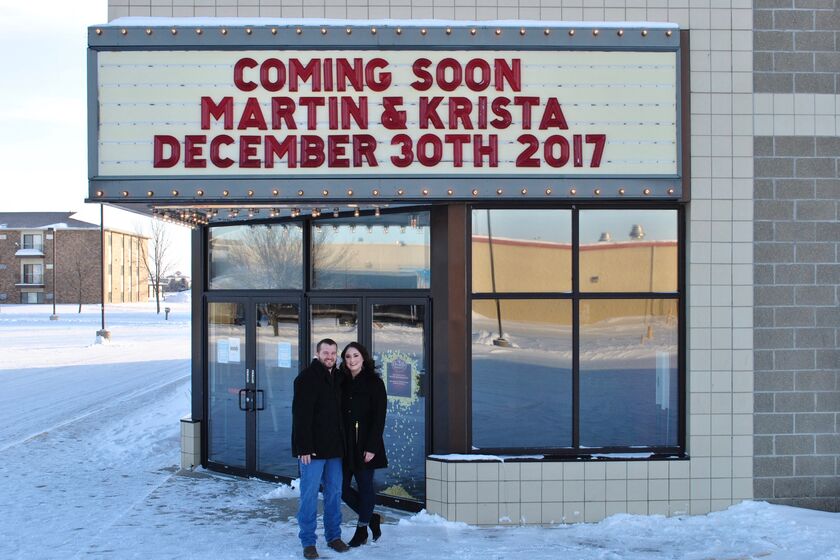 We met on June 29th, 2012 in Watertown, SD.
I messaged my cousin Jordan Popham to see if he had any plans or knew of anything going on that night, he invited me to come with him and some friends to a movie. So I drove to Watertown and met them at the movie theater where we were going to see the movie Ted! Then he introduced me to Martin - I can remember texting one of my best friends from high school, Paige TeGantvoort, that I thought I just met my future husband. Martin was so handsome wearing cowboy boots, wrangler jeans and a white T-shirt! We then proceeded to head into the movie theater and Martin ended up sitting next to me. I called out the whole movie and talked the entire time, Martin likes to remind me of that! After the movie, I asked Jordan if he and his friend Martin would like to come to the Clark street dance with me the next night. We went to the street dance and when we dropped Jordan back off at his house afterwards we literally sat outside of his house and talked until the sun started to rise. We started dating on October 3rd, 2012!
The Proposal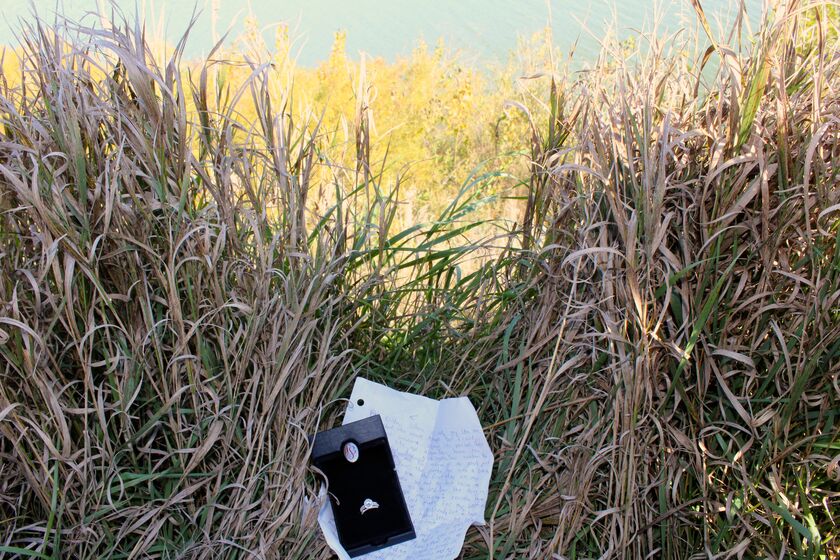 We got engaged on September 30th, 2016 near Hayti, SD.
I was on my way back to the farm from getting my hair done in Brookings and Martin asked if I wanted to go to dinner. I was thinking that this was going to be our "anniversary date" since our 4 year was on the following Monday. We went to eat at the Bullpen in Lake Norden, one of our favorite spots, and when we got back in his truck he asked if I wanted to go for a drive. He took me to Lake Marsh which was one of our first dates, he has always been pretty romantic so I didn't think anything of it. When we got out of the pickup we were on the hill top overlooking the lake, the stars were out and all you could hear was the waves hitting the shore. Then he pulled a letter out of his pocket that he wrote me. It wasn't until near the end of the letter that I knew what was happening! He got down on one knee and asked me to be his wife. It was a perfect moment that we will treasure forever.
Wedding Party
Karyssa Popham - Bridesmaid
Karyssa is my cousin and is the closest thing I have to a sister! Our families are very close, since growing up together we have had many memories! Between camping, building tree forts, holidays and a family trip to Florida we always have fun together!
Fun Fact: Karyssa went to the Wizarding World of Harry Potter in Orlando with me since Martin doesn't get in to Harry Potter as much as I do!
Rachel Leiseth - Bridesmaid
Rachel and I actually went to Deuel School together! We share the same birthday-only a year difference, we played the same position on our high school volleyball team and dated Hamlin boys! Rachel and Davis are the couple Martin and I hang out with the most!
Fun Fact: Rachel and Davis got engaged three days after and by the same spot we did!
Natalie Cuperus - Bridesmaid
Natalie and I were in the same sorority in college and served on two executive boards together. We went on spring break to Fayetteville, Arkansas and had many memories in Brookings! Natalie is one of my most genuine friends. I'm so grateful to have her in my life!
Fun Fact: Our cat Nala actually came from Natalie's family farm!
Matty Kerr - Bridesmaid
Matty and I also met through our sorority. We served on an executive board together, traveled for spring break together (Winnipeg, Canada and Fayetteville, Arkansas) and have had many fun memories together in Brookings! I couldn't imagine my college career or our special day without her!
Fun Fact: Matty was there the night Martin lavaliered me! (Fraternity promise to get married)
Mikaela Schnetter - Bridesmaid
Mikaela and I were random roommates our freshman year in Young Hall at SDSU! Even though she only stayed at SDSU for one semester we got very close in the time we roomed together. Our day wouldn't be complete without her!
Fun Fact: She was actually there when Martin asked me to be his girlfriend!
Other Wedding Party Members:
Personal Attendants:
Katie Morton
Abigail Brandenburger
Flower Girls:
Melanie Roeman
Taylor Roeman
Haven Prouty
Joe Prouty - Groomsman
Joe is my only brother and we are very close. We both enjoy hanging out watching football or pheasant hunting! Joe and his family live just outside of Brookings, Krista and I always loved being able to hang out at their house while going to school at SDSU.

Fun Fact: Joe went with me to pick up Krista's engagement ring.
Davis Leiseth - Groomsman
Davis and I have been great friends since going to school at Hamlin. We played basketball, football, baseball and ran track together during high school. We also spent lots of time trapping, fishing and hunting together. We started dating girls with the same birthday so neither of us could ever forget it.
Fun Fact: Davis was there the night that Krista and I first met at the Watertown movie theater.
Colter Zellner - Groomsman
Colter is Krista's only brother and is a Sophomore at Deuel High School. He and I have similar interests in hunting and farming. We have traveled as a family to lots of different places and always have fun together.
Fun Fact: Secretly, I am jealous of his farm toy collection he had when he was younger. I hope that he shares it with our kids one day (mostly for my benefit).
Charlie Soeffing - Groomsman
Charlie and I used to work with each other at SDSU and used to live a few miles from each other. We spend a lot of time hanging out with Charlie and his girlfriend Katie. While living the bachelor life you could often find us grocery shopping together.
Fun Fact: Charlie was always our go-to third wheel before he met Katie.
Jason Prouty - Groomsman
Jason and I are cousins and have always been close since our dads farmed together. We grew up playing farm at each others houses before we had the opportunity to do it as a living. Jason is the person I see the most on a day to day basis.
Fun Fact: Most often you can find Krista and I or Jason and Lindsey in the combine or semi during harvest.
Other Wedding Party Members:
Ushers:
Brady Buck
Kyle Clement
Justin Meier
Shane Pederson
Ring Bearer:
Miles Prouty