Our Story
How They Met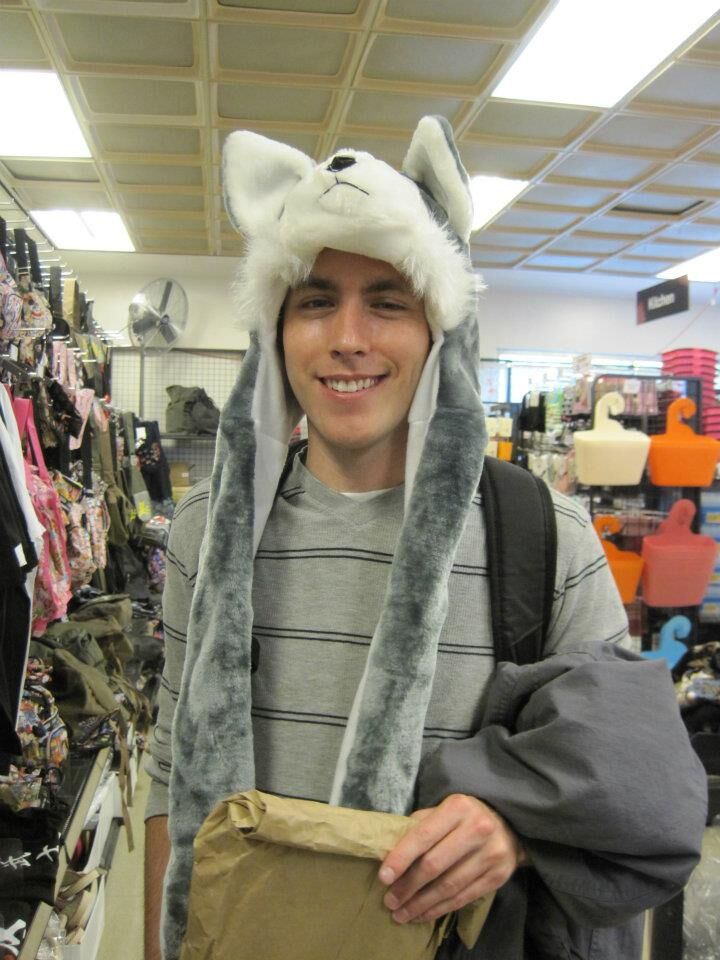 It isn't the classic story of boy meets girl, but it all started with an online scavenge hunt for friends. Laura had just moved to the Bay Area for work at the beginning of 2011, and she had plenty of time after work to seek online friends. In her pursuit for funsies and games, she stumbled across Matt on OKCupid. After a friendly exchange of essay-length messages, Laura and Matt started chatting online during their off hours. Matt was a morning person who worked early hours, and Laura was a night owl who worked late into the night. Their online chats were often brief but left a lasting impression on each other. Then one night, Laura asked him out, not knowing that he would accept. Alas, Matt said yes, and a month later, the two met up at a BART station in San Francisco. They had an early lunch in Japantown and wandered about the city, catching the movie "Puss in Boots," and ended up walking along the Embarcadero. As Laura loudly prattled on about her astigmatism and how the stars all looked like fuzzy blobs, there was definitely a special note in the air. After a quick dinner, Laura snatched Matt's hand out of his pocket, and the two happily strolled back to BART, thus ending their 11-hour first date.
The Hungry Games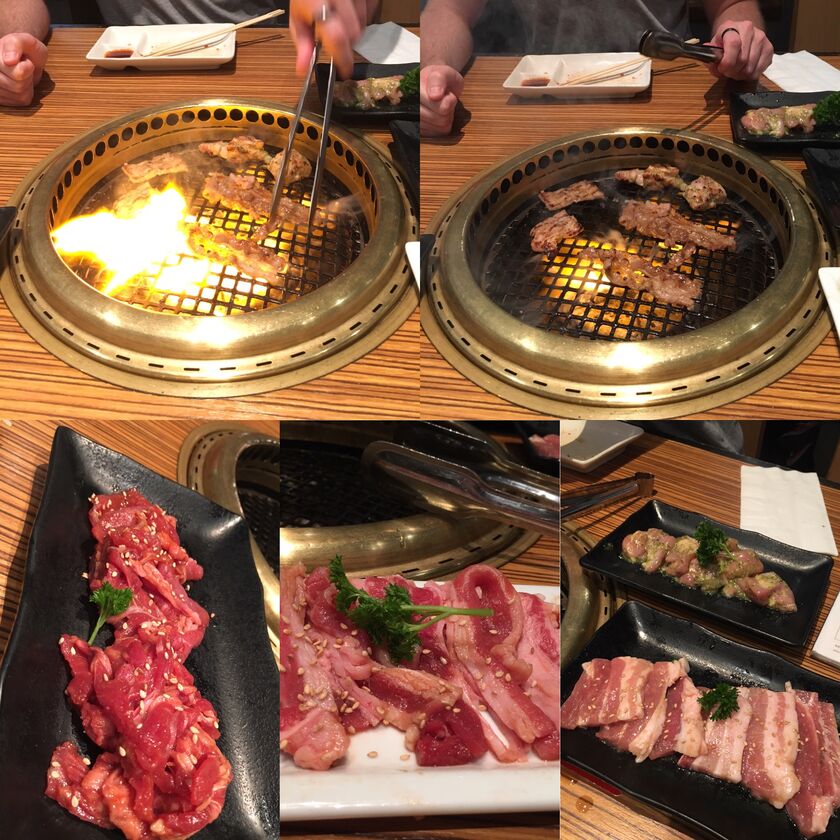 Laura's love for food is second to none, and this love helped our relationship bloom together beautifully. Heck, on the first date Laura somehow convinced Matt to try eel, something he would have never thought about trying in his wildest dreams, and slowly he came out of his shell to begin a wonderful journey of culinary exploration together!
The Proposal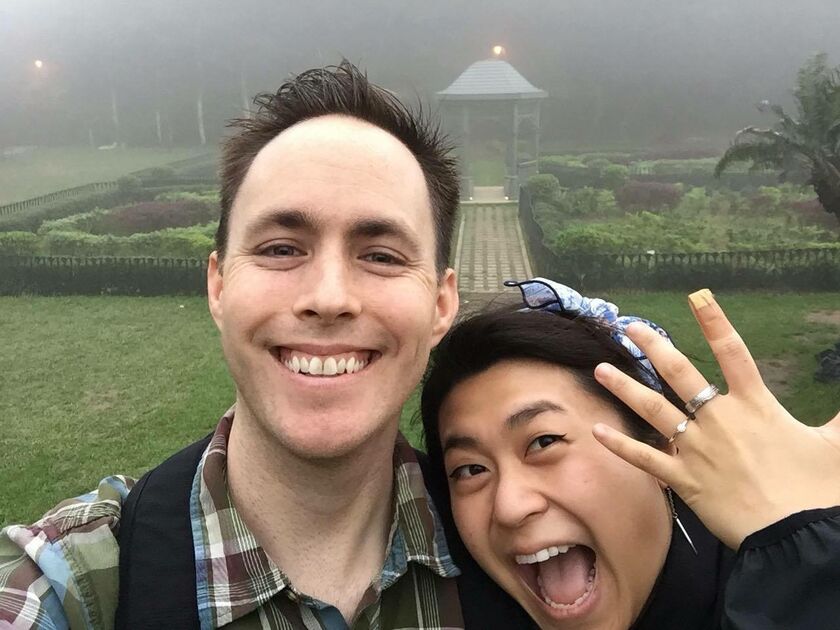 An anxious young Matt tries his hardest to conceal the fact that he's constantly paranoid about the status of the engagement band that's secured secretly inside his wallet. Palms sweaty, it's his turn to go through the security screening before the long flight to Hong Kong. Miraculously, to Matt's relief, he makes it through security and all the way to Hong Kong without his secret plan being spoiled. Now all that's left is to find the right time. Simple right? Not exactly. Hong Kong is not exactly the ideal place to find the privacy and calmness that he desired. Days pass by, and even a week goes by without the stars aligning. Matt pats the coin pocket of his jeans, without Laura seeing of course, for what is probably the thousandth time just to make sure the ring hasn't gone missing or escaped. With the weather constantly being unpredictable, Matt and Laura decide they'll visit Victoria Peak regardless of the forecast. This is it! No turning back now! Matt and Laura take in the beautiful, but rather scary tram ride all the way up to the Peak Tower. Pats Pocket. The views are stunning at the tower, but they're still surrounded by other loud and excited tourists. Matt's research into the Peak convinced them to also take the gorgeous, and rather steep, walk up to the very top of the mountain. They walk through lush green gardens and along small paths that were just barely lit by whatever light could find it's way through the heavy fog. The chilly air makes plants sway and shake, but not Matt, who is far too wound up to even notice his button up shirt is nowhere near warm enough for his body. Still, a few other courageous tourists could be seen from afar. After what seems like hours of happy adventuring, they reach a secluded garden at the very top of the mountain. The garden comes to life as clouds flow directly through it. The moment is perfect, no turning back now! Matt tells Laura to wait inside the gazebo as he set my camera up for a "picture." With a video rolling, he takes one final deep breath to relax and maintain his composure. Composure that lasted only until the moment he takes Laura's hands in his. She says "YES!" and jumps into his arms before he even has a chance to put the ring on her finger! The ring is finally on her finger, and they literally and metaphorically feel as if they are in the clouds together. What's next and who to tell first? They both immediately decide and start to head back to Grandma's of course!
The Wedding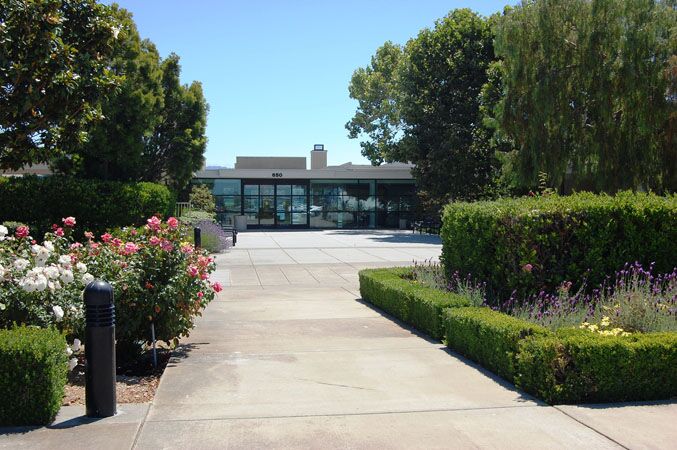 Sunday, September 9, 2018
1:00 PM
Attire: Dressy Casual
Ceremony and Reception
William E. Walker Recreation Center, Lagoon Room
650 Shell Blvd, Foster City, CA 94404, USA
– Schedule –
Ceremony: 1:00 PM
Reception: 2:00-4:00 PM

Please join us for a quick ceremony, delicious barbecue, and good company!
If you wish to generously provide a wedding gift, please visit our Registry list. If you would like to give a monetary gift instead, please send to our wedding PayPal account [email protected] <3
Wedding Party
Sarah Hasegawa - Bridesmaid
Rebecca Urata - Bridesmaid
Isaac Fletcher - Groomsman
Eric Sossamon - Groomsman
Wayne "Jersey" Greene - Groomsman