Our Story
The Pefect Proposal! <3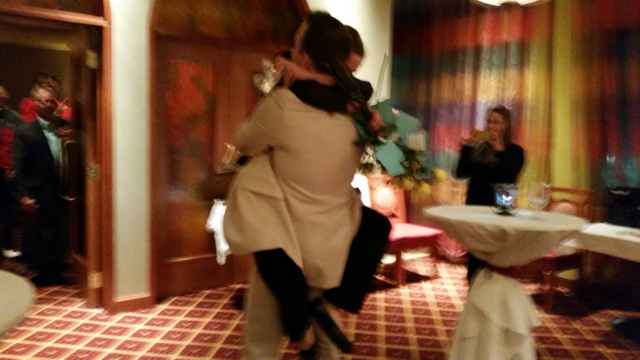 Proposal on December 23,2015.
Watch the video below
Background:
We just moved back from Seattle, WA in August, 2014. A couple short months later, Blake started planning the engagement without my knowing. The week he was planning this, December 20th, started off normal, nothing out of the ordinary. The only thing we had planned for this week was a Boeing Christmas Party Tuesday night. I have never been to a Boeing party even in Seattle. I was very nervous, and I wanted to impress his colleagues, so I read up on all of the latest Boeing News to fit in. Tuesday, December, 22nd, came along, and I made sure, I looked cute, but not over the top. He told me he had to help a lot with getting the party together. So we were not able to ride together. He told me to pull up to the front of the Embassy Suites and there will be vallet parking.
Proposal:
I left work early to get to the Boeing party by 5:30 p.m. I googled Embassey Suits in St. Charles and followed my GPS the whole way. Something screwed up and I ended up passing the building by about 10 minutes. So I was a bit frustrated and feeling bad I was late. I kept calling him and was letting him know I was lost and will be there soon.
When I pulled up, in the distance I could see a man holding a sign and dancing. My first thoughts were, Uggh Vallet Parking...I think I will park on my own. I don't even have money, so I parked the car and started walking to towards the entrance. As I walked up, I saw our good friend Tyler Filmore. My first thoughts were, Omg Tylers is town surprising Blake and me. I haven't seen him in a couple years because we lived in Seattle. I gave Tyler a big hug and he pulled a yellow rose with a turquoise card from behind his back. For those of you who do not know me as well. My favorite flower is a yellow tulip and my favorite color is turquoise. My cousin Tracy Bellm and my brother David Spotanski popped out with Video cameras. I lost it, I knew this was something special for me. Tyler started reading from the turquoise card. On the card was his words of how happy he was that Blake and I are together and how he loves us as a couple. After he finished, he walked me through the revolving doors. As I walked in Robby Rojeski was waiting with a yellow rose and a turquoise card. Following Robby was Nick Savio, Parker Wellington, Chase Wellington, Blake's Grandpa and Grandma, Thom Wellington, Debbie Wellington, and Judy Wellington. As I approached the end of the line, my dad was standing there next to my mom holding a yellow rose. He gave me a hug and said, "Laura, I just wanted to say we are excited to welcome Blake in our Family, He is a fine Man." ( I lost it! I started crying.) There was two big doors next to my parents. As the doors opened Blake was standing in the middle of the room with the last yellow rose and a turquoise card. He read the sweetest things that anyone has ever said to me. He explained how I was the reason he is where he is today and that moving to Seattle together was the biggest step to start our relationship. He then got on one knee and said, "f someone would have told me 5 1/2 years ago, that the girl I was playing beer pong against would help me accomplish all of this and be the girl I would want to spend the rest of my life with, I would have told them they were crazy.... but the truth is I am crazy for you... Laura will you marry me?" Of course I said yes!!!!!!!!!!
We jumped into each others arms and he put the ring on my finger!
It was perfect! This was the best proposal a girl could ask for.
I love you Blake Wellington and I cannot wait to marry my best friend!
Here is the link to the video! He recorded it the entire time!
Click Here! :) The Perfect Proposal for Laura Spotanski
The Wedding
Saturday, March 19, 2016
1:30 PM
Attire: Business Casual
Ceremony
Assumption Roman Catholic Church
O'Fallon, MO 63366, United States
Reception
The Heart of St. Charles
1410 South 5th Street, Saint Charles, MO 63301, United States
Get Ready to Party!!!!!!!!!!
Wedding Party
Tracy Bellm - Maid of Honor
My Cousin and My Best Friend since birth!
Sarah Glenn - Maid of Honor
Best Friend Roommate in College
Gigi Mahfood - Bridesmaid
Best Friend and Roommate in College

Natalie Hahn - Bridesmaid
Best Friend and Roommate in College
Gina Finazzo - Bridesmaid
Best Friend since Kindergarten
Emily Winschell - Bridesmaid
Best Friend and Soccer Best Friend Since Kindergarten
Ashley Olberholzter - Bridesmaid
Sorority Sister and Best Friend in College

Stacey Litszinger - Bridesmaid
Sorority Sister and Best Friend in College

Alex Baer - Bridesmaid
Best Friend since Highshool
Maiya Sturma - Flower Girl
Drake Kelly - Ring Bearer
Carly Bellm - Attendant
Cousin; reading and guestbook attendan
Nick Savio - Groomsman
Fraternity Brothers in College
Chase Wellington - Groomsman
Parker Wellington - Groomsman
David Spotanski - Groomsman
Matt Kresko - Groomsman
Fraternity Brothers in College
Matt Moorman - Groomsman
Fraternity Brothers in College
Cameron Harris - Groomsman
Fraternity Brothers in College
Haley Wellington - Flower Girl