The Wedding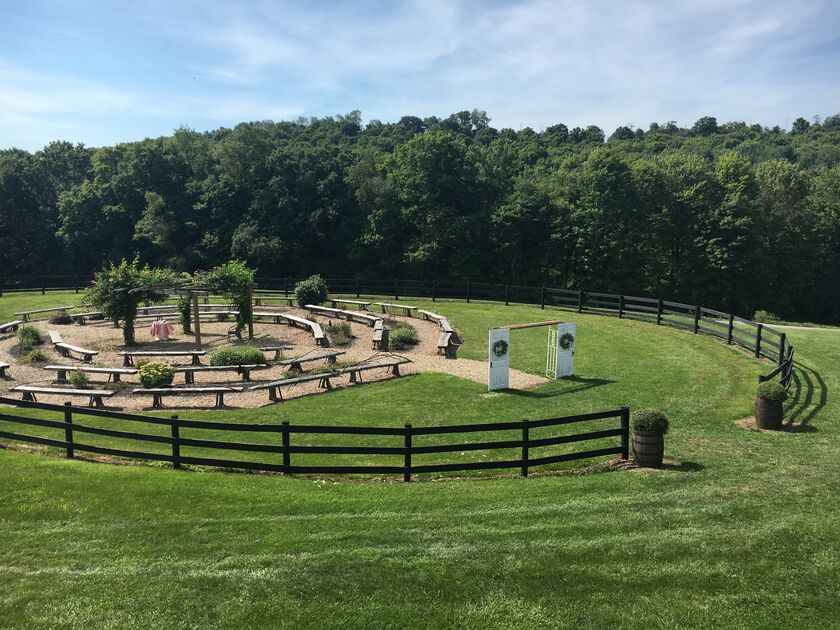 Sunday, May 27, 2018
4:30 PM
Attire: Fancy Schmantzy
Ceremony and Reception
The Hayloft
887 West Mud Pike, Rockwood, PA 15557
Wedding Party
Mary Jane - Maid of Honor
Meeting Mary Jane in our Nursing program in 2009 changed my life. Prior to that, I hadn't had a reliable girl friend since high school and I definitely did not have a "best friend." And to be honest, when we first met, I didn't really like her! Intense, s a s s y and confident - she was quite the opposite of myself. But I soon realized she was the-ying-to-my-yang. She says what everyone is thinking. When everyone else is looking to see who will jump first - she jumps. She wears the shield to protect those that she loves. She's the fiery redhead that I never knew I needed in my life. Her first encounter with Jared was hilarious. Long story short, he accused her (in a completely innocent way) of buying me knock-off Coach sunglasses for my birthday. I had to gently remind him that she was around before him and if she didn't like him then he got kicked to the curb. As you can see, it all worked out. MJ knows my whole family and I know hers. Her daughter is my flower girl and her sons are my ring-bearers. She's my sister from another mister, my best friend and my Maid of Honor (I dislike the word Matron but she is an awesome wife and mother!).
Megan - Bridesmaid
Much like Mary Jane, becoming friends with Megan didn't happen right away! In 2012, I was a novice registered nurse working a medical-surgical unit. I found myself answering to this wild woman that just happened to frequently be the Charge nurse of our unit. I like her assertiveness and decisive leadership but she intimidated me. Once I became a Charge nurse, I had to pass the Megan Test. She pushed me to grow a backbone and believe in myself. I passed the "test" and we've been friends ever since. She's my tomboy of the 'maids. She's the girl I can talk about make-up with while arm rassling each other with beers in the other hand. Sometimes we talk daily for weeks and other times we go a month without a text, but when we reconnect it's like no time has passed.
Jenn - Bridesmaid
Jenn and I first met in our Bachelor of Nursing program through California University of PA in 2012. I even have an old paper we did while were just classmates (and for a measly 25 points!). I remember when she passed her boards to become a registered nurse, and I remember when she mentioned in class one day that she would be working at Jefferson on my unit. We worked together for a couple of years and she was working with me the day that I met Jared! She was able to pass the first judgement, ha ha! Luckily, she told me to text him... and the rest is history. In addition to a wife, mother and (new!!!) nurse practitioner, Jenny is such a great friend. She is my go-to for the good (Hailey talk, Jared and John's bromance, Jefferson gossip), the bad (SCHOOL) and the fashionable ("Where'd you get that dress?" "Express" "Duh").

Larissa - Bridesmaid
Larissa and I met in 2014 when we were sitting in the Education department at Jefferson Hospital, taking our cardiac examination to become Intensive Care Unit nurses. Both of us assumed we'd failed the exam (we didn't). Both of us stated we'd be horrible ICU nurses (we weren't). Both of us said "I don't know what I'm doing" (we did know what we were doing) for the next two years that we worked together. The friendships you build from working in such an intense environment as ICU are like no other (Diana and Cynthia's stories are to follow). Good days are getting a full lunch break while your bestie covers your assignment, answers your patient's call bell and reinserts that same patient's NG tube that came out of their nose 5 minutes after you left for lunch. Bad days... well they can be an unexpected Code 99 at 4am, three-to-one ventilator assignment, or having your "lifer" patient pass away after you took care of them 45 out of the 50 days they spent in the unit. Outside of work, Larissa and I have been through work dinners, family dinners, holidays, Chinese food binges, wine binges, etc. We became fast friends because I knew I could count on Larissa for ALL of the above and then some. She's always there for me and only judges when she see my chipped, 3 week-old manicure and can't resist calling me out on it!
Diana - Bridesmaid
I met Diana while working in ICU. Initially, we kept to ourselves and didn't communicate much with each other. We connected through a mutual acquaintance (that story is far too long, ridiculous and eye roll-worthy to go into great detail) and realized we were two peas in a pod. I've known Diana about 3 years now but it feels a lot longer. We can laugh about the same stuff without ever saying a word. She's my go-to for skincare recommendations and hitting up late night eateries. Now that we're both settling down, our late nights out have turned into late night meme spams or early evening dinners, but she's still a very close friend and a great person to pick me up when I'm feeling blue. She's also hilarious af, FYI.

Cynthia - Bridesmaid
If you wanna talk to someone who's overcome enough hurdles and still comes out on top with crown intact, meet Cynthia. Cyn and I also met in ICU and became fast friends. We've been through a lot of rough work assignments together, but our overnight assignments are what brought us closer. There were lots of nights to talk and get to know each other. She's a mom to her beautiful daughter, Alana, in grad school and is a full-time nurse. She does it all. I constantly call on her for advice, guidance, gossip (!) and support. I am so glad to have her in my life because she is such an inspiration to me. She knows a lot about me, some stuff I've never told anyone else and she's always there to listen with an open mind and say "Lauren, I can't with you" if I start acting up. Ha!
Lindsay - Bridesmaid
Lindsay has been a close friend to both of us for several years. Jared and Lindsay met in 2013 while working together. They soon became close friends by drowning their work sorrows at happy hour throughout the week. When Jared and I began dating, Lindsay and her husband Jake became one of our favorite couples to enjoy hockey games, special events, and relaxing dinners with. Her and Jake host great parties too. In fact, one of mine and Jared's first dates was to Lindsay's Birthday Celebration! Luckily, I got the approval from Linds! Jared and Lindsay still work together, although at a different medical practice, and use each other for professional and personal advice almost on a daily basis.
Josh Cowan - Best Man
An easy decision to make, I decided to make my brother, Josh, my Best Man on such an important day. Josh is only two years older than me, and growing up we were practically inseparable. I remember how I always looked up to my Big Brother for advice in Junior High and High School. He has taught me many things about hunting and fishing, and has been there to bail me out of a difficult situation more than a few times.
Although we seemed to go in opposite directions during my college days, Josh has become one of my best friends again over the past few years. We talk almost on a daily basis about the outdoors and anything happening in our personal lives. Without Josh to be there as my big brother, I have no doubt that I would NOT be the man I am today.

Jake Manning - Groomsman
Jake and I met when he moved to my junior high school when I was in 9th grade. He is one year younger than me, and we got to know each other when we played football together. Our first few years of friendship are not that memorable, but around my Junior and Senior year in high school, Jake and I became very close. We hung out several times a week after school and almost every weekend. I don't ever remember a time with Jake where we weren't laughing and enjoying life without a care in the world.
When I moved away for college, Jake and I stayed very close. We would get together when I was in town for the weekend or for holiday breaks. Briefly when I was doing my clinical rotations for PA school, Jake and his family welcomed me to stay with them for one of my rotations. We've had periods where life seemed to get in the way of us spending time together, but luckily a little over a year ago he moved to Western PA and now lives within 10 miles right down the road. We stay in touch several times a week and get to hang out with one another quite often. He's one of my closest confidants and always is there to help when I need an extra set of hands, or to just put a positive spin on things and provide a good laugh.
Jordan Conrad - Groomsman
Jordan and I met each other during our Freshman year at Saint Francis, but didn't get to know each other extremely well until late in our Junior year. We were both in the PA program and decided to get an apartment together off-campus leading into our Senior year, which easily was the most difficult 12 months of both of our lives. During our "Didactic Year" we spent almost every waking moment together, sitting next to each other during grueling 8-10 hour days in the classroom and then studying together until late at night. We shared many of the same interests (girls, beer, Crown Royal), and we practically became like Step Brothers.
It was a little bit depressing for both of us when the year ended, but within a few months we got to spend another 10 weeks together studying in Kailua, HI on our Family Practice rotation. We've had so many crazy experiences together, and it would take weeks to describe them all.
He remains one of my closest friends and is always there to provide advice, whether it is professional or personal. I was honored to be the Best Man in his wedding earlier this year and I'm looking forward to having him there with me on our wedding day.
Alex Muncert - Groomsman
"Munce" and I met when we lived across the hallway from one another in our freshman dormitory at Saint Francis. It's hard to believe that I've known him for more than 10 years now, and I couldn't ask for a better friend. He's one of the most intellectual and philosophical people I know, and has always been there to provide a laugh or a solid piece of advice regarding anything I haven't been sure of.
We stay in touch almost on a daily basis, most of the time just catching up on current events in our lives and around the world. He has been a true friend since the first day we met.
Matt Burger - Groomsman
Matt and I met at my first job as a Physician Assistant, acting as a mentor when I first was a student and then a colleague. Almost immediately we developed a close friendship, sharing many of the same interests in the outdoors and our professional and personal lives. We no longer work together, but Matt and his family are some of the most important people in my life.
We've always made it a point to spend birthdays and important events together. He has taken me to countless Penguins games, helped me process too many deer to count, and has always welcomed me to hunt and fish at his in-laws' properties in Pennsylvania and Florida.
I'm always greeted by screams of "Uncle JJ!" anytime I stop over at the Burger house, and I couldn't think of a more fitting nickname for myself because I consider the Burgers as my second family.
Jake Leggett - Groomsman
I got to know Jake through his wife Lindsay, who I worked with at my first job as a PA. Over the past few years, Jake and Lindsay have been amazing friends to Lauren and I.
We always feel welcome in their home, often spending holidays and birthdays there. We often get together for dinner/drinks or hockey parties. He's also been gracious enough to let us in on sharing a season ticket package to the Penguins. Additionally, this man can whip up mixed drinks like no one else. In need of a fruity, yet complex and not overtly sweet drink for the girlfriend? Jake's got you covered. We can't wait to celebrate our special day with such a good friend!
Gary Henzler - Groomsman
I've known Gary for about 4 years and Lauren's known Gary for... well, about 30! She said growing up they would fight a lot, but were very close at the same time. Their mom will say they have "their own little language" to communicate, and while agreeing with Betty Henzler isn't something I admit to routinely (just kidding!), I think she's got a point. Gary is an all-around good dude.
He's got a good job, a new house to tinker with and a great girlfriend by his side. In addition to this, he is pretty musical. Maybe one day I can give him some hunting tips and he can show me how to play guitar. I'm happy to have Lauren's other "King Baby" included in our wedding celebration!