The Wedding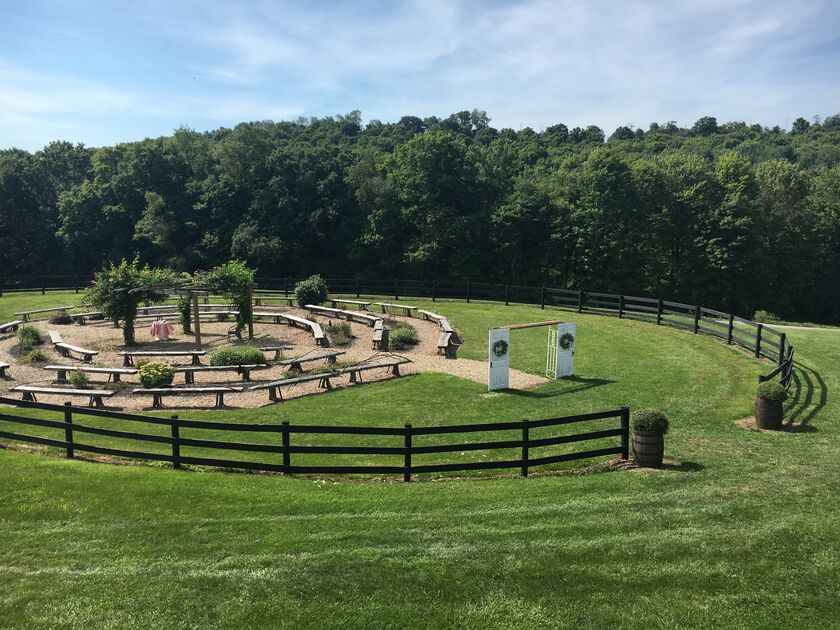 Sunday, May 27, 2018
4:00 PM
Attire: Fancy Schmantzy
Ceremony and Reception
The Hayloft
887 West Mud Pike, Rockwood, PA 15557
Wedding Party
Mary Jane - Maid of Honor
Meeting Mary Jane in our Nursing program in 2009 changed my life. Prior to that, I hadn't had a reliable girl friend since high school and I definitely did not have a "best friend." And to be honest, when we first met, I didn't really like her! Intense, s a s s y and confident - she was quite the opposite of myself. But I soon realized she was the-ying-to-my-yang. She says what everyone is thinking. When everyone else is looking to see who will jump first - she jumps. She wears the shield to protect those that she loves. She's the fiery redhead that I never knew I needed in my life. Her first encounter with Jared was hilarious. Long story short, he accused her (in a completely innocent way) of buying me knock-off Coach sunglasses for my birthday. I had to gently remind him that she was around before him and if she didn't like him then he got kicked to the curb. As you can see, it all worked out. MJ knows my whole family and I know hers. Her daughter is my flower girl and her sons are my ring-bearers. She's my sister from another mister, my best friend and my Maid of Honor (I dislike the word Matron but she is an awesome wife and mother!).
Megan - Bridesmaid
Much like Mary Jane, becoming friends with Megan didn't happen right away! In 2012, I was a novice registered nurse working a medical-surgical unit. I found myself answering to this wild woman that just happened to frequently be the Charge nurse of our unit. I like her assertiveness and decisive leadership but she intimidated me. Once I became a Charge nurse, I had to pass the Megan Test. She pushed me to grow a backbone and believe in myself. I passed the "test" and we've been friends ever since. She's my tomboy of the 'maids. She's the girl I can talk about make-up with while arm rassling each other with beers in the other hand. Sometimes we talk daily for weeks and other times we go a month without a text, but when we reconnect it's like no time has passed.
Jenn - Bridesmaid
Jenn and I first met in our Bachelor of Nursing program through California University of PA in 2012. I even have an old paper we did while were just classmates (and for a measly 25 points!). I remember when she passed her boards to become a registered nurse, and I remember when she mentioned in class one day that she would be working at Jefferson on my unit. We worked together for a couple of years and she was working with me the day that I met Jared! She was able to pass the first judgement, ha ha! Luckily, she told me to text him... and the rest is history. In addition to a wife, mother and soon-to-be nurse practitioner, Jenny is such a great friend. She is my go-to for the good (Hailey talk, Jared and John's bromance, Jefferson gossip), the bad (SCHOOL) and the fashionable ("Where'd you get that dress?" "Express" "Duh").

Larissa - Bridesmaid
Larissa and I met in 2014 when we were sitting in the Education department at Jefferson Hospital, taking our cardiac examination to become Intensive Care Unit nurses. Both of us assumed we'd failed the exam (we didn't). Both of us stated we'd be horrible ICU nurses (we weren't). Both of us said "I don't know what I'm doing" (we did know what we were doing) for the next two years that we worked together. The friendships you build from working in such an intense environment as ICU are like no other (Diana and Cynthia's stories are to follow). Good days are getting a full lunch break while your bestie covers your assignment, answers your patient's call bell and reinserts that same patient's NG tube that came out of their nose 5 minutes after you left for lunch. Bad days... well they can be an unexpected Code 99 at 4am, three-to-one ventilator assignment, or having your "lifer" patient pass away after you took care of them 45 out of the 50 days they spent in the unit. Outside of work, Larissa and I have been through work dinners, family dinners, holidays, Chinese food binges, wine binges, etc. We became fast friends because I knew I could count on Larissa for ALL of the above and then some. She's always there for me and only judges when she see my chipped, 3 week-old manicure and can't resist calling me out on it!