Our Story
How We Met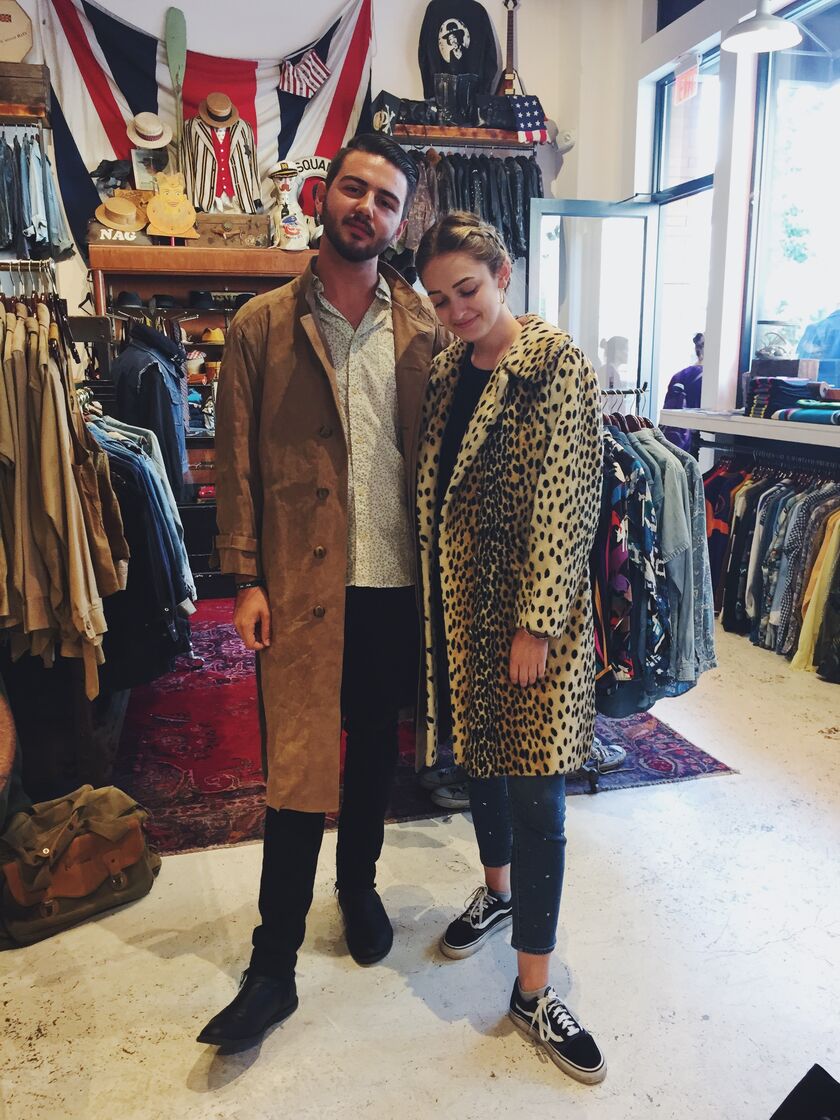 Lauren here! Lets bring it back to New Year's Eve ringing in good ol' 2017! Chris was having a NYE party at his house and our close friends Mariano and Diana invited me to celebrate the night out with them. I didn't have any plans and was under the impression we would be heading to a church party, but had to stop by Mariano's cousin's house on the way. So I reluctantly got into the car and we ended up at Chris's, welcomed by an entire pig roast and very full house! We were briefly introduced to each other and I spent the rest of the night upstairs with the adults while Chris remained downstairs as the life of the party ;). We didn't stay too long (we were party hopping, wild!) and we rang in the New Year separately with no idea of what was to come. (Little did we know we would have our first New Year's kiss the very following year! And we'll be married for the next! The most special.)
The months went on without any thought of it, but towards the summer Mariano and Diana went into full matchmaking mode. They were both trying their best to have Chris and I get together, but we were both shy and didn't want to make it awkward (we're never awkward...). So the summer lingered on. We had one chance encounter at church where we chatted in a group setting, and I caught him staring at me quite a bit hehe, but again figured nothing of it.
Meanwhile, all throughout the summer I was really stepping up my golf game, and by stepping up I mean focusing on actually hitting the ball, and without pulling my back out. Simultaneously Chris was really into his golf game, and my interest paved the way for him to reach out to me. Our first interaction, Chris: "Oh man...I thought I golfed a lot haha" to which I wasted no time in responding very boldly "Gotta compare skills sometime." ?! Who even was I?! haha I clearly was not messing around. From there on out we chatted occasionally until the end of the month when he sent me his number. Again I wayyy too boldly responded "It's about time!" (joking of course, but not really) and we've been together ever since! Haha
The best part of all of it is how God beautifully orchestrates all of our moments - past, present, and future. One of my closest friends prophesied the word "Chosen" over 2017 and boy was that perfect. Chosen by God, and destined for so much more than either of us could have comprehended. He is my answer to prayers, my dream boy, and loves me like Jesus. The 2018 word of the year amongst my friends was prophesied as "Promise" and once again, God's faithfulness in His promises and the desires of our hearts has outshone anything we could have dreamt or done ourselves. We are so thankful. God did it!
Our Proposal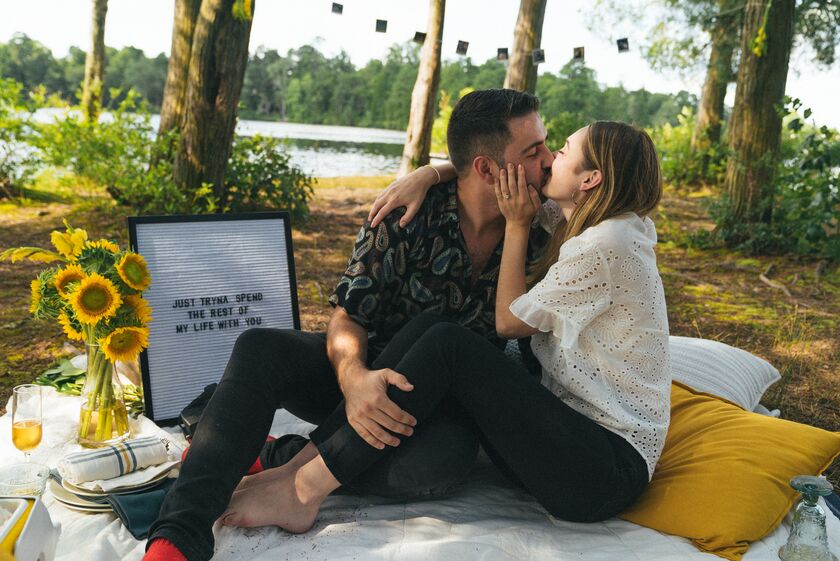 HEY THERE. CHRIS HERE.
I got down on one knee and asked the most wonderful girl in the world to marry me on August 4th, 2018. AKA the best day in my life. Wow.
My parents always told me that once I met the woman that I'd marry, I'd know within months. I doubted that possibility. How can you know you love someone that quickly?? BOY was I wrong. After about 7 months of dating.. I KNEW. It was one of those decisions I felt complete peace over. Never felt like that before. I know she was the one that God had destined me to spend the rest of my life with. CRAZY.
But I didn't want to rush into anything. I wanted our proposal to be perfect. I wanted to be in control of everything. From designing the ring, to planning out the BIG day. I wanted it to be so tailored to Lauren. So unique. Just like her.
The plan was to propose at a private little island on a lake right next to her parent's house in the Toms River area. But I needed help from a few very important people.


HER PARENTS - After asking for her father's blessing, I then discussed with him my plans. I needed them to invite Lauren and I over for dinner at a restaurant. I needed an excuse to drive down to their neighborhood or else Lauren would be suspicious (Spoiler Alert: She still was). Her parents understood and to say they were excited would be an understatement. Although her mom almost spoiled the plans to Lauren moments after hanging up… (Make sure to ask her about it!).
MY PARENTS - We had been in Long Beach Island for a few days with them spending some much needed vacation time leading up to the day. They had one of the hardest responsibilities… NOT BLOWING IT. There were so many instances where I thought my mom was going to accidentally ruin it, but they both held their breath and survived.
JOSHUA CHOMIK - A day this important needs to be documented. Who else could I ask than my main man, Josh. He exceeded all our expectations with his photos and organizing the entire day. Plus, I couldn't tell who cried more that day: him or Lauren.
LAUREN (MY SISTER) - I know. Very confusing. "Who marries a girl who shares a name with his sister??" YUP. ME. She's our biggest fan.
NATHAN & JOSE - I knew this day wouldn't be the same without the two people who supported us from day one. I told them about the plans and they immediately booked their flights and flew in from Charlotte. Incredibly blessed by their company there. Lauren was in tears knowing they came for our special day. Forever grateful.
TORI DALESSANDRO - Because Lauren and I were away the days leading up to the proposal, I knew I had to have someone put my wildest dreams into a reality. I planned exactly what I wanted every detail to look like and translated it to Tori. I knew no one else could execute it the way I had envisioned. AND MAN WAS I BLOWN AWAY. She went above and beyond and not only surprised Lauren with the most beautiful picnic, but even surprised me by how attentive she was to every detail. THANK YOU THANK YOU.
On August 4th, after a difficult morning which included being completely rained out on our bike ride, I drove Lauren to "get dinner with her parents." On the way, I made sure to stop at WaWa and pick up her favorite.. YUP. A large fountain coke and a Coffee Roll. The smile on her face immediately came back. Moments later, I drove her to our little lake where SHE SAID YES. My wildest dreams came true. I was about to marry my best friend.
**Make sure to see our photos from the proposal under the "PHOTOS" tab on the top of the page!
The Wedding
Friday, December 7, 2018
4:00 PM
Ceremony
Highgrove Estate
1613 S Main St, Fuquay Varina, NC 27526, USA
Reception
Highgrove Estate
1613 South Main Street, Fuquay Varina, NC