Welcome to our Wedding Website
Thank you so much for visiting our wedding website. We are so excited to celebrate our special day with the people we love most! Please read through the website to learn more about our wedding, travel, accommodations and more. It's going to be the BEST weekend!
Our Wedding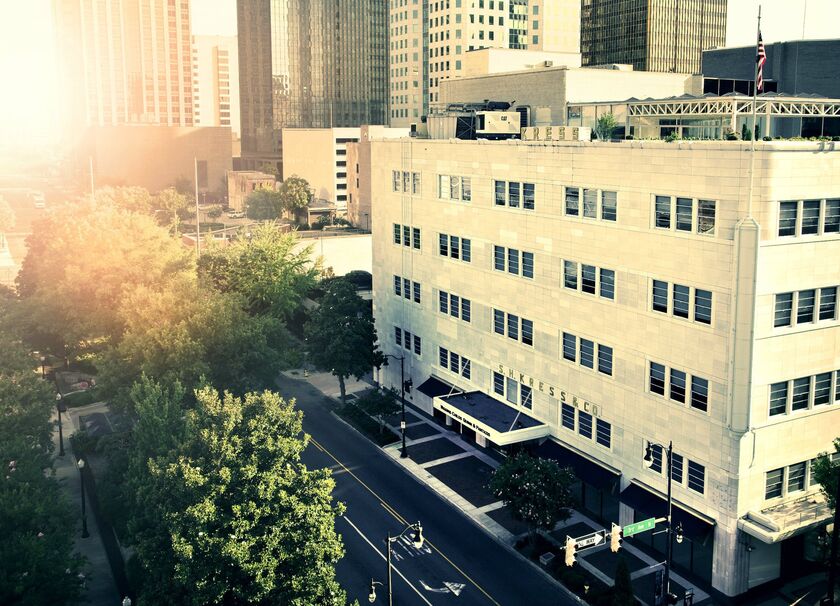 Saturday, May 21, 2016
6:30 PM
Attire: Summer Semiformal
Ceremony and Reception
The Historic Kress Building - Wiggins Childs Quinn & Pantazis
301 19th St N, Birmingham, AL 35203
Join us as we tie the knot on the rooftop of the Historic Kress Building in downtown Birmingham! Dinner and dancing to follow. Parking for our guests will be available in the adjacent deck
*As much as we love children, this is an adult event
Other Events
Rehearsal Dinner
Friday, May 20, 2016
6:30 PM
The Nest Birmingham
Suite 101, 130 41st St S, Birmingham, AL 35222
Wedding Party
Kate Caparisos - Matron of Honor
Kate and Lauren have been bosom buddies since 5th grade. Lauren was Kate's maid of honor and she can't wait to have Kate by her side on the big day! Kate lives with her husband Niko in beautiful Charleston, SC and will be welcoming baby Ella this August!
Maggie Nolen - Bridesmaid
Maggie and Lauren also met in 5th grade and have been friends ever since. Maggie lives in sunny Tampa, Florida and you're sure to find her tearing up the dance floor!
Callaway Griffith - Bridesmaid
Callaway and Lauren have been friends since the awkward days of 8th grade. Callaway is a lawyer in Tallahassee, Florida but don't let the big girl job fool you, she is always the life of the party!
Emily Presmanes - Bridesmaid
Emily and Lauren are cousins but have grown up more like sisters! Emily is living the loft life in Atlanta and will soon be moving to sunny California to begin PA school. She always has a big smile on her face and loves to laugh!
Casey McLean - Bridesmaid
Casey and Lauren are cousins and have such fond memories of growing up together in Atlanta. Casey is a marine biologist and world traveler currently living in Seattle, Washington!
Alex Thompson - Best Man
Alex is Max's younger brother. Alex lives in Birmingham and recently earned his Masters in Public Heath from the University of Alabama at Birmingham. Ask him about his adventures in Grenada.
Colby McNorton - Groomsman
Colby and Max are highschool friends turned college roommates. Colby is an engineer and lives in Atlanta with his wife Rachel and their dog Bentley.
Jeremy Thompson - Groomsman
Jeremy is Max's older brother. Jeremy is a home improvement estimator and lives in Fairfax, Virginia with his beautiful daughter Neko.
Tyler Shaw - Groomsman
Tyler is Max's future brother-in-law and is living the good life in sunny Coral Springs, Florida.
Our Story
How we met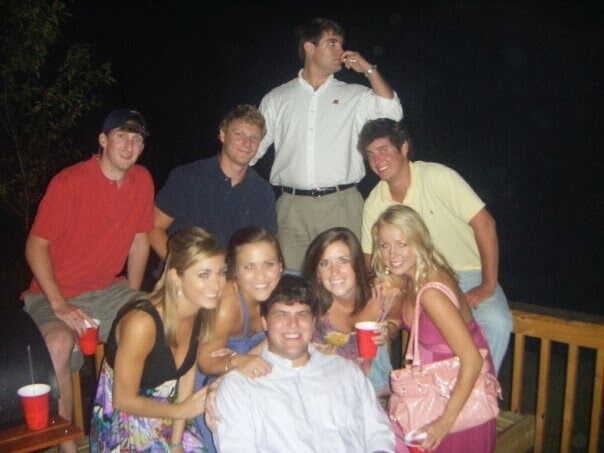 Lauren and Max first met in 2009, at a house party on the first night of their senior year of college at The University of Alabama. This photo is from that very night! He loved her freckles and she loved his laugh. They began to develop a friendship that quickly turned into more. One day, Lauren texted her friend for advice on how to let Max know that she had feelings for him. The text that she thought she sent to her friend, she actually sent to Max! He promised to act like it never happened if she agreed to go out on a date with him. Their first date led to many more and when graduation day came Lauren and Max decided to give a long distance relationship a shot. Max started medical school in Birmingham and Lauren began her career in Atlanta. Many years and miles later on May 15th, 2014, Max asked Lauren to be his wife. On May 21st, 2016 the two will tie the knot in Birmingham, Alabama.
The Proposal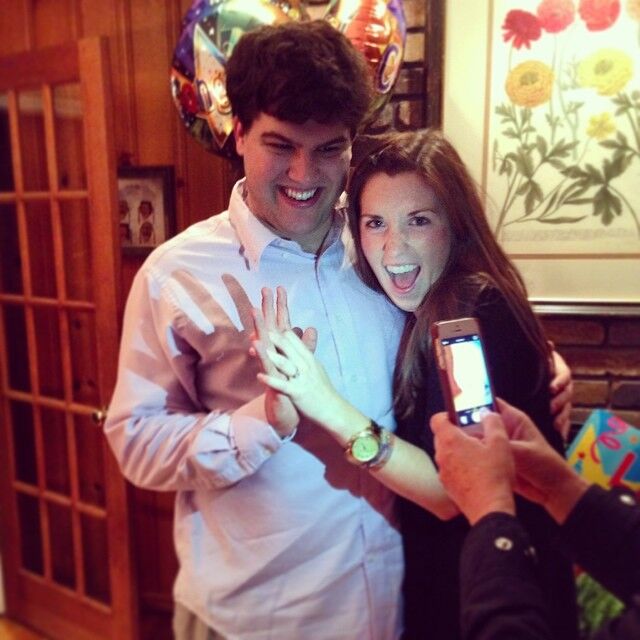 On May 15, Max surprised Lauren with a date night at Cocktails in the Garden at the Atlanta Botanical Gardens, which he had been secretly coordinating with Lauren's mom, Kathy. Lauren was slightly suspicious at first, but after seeing how cool and collected Max was, she decided it was just a sweet surprise from her thoughtful boyfriend. As the two of them wandered through the gardens, Max suggested they take a secluded winding path to get a closer look at one of the garden sculptures. This was the perfect spot he had been looking for. Forgetting this entire speech, Max got down on one knee and asked Lauren to spend the rest of her life with him. Lauren couldn't say "YES" fast enough and the two sat together on the bench taking in the special moment through tears and laughter. After calling friends and family to share the exciting news, they headed to Kathy's house where they celebrated with champagne and family. Max wore his lucky purple shirt from the first night they met.
Our Engagement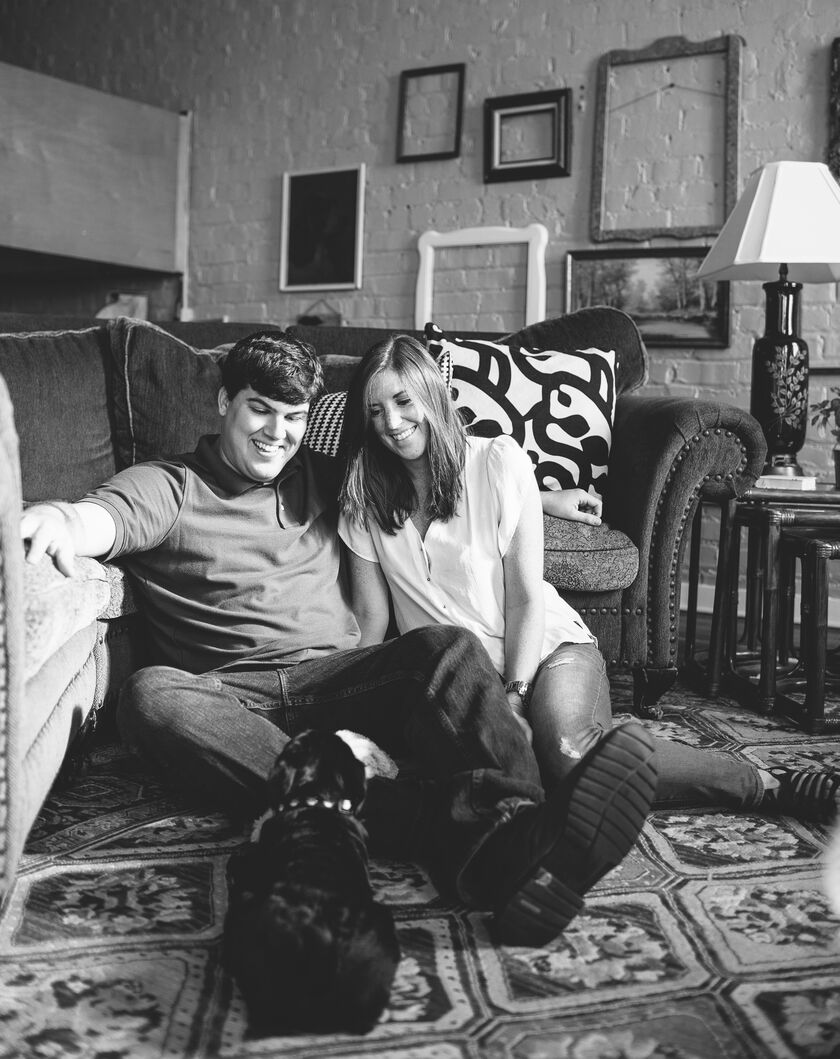 Lauren and Max got engaged on May 15, 2014 and two years later, on May 21, 2016, they will tie the knot. Why the long engagement, you might ask? Lauren and Max dated long distance for nearly 5 years. In March of 2014, Max matched at UAB for his Residency in Emergency Medicine. In May of 2014, they got engaged! In June of 2014, Lauren moved to Birmingham and started a new job at LIVE Design Group. In July of 2014, Max began his residency at UAB. With so many wonderful and exciting changes happening in their lives, Lauren and Max decided to take the time to enjoy being engaged while preparing for their wedding day. As the wedding day draws near, they are so thankful to have been able to enjoy a long engagement and plan their big day together. They cannot wait to be Mr. and Mrs. and celebrate with all of their closest family and friends.