The Wedding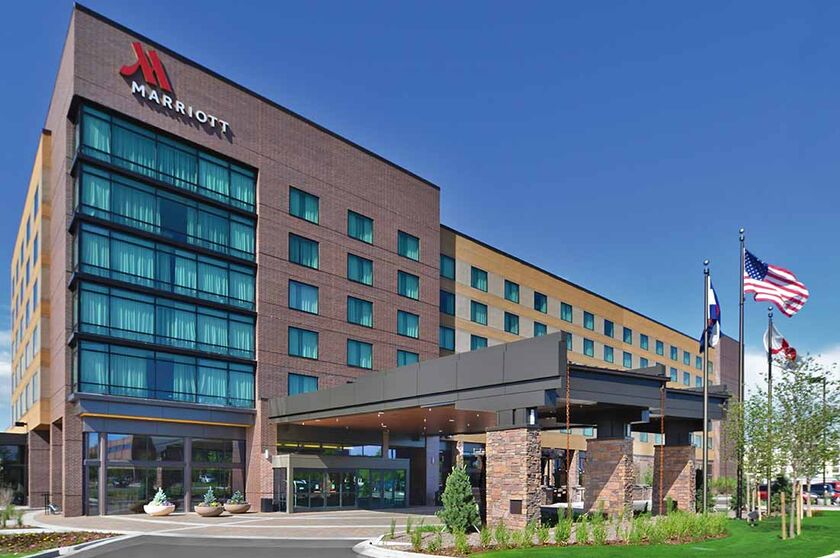 Sunday, October 7, 2018
11:00 AM
Ceremony and Reception
Denver Marriott Westminster
7000, Church Ranch Boulevard, Westminster, CO 80021, United States
The ceremony will begin promptly at 11:00, and will last approximately 30 minutes.
Following the ceremony will be a brunch reception with cake and dancing will take place in the ballroom from 1:00-5:00 p.m.
Other Events
Rehearsal Dinner
Saturday, October 6, 2018
6:00 PM
Rock Bottom Restaurant & Brewery
10633 Westminster Blvd, Westminster, CO 80020, USA
The rehearsal dinner will be held at Rock Bottom Brewery. Shuttles will begin transporting from the Marriott at 5:30.
Dress is casual.
There will be a sit down meal in addition to beer, wine, and appetizers upon guests arrival.
The menu is as follows:
CAESAR SALAD (GFO)
romaine, croutons, creamy asiago dressing.
Entree Selections
CHICKEN FRIED CHICKEN
crispy chicken over cheddar mashed potatoes with country gravy. served with apple coleslaw.
TOP SIRLOIN (GFO)
10 oz. center-cut USDA Choice top sirloin, seasoned and grilled to medium. Served with cheddar-garlic mashed potatoes and seasonal vegetables.
SALMON CHIMICHURRI (GFO)
seasoned with our housemade spice blend and grilled to perfection topped with our housemade chimichurri. served with rockin' red rice and seasonal vegetables.
VEGGIE MAC 'N CHEESE (V)
our signature mac 'n cheese sauce, grilled zucchini, onions, peppers, mushrooms, and roma tomato, topped with parmesan cheese, bread crumbs, pico de gallo and fresh parsley.
Dessert
TRIPLE CHOCOLATE BROWNIES WITH CARAMEL DRIZZLE (served platter style)
rich and decadent brownies with white chocolate, dark chocolate and cocoa drizzled with caramel.
Wedding Party
Maisy Cyr - Maid of Honor
Mallory's sister, and other half. Although they are 8 years apart, Mallory and Maisy basically have twin powers and don't need words to start laughing about something that happened five years ago. When Owen first met Maisy, it was on a 3 person Skype chat, when Maisy was in college. After Maisy hung up, Owen said to Mallory, "Oh my god, there's TWO OF YOU."
Teresa Nguyen - Bridesmaid
Teresa is Mallory's best friend in leadership, life, and advocacy! Teresa was a champion for #TeamDenver, and gave Mallory and Owen a place to crash as they searched for an apartment and planned their move out west. People at work frequently get Mallory and Teresa confused, and they have accepted the fact that they're basically the same person. Since they both cruise around Denver, with Starbucks in hand and travel the world speaking about transition, it can be easy to make that mistake!
Quita Christison - Bridesmaid
Mallory and Quita knew they would be best friends, when after Mallory's presentation to a Maternal/Child Health class at BU, Quita approached Mallory and asked a very important question, "Where did you get your shoes?" After that, Mallory and Quita powered through their MPH's together and Quita was bought into the world of Next Step to inherit the throne and honor of running the Face Forward program. Through karaoke, sushi, and lots of beer at Cambridge Brewing Company, Quita, Mallory and Owen created many Boston memories, and can't wait for the adventures to continue in Denver!
Allison Diegel - Bridesmaid
Owen's sister, and Mallory's future sister in law! From planning Mallory's surprise trip to Nevada, to taking inappropriate pictures with cardboard cutouts in Boston it's always an adventure when Mallory and Allison are together. Mallory could not be more grateful for the incredible family she gets to join: pugs, chihuahuas, and chickens included!
Andy Erquiaga - Best Man
Owen's older brother. The middle of the three Erquiagas. Andy is a frequent traveler, and a hard working outdoorsman like the rest of his family! Much like Owen and Carl, Andy tends to be on the quieter side, but when he does have something to say, it's usually a zinger. Mallory is thrilled to gain another sibling in sarcasm!
Garrett Diegel - Groomsman
Owen's brother in law. Owen and Garrett share a special bond, with their love for One Direction, home brewed beer and drawing R rated pictures on restaurant placemats. Mallory and Owen love to visit the Diegels, and enjoy the kiddie pool in the summer and drink Garrett's beer, which he really appreciates, since having bro time, means he is no longer the only man hanging out in the glitter palace!
Bill Kubicek - Groomsman
Knowing Mallory for more than 20 years, Bill was the captain of Team Boston, and was there for every adventure during the time Mallory and Owen lived there. Whether it was providing a ride home on that fateful marathon day, along with a couple bottles of wine or celebrating the end of another successful Campference season, Bill has been there every step of the way. It only makes sense for him to be there for the greatest party of the century, as Princess Peanut finally marries her Prince.
Katie (Deres) McGuire - Groomswoman
Deres is Owen and Mal's ride or die for Team Denver. Although it began at a work related event, Deres quickly became the third member of the wolf pack, and even donned Santa pajamas on Christmas day as she took the first round of "engagement pictures (after a few mimosas). Everything is a party with KDM, and Owen and Mallory always know who to call when they need the Christmas tree put up or someone to reach the high shelves!