Our Story
Barry and Mary met on Catalina Island in September 2010.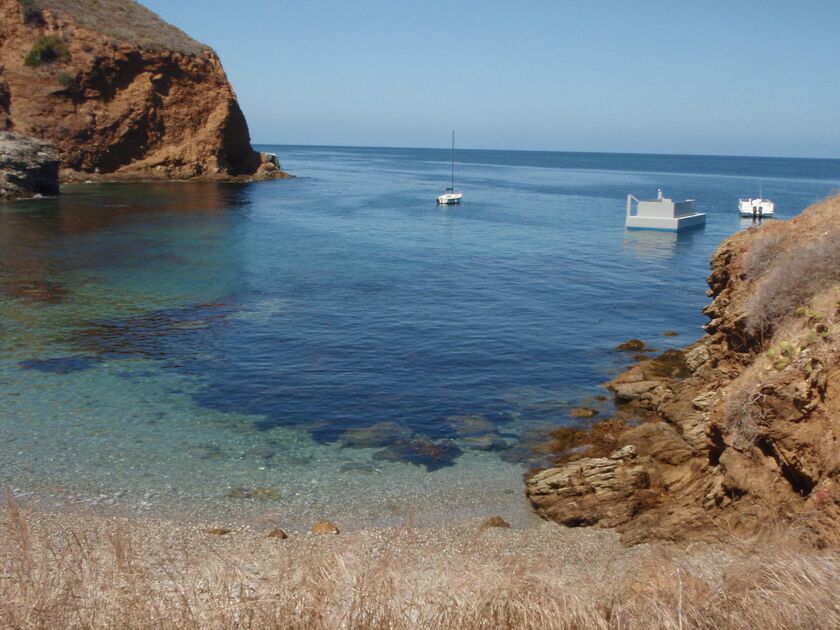 And so it began. Barry and Mary met on a camping trip in the summer of 2010, sponsored by the Sierra Club and cross-posted with the LA Hiking Meetup Group. On a whim, Mary decided to go, and for Barry, it was his second excursion, as he had gone once before two years earlier. There, they were among 300 + other singles looking for fun and adventure during a three-day weekend stay in Camp Emerald Bay, near Two Harbors on Catalina Island. Emerald Bay is the same place Barry went to as a young boy, for Boy Scout camp.

Barry arrived in Emerald Bay on the first boat with his friend Larry, and Mary went by herself on a later boat in the hopes of running into some familiar faces when she got there. After a brief orientation among the attendees and subsequently setting up tent accommodations, Barry and Mary first met outside of the mess hall dining area, among a group of guys, and two in particular - who introduced themselves as Barry and Larry. And Mary had to laugh and wonder if they were making up those names since they both rhymed with hers.

Mary was captivated by Barry's red hair, chiseled jawline and deep voice and hoped she would keep running into him throughout the weekend! So they hung out with a group of friends and participated in fun activities such as hiking, kayaking and snorkeling.. During the campfire and singing on Saturday night, the two gazed at each other from across the flames, and Barry later walked Mary back to her tent to say goodnight. The next morning Barry and Mary secretly met and went snorkeling together in Doctor's Cove, and it was a magical moment between them, and one of the first among many to come. (see location photo above).

Their official first date was at Hollywood Forever Cemetery, to watch a Cinespia movie screening of "Night of the Living Dead." Later that evening they stopped at Fox and Hounds in Studio City for some live music and libations. From then on, the two became inseparable.
Barry loves golfing, college football (GO DUCKS!), NHL Hockey (GO LA Kings), backgammon and Spider Solitaire. Barry has been a vegetarian for over 35 years. Mary likes waterfalls, photography, jogging in 5k events, live music, shopping at Home Goods and exploring new local gastropubs.
Together, Barry and Mary enjoy traveling both domestically and internationally, going to concerts, hockey games, theme parks, hiking, watching classic movies from the 50s and 60s, spending time with family, dining out with friends and going to the movies.
The Proposal: June 2016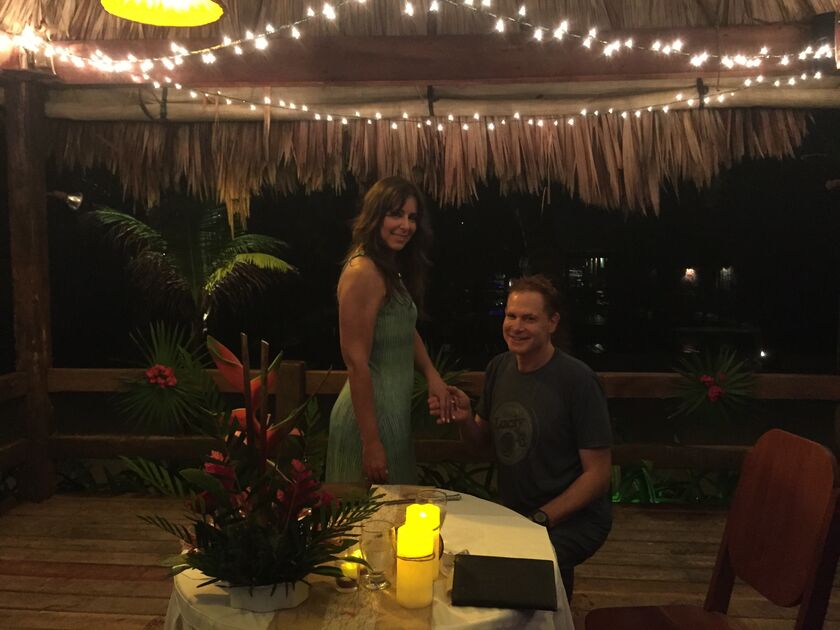 It was during their vacation in San Pedro, Belize when Barry surprised Mary and popped the question. It was the perfect setting for a proposal...
On the 2nd day of their trip, Mary & Barry relaxed at the beach and pool area at Ramon's Village where they were staying. There was an open air restaurant called Pineapples on the Beach on site, and Mary remembered seeing a romantic table for two under a palapa sectioned off on a veranda, with a seaside view. The verandas were surrounded by swaying coconut trees, providing additional shade for outdoor dining. She thought that something special might be happening right there for someone, but didn't think it was for her.
Mary & Barry were planning to have dinner at Pineapple's that evening. Mary decided to wear a dress for the occasion, but she still had no idea of what was coming. They both enjoyed some Belikin beer on the balcony of their room and listened to some music beforehand, and then leisurely walked down to the restaurant to have dinner.
A host led the them to their candlelit table for two, under a thatched-roof palapa on the veranda, the same table that was sectioned off earlier. There was a gentle breeze in the air, with a full view of the warm Caribbean Sea. The veranda looked magical, adorned with twinkle lights and gorgeous flower arrangements. One of the servers came out to serenade Mary at the beginning of their meal, and she started to choke up. It was at that moment when she realized something was happening. She looked atop the table and in the flowers and candles when Barry wasn't looking, but there wasn't a ring. Not yet.
They enjoyed a seafood dinner and drinks when the server came out to sing another love song. After the server left and moments later, Barry took the diamond ring out from his passport, went over to her side, got down on one knee and asked Mary to marry him. And she said yes. It was at that moment that it started raining. What a beautiful night, one they will always remember.
About the Ceremony
A Personalized Catholic-Jewish Interfaith Ceremony

Dear Family & Friends,
For our ceremony, our ideal was to represent both of our faiths, Catholicism and Judaism. We are both proud to share elements of our faiths with each other and all of you.
Often, a Catholic-Jewish wedding is held at a neutral site – with permission from the bishop – so that neither family will feel uncomfortable. In such cases, a rabbi is likely to officiate. The couple needs to have a dispensation for such a wedding to be valid in the Catholic Church.
We have been granted dispensation by the bishop in the Catholic Archidiocese of Los Angeles. Msgr. Albee from our local parish helped us with the process, and he will be involved in the wedding by giving a blessing and doing readings; but in Catholic-Jewish weddings, usually the rabbi will officiate. Rabbi Michael M. will be the primary officiant for our ceremony.
The ceremony will be held in the garden and will reflect a collection of readings and traditions from both faiths that we are excited to use on our wedding day. We will have readings from the Old Testament and New Testament -- similar to the Liturgy of the Word in a Catholic Mass. We have chosen a family member to recite one of the readings, and Msgr. will deliver another. Several other Jewish traditions are important to us and will be incorporated into the ceremony, such as the Chuppah (canopy), wearing and handing out yarmulkes, signing the Ketubah, seven blessings and the breaking of the glass.
We hope you will enjoy the ceremony and look forward to celebrating our special day with you.
Love,
Mary & Barry
The Wedding

Sunday, September 3, 2017
4:00 PM
Attire: Formal
Ceremony and Reception
The Gardens at Los Robles
299 S Moorpark Rd, Thousand Oaks, CA 91361, USA
Wedding Party
Keira - Junior Bridesmaid
Rachel - Junior Bridesmaid