Welcome
To our dear family and friends,


Welcome to our wedding website. Here you can find details about our upcoming nuptials. We are looking so forward sharing our day with each of you.
Our Story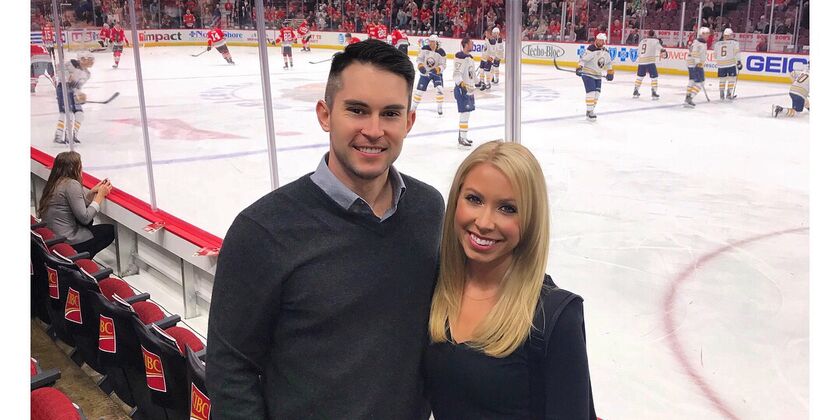 After eight challenging years of college and medical school, I started my residency at Rush University Medical Center in Chicago. I was understandably disoriented by those first few days, learning a new hospital's culture, work flow, and gaining insights into my newfound responsibilities as an MD. Perhaps it was fitting that during the controlled chaos of that transition that true love found me when I least expected it.

I never believed in love at first sight until a stunning blonde in a white coat walked into the surgical ICU workroom on 11 East at 615AM on June 26th, 2015. With one glance I surmised that she was exactly my type. My first thought about her was "What is she doing in a hospital?" She was easily the most beautiful woman I had ever seen, period, let alone in a hospital. Surely, I thought, she isn't part of my transplant surgical team. To my surprise, she was! Without a word spoken between us, it was clear that Kristine has both brains and beauty. I struggled not to stare.

On rounds, I sneakily lingered back while the team members went into the patient rooms, hoping to better study this beautiful example of a smart, sophisticated and classy woman. After a few minutes of being love-struck I had already resigned myself to defeat. I tried to move on and focus on my job. However, she continued to distract me. After a couple weeks I worked up the courage to make a few dumb side-jokes here and there and thankfully she would laugh. My best day of work was when we shared a couple hours in the workroom alone together as I stalled to write my notes before going home. That was also when I found out she loved traveling and volunteered at the animal shelter.

A couple months after we started talking, I decided I needed to take her out on a classy first date. I spent half my paycheck on Blackhawks tickets 12 rows from the ice. Despite trying to be secretive about our interaction, we ended up on the telecast that night for all of Chicago to see. We also shared our first kiss in the United Center after the Blackhawks won the game.
How He Asked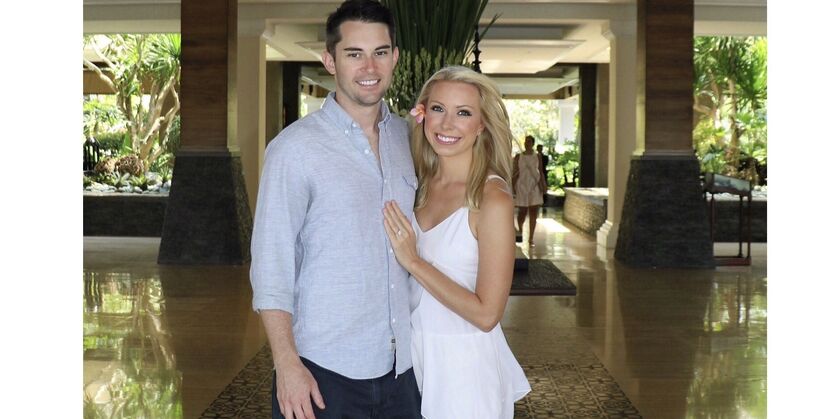 My proposal was not a complete surprise to Kristine. I wisely made the decision to work with her when looking for an engagement ring. I also knew that she would most prefer to be proposed to in a private, intimate and beautiful setting on a vacation. During our 20-month relationship we had traveled to 10 countries together and we really wanted a relaxing vacation. We chose the island of Bali as our destination. Prior to leaving I arranged a private dinner at the Four Seasons Sayan. When we arrived she was a completely surprised. We shared an incredibly romantic candle-lit dinner on a lotus pond in the Balinese jungle talking about how we met and what we love most about each other. Before dessert I stood up with her and got down on one knee and asked her the easiest question I could ask in that beautiful and intimate moment between us. The rest of the trip was an incredible engagement-moon!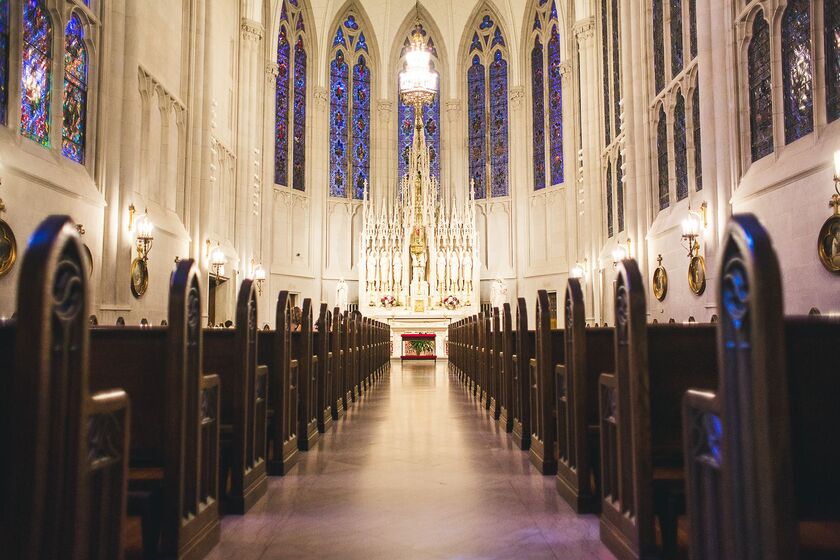 Saturday, June 15, 2019
1:00 PM
Attire: Black Tie Optional
Ceremony
Saint James Chapel
835 N Rush St, Chicago, IL 60611, USA
Reception
The Langham Chicago
330 North Wabash Avenue, Chicago, IL
The ceremony will begin at 1:00 PM at the Saint James Chapel.
"The beauty of the St. James Chapel offers a heavenly radiance with its gem-like windows, angels, saints, and an altar that is a sacramental image of the banquet table of the Wedding Feast of the Lamb. The windows of the chapel have been called 'the crown jewels of Chicago's art treasures,' and are similar to the famous stained glass windows at Sainte Chapelle in Paris, France. Their many colors soar over the guests as they contemplete the rest of the chapel's early French Gothic style. The chapel was dedicated on June 10, 1920. It is constructed of Indiana limestone and its impressive alter is made of limestone imported from Normandy, France. The magnificent Rose window in the rear of the church depicts the life of the Virgin Mary. Located at the corner of Rush and Pearson Streets in downtown Chicago, the St. James Chapel is only steps away from the 'Magnificent Mile' with its many restaurants, hotels, and sights."
The cocktail hour will begin at 5:30PM on the 3rd floor of the Langham.
The five-star Langham Hotel in downtown Chicago was selected as the #1 hotel in the U.S. by U.S. News & World Report in 2017. It was voted as #1 luxury hotel in the U.S. by Tripadvisor in 2018.

Dinner and dancing will begin at 6:30PM inside the Devonshire Ballroom.
Wedding Party
Sarah Savage - Maid of Honor
Sarah is my best friend from PA school. She is a general surgery PA at Rush University Medical Center. You can always count on Sarah to be up for an adventure or new activity. When Sarah is not in the OR, you can find her running down the 606 or heading to a Soul Cycle class. Sarah resides in her Logan Square condo.
Elizabeth Bowersox - Bridesmaid
Elizabeth is Matt's younger sister. She is a junior at the University of Colorado, where she is studying vocal performance. Elizabeth is incredibly gifted and has one of the most beautiful voices I have ever heard. She is incredibly passionate about music and theatre. Elizabeth's current role will be starring as Anita in West Side Story at UC Boulder.
Michelle Gruchot - Bridesmaid
Michelle is my cousin on my mom's side. Michelle and I are 13 months apart and spent most of our childhood and adolescence together. We share many memories of Pioneer cheerleading, coaching, and Brownies. Over the last 30 years, we have spent nearly every holiday and birthday together. She is easily one of the most selfless and understanding people I know. Michelle is a nuclear medicine technologist at Northwestern Memorial Hospital.
Megan Parfitt - Bridesmaid
Megan is one of my oldest friends. We met in high school where we spent our time doing typical high school activities-driving around, listening to music, eating fast food and having fun. We still enjoy doing these things together! Megan is a mom to two precious boys, Henry and Oliver. She also works as an elementary school music education teacher in Oswego.
Rachel Hansen - Bridesmaid
Rachel and I met in college, where we were both members of Delta Gamma sorority. Rachel is one of the most genuine and authentic people I know. I had the honor to be a bridesmaid in Rachel's wedding in 2014. Rachel is an account supervisor for Foodmix Marketing and Communications. She resides in Palatine with her husband Greg and adorable cat, Simon.
Katie Fenlon - Bridesmaid
Katie and I met on a double date several years ago. Through this meeting we sparked a friendship and have been close ever since. Katie is my go to friend for all things beauty , luxury and love for Chicago. Although she no longer resides in Chicago, she loves to visit often-usually with her mini schnauzer, Banjo. Katie is a newlywed who practices as a general dentist in Scottsdale, Arizona.
Christopher Bowersox - Best Man
My best man and only brother. We were basically raised as twins! Currently living in New York City on the Upper West Side and managing social media for the New York Yankees. Chris is the guy who lives a healthy lifestyle, knows how to have fun but gets down to business when its time to get to work
Michael Chrapek - Groomsman
Kristine's younger brother who lives in Chicago. Michael is Director of
Event Technology at LondonHouse hotel in Chicago. He's a big Blackhawks fan, loves Seinfeld, enjoys trips to Vegas, and has been to over 70 Dave Matthews Band concerts- he's also a prolific golfer!
Jeremy Hutchens - Groomsman
Jeremy is my cousin on my Dad's side. He lives in San Diego, CA. Chris
and I were raised in close proximity to Jeremy and we spent most
holidays and birthdays together. We went to Europe together after I
graduated college. He also played college-level lacrosse and is the most
ripped dude I currently know! He also has a sick instagram with 13k
followers @healthwithhutch
Matthew Puckett - Groomsman
My #1 boy going all the way back to the 90's. This guy is as brilliant as he is good-looking. He has a Ph.D. in Photonics from UCSD and now works for Honeywell in Scottsdale, AZ. Even though he's world-class engineer, he enjoys the simple things like an inside joke, a good Zelda game or an episode of Seinfeld.
Phil Lichtenstein - Groomsman
One of the smartest, most naturally gifted guys I know, Phil can make

anything look easy. I lived with Phil for 4 years in med school- we went
to India together, played concerts in a band, and played too many video games in between library time. Seriously, there were very
few things more fun than jamming out right after our bi-monthly med school exams. Phil is a radiology resident at Columbia in NYC.
Goldey Khanna - Groomsman
Easily the nicest, most personable neurosurgeon (if not human) I've ever
met. Goldey was born in India and grew up in Thailand. He came to the
U.S. to attend the Illinois Institute of Technology for undergrad. I met
Goldey in med school and we mostly hung out in the library together
watching Blackhawks games instead of studying. He's now a neurosurgery resident at Thomas Jefferson in Philadelphia.