Our Story
M&K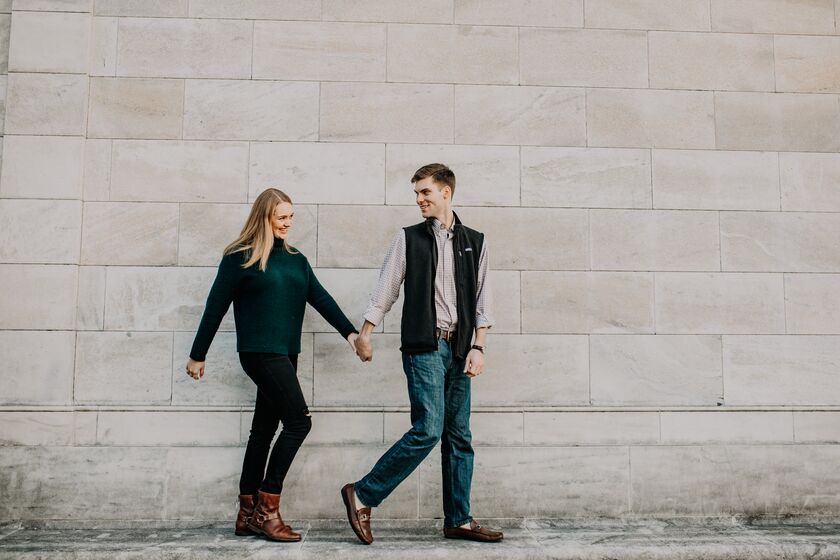 We met in October 2016 at our campus ministry's (RUF) fall retreat at Camp Alpine in Mentone, AL. Kaleb needed a Spanish tutor, and Megan needed a date to her Chi Omega date party; thankfully, those events were just the beginning of our relationship. We dated for a little over three years; during that time, we spent time together biking in Cade's Cove, spending days on the lake, cooking meals together, growing in our relationships with the Lord, cherishing good times with friends, and cheering on the Volunteers.
On November 8, 2019, Kaleb proposed in Chattanooga up on Snooper's Rock. We celebrated the beginning of this exciting season with our families that weekend. We are absolutely thrilled to be getting married and beginning our lives together on May 23, 2020. We are so thankful for the Lord's provision and grace as He has taught us to love Him and love each other.
We look forward to celebrating with you on May 23!!!
*4/15/20 update: Due to the current circumstances that COVID-19 has created, we are postponing the celebration of our marriage until Friday October 2, 2020. Kaleb and I are having a small backyard wedding on May 23, and we look forward to celebrating our marriage with you all on October 2nd. Our prayers are with everyone during this season of unknown; please stay healthy, wash your hands, & we'll see you in October!
The Wedding
Friday, October 2, 2020
6:00 PM
Attire: Suit & Tie or Tuxedo
Reception
Annesdale Mansion
1325 Lamar Avenue, 1325 Lamar Avenue, Memphis, TN, 38104
Complimentary Valet Parking at Annesdale
Wedding Party
Kaitlin Tillman - Maid of Honor
Sarah Tillman - Maid of Honor
Kaitlin Billingsley - Bridesmaid
Kindall Billingsley - Bridesmaid
Hannah Duncan - Bridesmaid
Gracey Burnett - Bridesmaid
Hannah Yarmowich - Bridesmaid
Betsy Bragg Emerson - House Party
Tara Norman - House Party
Sarah Grace Rogers - House Party
Bonnie Cathryn Prather - House Party
Grace Taylor - House Party
Shea Troutman - House Party
Eddie Christopher - Best Man
Don Leiderman - Groomsman
Tucker Youngblood - Groomsman
Andrew Grissom - Groomsman
William Merriman - Groomsman
Michael Luethke - Groomsman