Our Story
#onemooredavison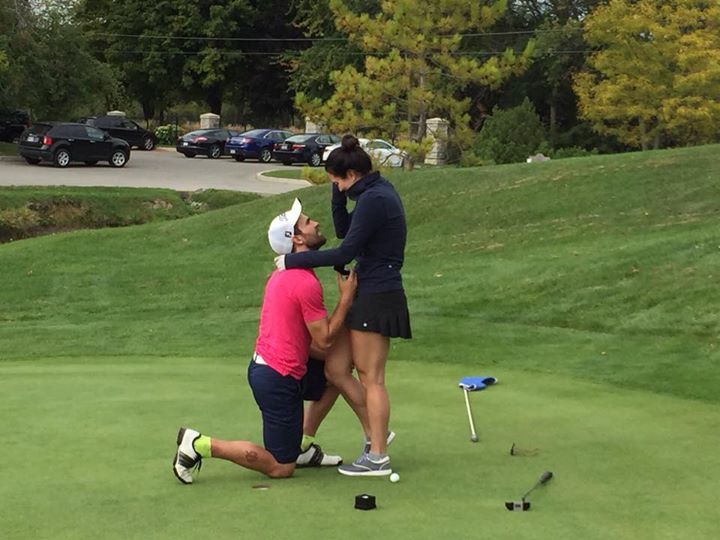 It was the sport of Figure Skating that brought us together.
We had known each other for about 15 years, however it wasn't until later, when we both retired from skating, that we became an "item" (Michele admits that she has had a crush on Bryce since the young age of 12).
It was in Spring 2013 that we started dating. We quickly grew to realize how much we loved each other and couldn't imagine life without one another. We share many common interests together including, fitness, hanging out with family & friends, the cottage, and golf.....

On September 27th, 2015 we went golfing with our good friends Dylan and Jesse at Knollwood Golf Course... the same course where we played our first round together AND where Bryce said "I love you" for the first time! Dylan kept Bryce calm during the round and it was on the 18th hole, where Bryce got down on one knee and proposed!! Luckily we had Dylan and Jesse there to capture the moment because emotions ran high and we don't remember much!
We have been enjoying engaged life & cannot wait to celebrate our love with you on June 17th, 2017!
Love,
Michele & Bryce
The Wedding
Saturday, June 17, 2017
3:30 PM
Ceremony and Reception
Hernder Estate Wines
1607 Eighth Ave Louth, St. Catharines, ON L2R 6P7, Canada
Outdoor Ceremony 3:30pm
Cocktails & Reception 4:30pm
*Hernder Estate Winery provides a complementary wine tour for all guests between Ceremony & Reception

Wedding Party
Karley Morton - Maid of Honor
Karley is Michele's cousin
Ashton Tessier - Maid of Honor
Ashton & Michele met through figure skating.
Ashley Schmidt - Bridesmaid
Terra Findlay - Bridesmaid
Terra & Michele met through figure skating.
Poppy Schmidt - Flower Girl
Michele & Bryce's niece (Ashley & Greg Schmidt's Daughter)
Dylan Moscovitch - Best Man
Dylan & Bryce met through figure skating
Palmer Davison - Groomsman
Palmer is Bryce's brother
Ryan Moore - Groomsman
Ryan is Michele's brother
Rob Shultz - Groomsman
Rob & Bryce met through figure skating.
Charlie Schmidt - Ring Bearer
Michele & Bryce's Nephew
(Ashley & Greg Schmidt's son)
Rowan Morton - Ring Bearer
Michele's second cousin
(Ashley Morton's son)