Our Story
All At Once Everything Was Different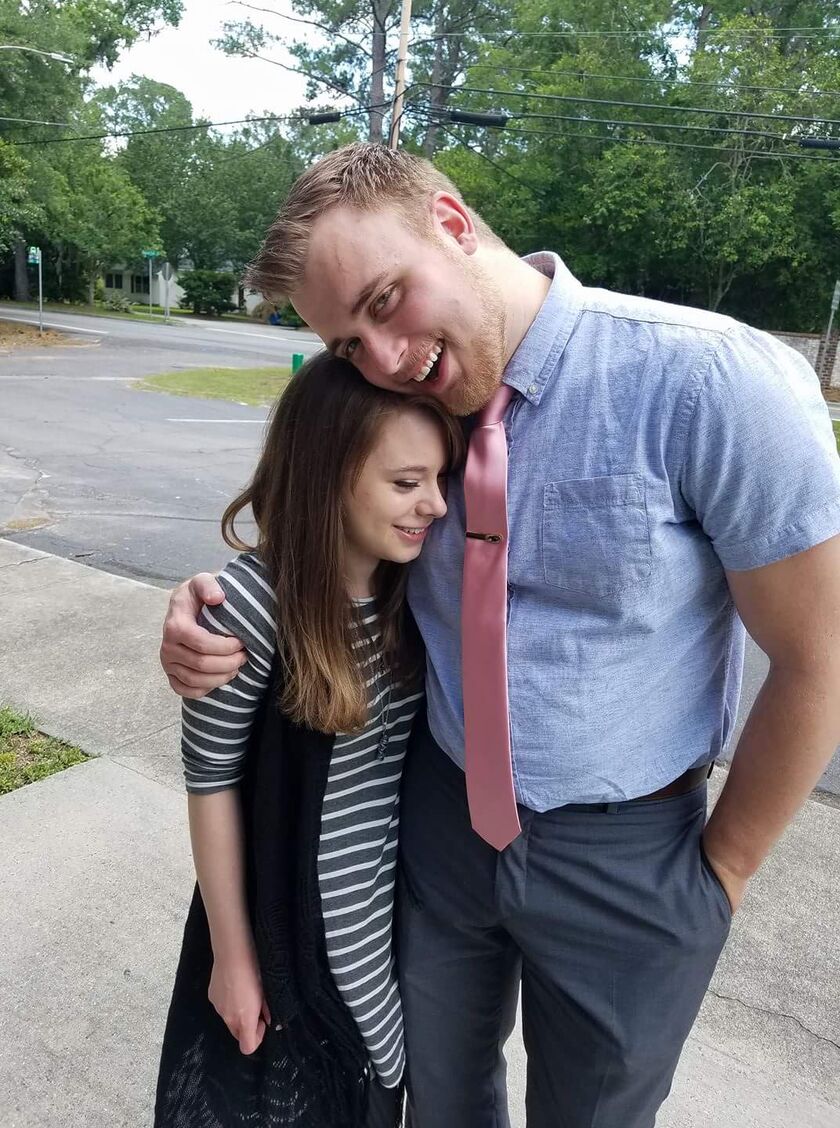 Our story is not one that you would call a romantic beginning, it was a God Thing. Coming from different places and yet, our stories are much the same up to the day we met and saw the light.
There is nothing like knowing that God has been designing a plan for us all along.
By God's design our families came to know each other in November of 2015 when both families moved to Savannah, Georgia within a week or so of one another. The Grimes family moved from Nebraska and the Farmers came from across Georgia.
Both families moved under similar and difficult circumstances all feeling crushed by what life had recently dealt them but God had a plan!
Friendship between the families blossomed quickly. Bonding began with grilling out, board games, and visits to the beach. They quickly became "like family". This friendship brought each of them out of their sadness and depression.
Ethan's family came to Savannah as the new worship ministers at Harvest Church of the Nazarene. Mikaela's dad pastored this church in the 1990's. (Mikaela was born here in Savannah). Her oldest brother, Daniel, and his family still attend the church so it became the first choice of worship for the Farmers.
Ethan was singing and playing guitar with his parents and Mikaela was excited to join the worship team. A friendship between Ethan and Mikaela grew quickly. "Everyone" knew that they belonged together but it took Ethan a while to "see the light".
They decided to court on November 22, 2016. Within a month they knew that it was indeed God's plan for them to be husband and wife.
They made it official on July 13, 2017.
Engagement video
She Says ...
I'd be lying if I said I wasn't at least a little excited when I heard Eric say his son played the Guitar like I did and I was excited to meet him but didn't want to get my hopes up. I didn't even know if he was the right age. (Spoiler: he is ;) ) Not too long after we met, God let me know that this was the guy I had been praying for for years but specifically for the last year. But I kept that little secret to myself until Ethan was finally ready to "See the Light". The Rest Was History!
He says ...
While Kaela knew early on, it took me a while to catch on. God was working on me to not only be the right man for her but also be the right man for the ministry I am called to. I always thought she was pretty but after getting to know her God opened my eyes to see how amazing and beautiful she is. He had brought the perfect woman, to the same church within a week of us moving there, coming from a similar situation as myself. God is sooo good for blessing me in this incredible way.
The Wedding
Saturday, May 19, 2018
1:00 PM
Attire: Dressy Casual
Ceremony and Reception
Harvest Church of the Nazarene
5995 Waters Ave, Savannah, GA 31406, USA
Dessert & Drink Reception to Follow in the Fellowship Hall
Notes to Remember
Inclement Weather
The weather man says there is a 90% chance of thunderstorms all day on Friday, Saturday and Sunday. But "many waters cannot quench this love". Song of Songs 8:7
Please bring an umbrella and give yourself extra time to arrive. Savannah streets tend to flood when there is a lot of rain especially the further downtown you go. The area around the church should not have this issue. So once you arrive at the church you should be able to stay dry. The church has covered walkways between the sanctuary and the reception hall, but not between the parking and the sanctuary.
Reception is Desserts and Drink Only
Also, take note the reception is Desserts & Drinks Only. You may want to grab a bite to eat before you arrive. There will be plenty of sweets but you may want something more substantial than that. Abercorn Street and Mall Blvd are nearby with many choices for food.