Our Wedding
Saturday, November 14, 2015
4:00 PM
Attire: Chic
Ceremony and Reception
Sparrows Lodge
1330 East Palm Canyon Drive, Palm Springs, CA 92264, United States
Adults* Only, please!
We kindly ask that you leave the kids at home so that can allow for maximum relaxation all weekend. Please feel free to contact us with any questions or concerns.

*Sparrows Lodge is a 21 & up hotel.
Transportation to Ceremony & Reception
The BUZZ Palm Springs Trolley. Visit new.buzzps.com for more information. There is a stop in front of the Saguaro Hotel, 2 blocks east of Sparrows Lodge.

After Party
The party don't stop 'til 6 in the morning
Saturday, November 14, 2015
10:30 PM
Ace Hotel
701 East Palm Canyon Drive, Palm Springs, CA 92264, United States
The Ace Hotel is down the street from Sparrows, so if you are up for it after the reception, come have a drink with us!
Our Story
Just Us
Love is a seed; it lies dormant, bashful and incapable, until the perfect conditions ignite a reaction of possibilities and potential, rendering it limitless to the test of time. And so begins the story of Evan and Molly.
We met in a bar.
I know what you're thinking; bartender charms his way into getting a phone number and the rest is history. Not the case. I worked the daytime shift on Wednesdays, hauling around liquor and stocking shelves when I met Molly. That afternoon, my friend and coworker Gia happened to stop by the office to grab her paycheck. She entered the hallway followed by another girl who was wearing a Biggie Smalls shirt, I'll never forget that. I immediately stopped what I was doing to greet them. My attraction to her was instantaneous. I was introduced to Molly, and I mostly remember that moment as the first time I saw her smile. I soon came to find that behind her beautiful smile and dark-framed glasses is an intelligent, confident, an generous soul. Her love for life is contagious. Almost five years have passed since we first met and I couldn't be more thrilled to learn what the future has in store for us.
Her Grandpa Tiny once said to me, "Hold her hand every chance you get," and that's what I look forward to most.

he put a ring on it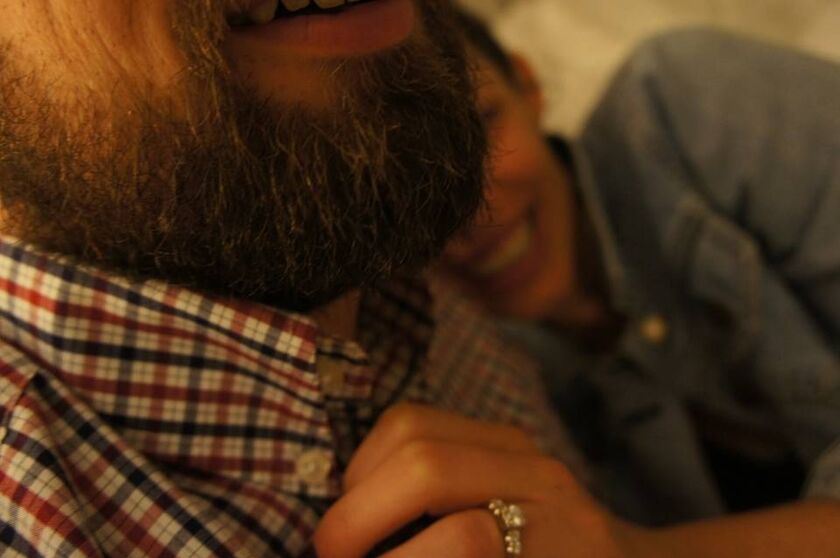 On what I thought was a birthday getaway trip to the Korakia Pensione Hotel in Palm Springs, Evan sweetly asked me to marry him after a delicious meal of lasagna and wine. We found a beautiful spot on the property grounds with Moroccan day beds and pillows where we drank good wine and looked at the stars. As I rolled over full of lasagna, Evan got down on one knee and began saying the most genuine things about us (to this day I do not remember; I blacked out!). I do remember when he finally asked me to marry him I was still in shock that it took him asking me twice before I said Yes! He proposed with my late Great Grandmother's vintage engagement ring which my mom gifted him a few months before. I couldn't have asked for a more amazing night.

Wedding Party
Jenny Adams - Matron of Honor
Ashley Hart - Maid of Honor
Quinn Kerrigan - Bridesmaid
Spencer Barrack - Groomsman