Our Story
How We Met
Naomi and Patrick are the the OG's of online dating. Looking to expand their dating pool and meet some fun people, Nay and Pat joined Match.com before swiping apps were in style. Naomi is shy and has a hard time meeting people as everyone knows. Pat had tried everything from door to door peddling to Craiglist missed connections to find a girl he clicked with.
Naomi caught Pat's eye on Christmas 2013 and he made the first move (poke?), fascinated by some peculiarly chosen profile pics and descriptions. Naomi messaged Pat shortly after that and they opened a playful dialogue the next 2 weeks. They quickly realized both went to Pitt a year apart but did not know each other there, adding to the intrigue.
Naomi suffered impatiently until Pat was back in Philly, staying in touch through the winter holiday and NYE vacation. Pat asked Naomi out for the first date in early January, planning a Sunday Funday.
Our First Date
Pat picked up Naomi from her house in Graduate Hospital on a Sunday afternoon in January. They shared Belgian blonde beers at Eulogy bar (RIP), and meandered to two other local spots for food and further conversation. Naomi's first attempts to impress Pat at Eulogy included banter about her job at Fedex, showing her dedication as a career girl. There was chemistry from the beginning, and in the middle of the date walking around Old City, Pat kissed Nay (despite all that initial work talk). Late in the evening, the night ended with Pat returning Naomi safely back home. A second date was quickly scheduled which turned out to be another long Sunday, with further shenanigans ensuing. They've been inseparable ever since.
The Proposal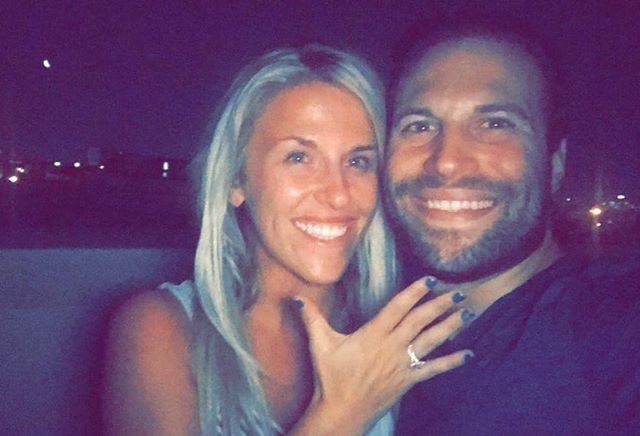 As many of you know, Patrick had convinced Naomi to take leave of their jobs and backpack the globe, a lifetime goal. Naomi had been pining for an engagement leading up to this event but tried to act cool. Uneasy about this large commitment without a commitment, Naomi took a leap of faith and agreed to travel the world with her 'boyfriend'. She knew in her heart they were meant to be and eventually it would happen, anticipating it abroad.
Little did she know, Pat had been meticulously crafting the perfect ring with help from her friends and own instincts for months. Once in Pat's possession, he couldn't wait to give it to Naomi! Pat initially wanted to propose at the airport before they left for Paris but couldn't trust the ring coming along with them.
At that stage of summer and only a handful of weeks before their departure date, it was hard to get Naomi alone. Pat decided to let fate run its course and wait for the perfect opportunity to present itself in the following week or two. A mid-week picnic in the park was suggested but timing and circumstance did not cooperate. Coupled with a suspicious Nay, spilled wine and a quick sunset, the idea was bagged for another day.
The next day, Naomi felt she may have accidentally sabotaged the event she had been waiting for (not true Nay!), and wanted to get Pat a nice surprise. She waited 3 hours in line at Pizzeria Beddia to order the so called "Best Pizza in America (2015)" Pat had been dying to try for years. She had the pizza and 6-pack of cold Coors Light ready for Pat after arriving home from a stressful work day. In true bro form, they shared pizza and beer on the roof deck, shrouded by a beautiful pink sky and crisp quarter moon appearing at twilight.
With everything right in the world, and a feeling of easiness and love reminiscent of the first time they met, Pat went down to 're-heat'a few pizza slices. Knowing the timing was right, Pat retrieved the ring he had hidden in the house, then returned to the roof. After some playful conversation, Pat requested Naomi over to him, dropped on one knee, and asked her to be his forever. Exhilarated, Naomi belted out some version of "YES!" After hanging out alone for an hour or so celebrating privately, Pat alerted his roommate Boomer who came up on the roof to take pictures and revel in the engagement. Pat's next-door neighbors, Chris and Erin unknowingly walked upstairs to take part in the festivities as well.
Naomi and Pat were glowing, basking in the moment where they became official in casual clothes, eating pizza and drinking beer in their favorite Philly neighborhood, Fishtown. Everything was perfect, exclusive and romantic.
The Wedding
Saturday, November 3, 2018
5:30 PM
Attire: Evening Formal
Ceremony
Artesano Gallery
109 Green Ln, Philadelphia, PA 19127, USA
Reception
Artesano Gallery
109 Green Ln, Philadelphia, PA 19127, USA
Cocktail hour, dinner, and dancing to immediately follow ceremony