Our Story
How We Met
"Did you just workout?" The pickup line that brought us to this very moment.
On very warm Saturday, October 4th, 2014, Natalie had plans to meet a friend for sweaty coffee (after a workout, before a shower). Natalie ran down to Little Italy from her apartment on Cortez Hill. She decided to grab her favorite crepe at the farmers market, before meeting her friend at Pappalecco.
Jake had a ritual of walking Sadie, his dog, down to the Farmers Market on Saturday and almost always got a crepe. He usually stopped for coffee at his favorite coffee spot, got a crepe, and took Sadie to the dog park, in no particular order.
So on this very special Saturday, Natalie was in line right in front of Jake at their favorite crepe tent. The wait is always at least 30 minutes.
After a while, and Natalie petting Jake's dog, Jake dropped the pick up line, "Did you just workout".
Natalie responded, "Uh huh", thinking obviously while wearing sweat drenched workout clothes.
At least he started the conversation! They talked about Natalie's workout at Orange Theory, and how Orange Theory was Jake's client. They talked about working in IT and geeked out for a little bit. Then they realized they lived in the same building! Natalie was so excited and asked if he had met so and so, because the complex had such a great community. Jake had just moved, and was excited about how friendly and welcoming Natalie was. Natalie gave Jake her apartment number, grabbed her crepe, and headed up the street to meet her friend.
Pappalecco has always been one of Jake's favorite coffee shops, so guess where he ended up next. Natalie was sitting at a table outside with her friend when she noticed Jake inside ordering. She told her friend to peek in and take a look at the guy she just met. Busted! Jake totally noticed. Natalie went in to say hi, and Jake promised he wasn't being a stalker.
They parted ways again, and didn't reconnect until after Jake slipped his number under Natalie's door. Guess where they went on their first date the next Saturday, and almost every Saturday morning for the next two years!!
The Little Italy Farmers Market!
-----------------------------------------------------------------------------------------------------
Carlos the crepe guy was filled in about the story, and every once and while gives the happy couple a free one. Jake always says, "What if I had gotten coffee first, or what if Carlos didn't make awesome crepes". The timing was right, and it was meant to be.
The Proposal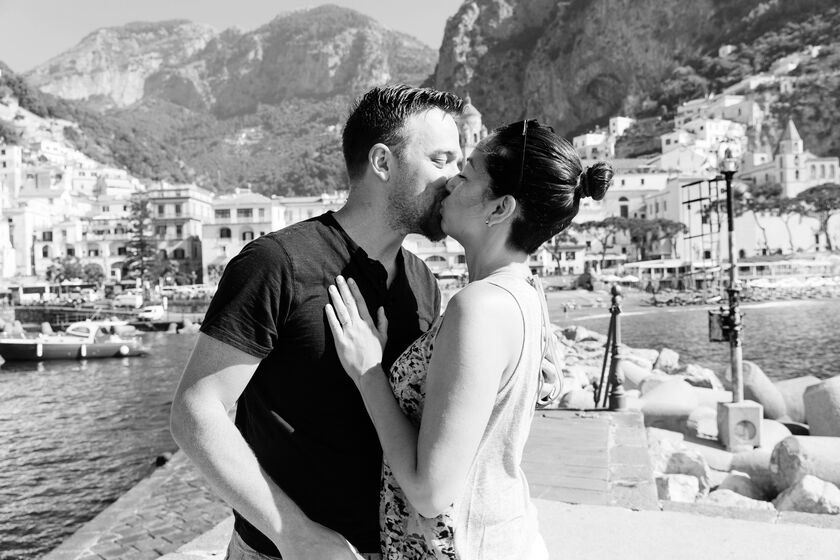 Jake and Natalie were on the most amazing Europe Trip! They were past the half way point of the trip, and had driven from Rome, Italy to stay on the Amalfi Coast for a couple nights. They had no plans for Saturday, May 13th, 2017, except look into hiking to Ravello, and chill at the beach.
Natalie requested to sleep in, so when Jake's alarm "accidentally" went off at 7 a.m. she was not excited to get up. She actually went back to sleep for another hour. Finally she woke up and took her time getting dressed for a hike. Little did she know that Jake had to have them somewhere by 9 a.m.
Jake, on the other hand, barely slept. When Natalie went back to sleep, he stayed awake trying to figure out how to get her out of the room quick. When they went to breakfast he didn't eat much, and passed up coffee.
Natalie thought that was odd but didn't suspect anything. Although she thought he would propose on the trip, she didn't think it would be in the morning for some reason. She was not suspecting it at all!
After breakfast, a little after 9, Jake made an excuse to get her out to the pier of the city of Amalfi. His excuse was he wanted to take a panoramic picture, because he wasn't able to get a good one the day before due to the fog. As they walked out, Natalie still had no clue what was about to happen, the views were breathtaking.
Jake stood there taking his panoramic picture of Amalfi. When he finished and started to take off his backpack, Natalie finally caught on. Jake must have got something in his eyes, because they were watering, she was crying, and she said "YES", multiple times.
As they hugged, a woman began snapping pictures right in Natalie's face. She became irritated, and asked Jake, "Do you know this woman?". Jake answered, "I hired her".
The woman was a photographer from Atrani, Italy that Jake hired to document the entire proposal. She took pictures of them walking up, without catching Natalie's attention. She took pictures of the entire proposal! She also took them into the city of Amalfi where they had an hour photo shoot!
BEST PROPOSAL EVER!
Iowa Celebration
Iowa Celebration
Saturday, June 23, 2018
1:00 PM
Raccoon River Park Nature Lodge
2500 Grand Ave, West Des Moines, IA 50265, USA
NOTE: We are assessing if we will be postponing this event due to our new family member arriving this summer as well. We will contact everyone to let you know. Thank you for you continued love and support. 💕