Desert Wedding Ceremony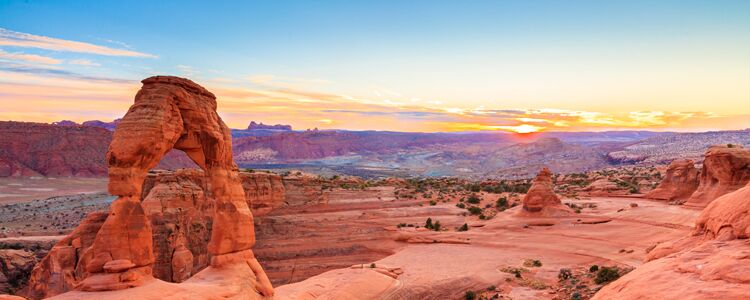 Saturday, August 26, 2017
6:00 PM
Attire: Creative Black TIe Optional, Colorful and festive without overdoing it. Please avoid wearing all white or all black
Ceremony and Reception
Fruit Bowl Highline Area
Moab, UT 84532, USA
Our wedding ceremony will take place outdoors and requires some hiking to get to. After the ceremony and dinner in the desert, this event will be quite festive and energetic and may go late into the night. Anyone is welcome to bow out at any time, so please plan accordingly. We encourage guests to bring circus acts of all sorts, but please mention what you plan to bring with you in your rsvp! These may include fire twirling and light-up poi, hoops, juggling items, unicycles etc. You may want to bring a change of clothing with you for this part. Although the event is not planned with children in mind, children are welcome as long as parents are able to supervise them closely.
Wedding Party
Sara Purple McMullen-Laird - Bride
Purple was born in New Orleans, Louisiana and is the eldest of 4. She grew up in Pennsylvania, Germany and Switzerland before graduating from the University of Michigan in Ann Arbor. She also attended the University of Melbourne, Australia as well as Hibernia school of art therapy in Stroud, England and has just completed her Waldorf high school teaching certificate program in Wilton, NH. She is a professional slackliner and currently works as a part time high school teacher of physics, astronomy, biology and art. Purple has always had a great love of languages, science, fine and performing arts. She grew up playing violin, singing, acting and dancing in countless theater productions, played basketball and was part of the crew team at school. She loves being creative through calligraphy, painting, drawing, clay work, papercuts, and photography. She climbed more trees than she could count until she was introduced to rock climbing on an 8th grade class trip to the Swiss alps, where her love of the mountains began. Through her connection to the rock climbing community she came across slacklining, which soon led her to Mickey. Since meeting Mickey, she has also learned to ski and is excited to be building her new life with him in Colorado.
Lydia McMullen-Laird - Maid of Honor
Lydia is Purple's younger sister. She lives and works as a journalist in China, but returned to the US recently to assist the water protectors at Standing Rock and is now working briefly in New York City. Together with her brother Samuel, she started the Live Zero Waste organization (https://livezerowaste.org) and has been living very close to trash free for 2 years now. She is very passionate about caring for the environment and has spent many hours talking with Purple about environmental concerns in the world today. Among many other things, Lydia is also an accomplished ballroom dancer.
Katrin Bell - Bridesmaid
Katrin is a woman of many talents, an accomplished adventure and portrait photographer, an artist, a rock climber, slackliner, and all around fun-loving friend. She has traveled with and worked on several projects with Purple and Mickey and quickly became fast friends with Purple.
Johny Dosen - Bridesman
Johny and Purple met in Los Angeles, where Johny resides when he isn't living in France. Together with various small groups of friends, they embarked on their first few highline trips to some epic lines in Yosemite, Joshua Tree, and San Francisco and soon became good friends, chatting late into the night about philosophy, nutrition, agriculture, education and alternative life styles. Johny and his girlfriend Emma visited Mickey and Purple in Golden where they had a great time exploring and testing out the Wim Hof breathing method in Clear Creek.
Michael Jacob Wilson - Groom
Mickey is a Colorado native, growing up in Durango, then moving to Golden to attend Colorado School of Mines where he completed his bachelors and masters degrees in Physics. He grew up playing baseball, skiing and learning flips and other tricks on his backyard trampoline. He found slacklining during his studies at Colorado School of Mines and became fascinated by it when he realized he could transfer his trampoline skills to the slackline. He now competes and performs full time all over the world and hopes to incorporate his love of physics into life more prominently again in the future.
Julian Martinez - Best Man
Julian has known Mickey since their first day in Kindergarten. They have been best friends ever since growing up south of Durango, sharing childhood memories from Star Wars lightsaber battles, to mischevious mistakes, to coming of age. Julian and Mickey have always been there for each other and promised each other long ago to be best men at each other's wedding. He and his girlfriend Meagan have two beautiful daughters, three years old and six months old.
James Walton - Groomsman
James and Mickey met during college at Colorado School of Mines. Mickey was studying skiing, hacky sack and slacking - which some refer to as physics while James was licking rocks and playing with colored pencils - which some refer to as geology. They first bonded during a skiing trip to Jackson Hole where the powder and laughs were extremely plentiful. Mickey then became very enamored with the sport of whitewater kayaking and James, a lifelong paddler and current CSM Kayak Club President, became Mickey's primary teacher and resource for all things safety and whitewater. James taught Mickey many things about safety and outdoor adventure. After college, the two remained close and James became one of Mickey's biggest supporters as he chased his slackline dreams. James is currently working in education and Mickey continues to see James as a role model and bar setter for values and work ethic.
Shirley Powers - Groomswoman
Shirley and Mickey met on their very first day of college at Colorado School of Mines, much like how Julian and Mickey met on their first day of kindergarten. Shirley, a ripping skier from Carbondale/Roaring Fork Valley, and Mickey, a reckless skier from Durango immediately became close friends. This friendship grew and strengthened as they entered the same arduous physics degree program. Over the college years, they experienced countless adventures and projects, from ski trips to electronics lab reports, from college parties to college drama. Shirley has always been a rock for Mickey. He sees her as the epitome of hard work, steadfast friendship, and always chill vibes.
Our Story
Santa Monica, California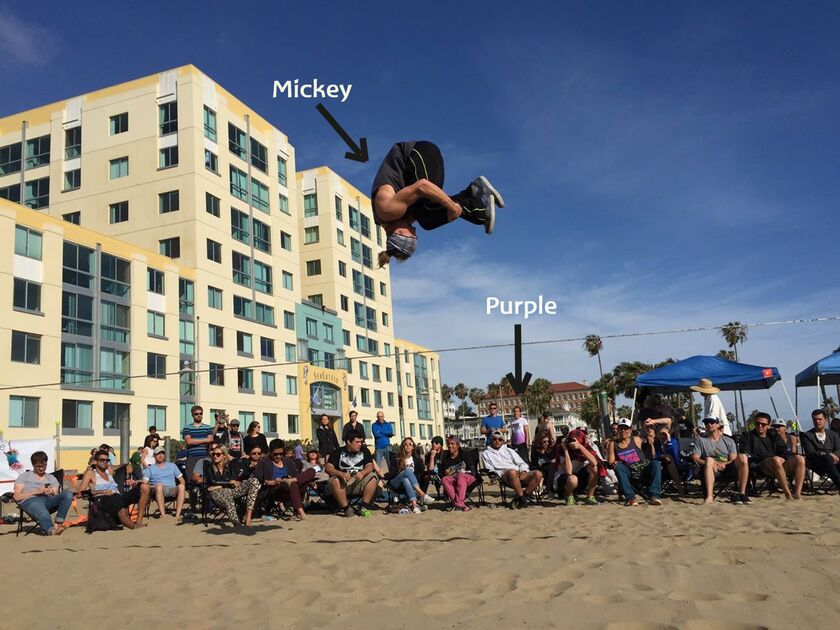 Mickey and Purple first met at a slackline competition on April 25th, 2015. They had a brief conversation about the many different slacklining disciplines. Purple remembers Mickey saying 'Most slackliners stick to one thing, but I'm a Jack of all trades when it comes to slacklining. Maybe if I just stuck with tricklining I'd be winning every competition. But I think everyone should walk all kinds of lines so they can be comfortable with whatever line is presented to them.'
Above is a photo of the competition that day, with Mickey flipping over the line and Purple watching with her friends in the crowd.
Golden, Colorado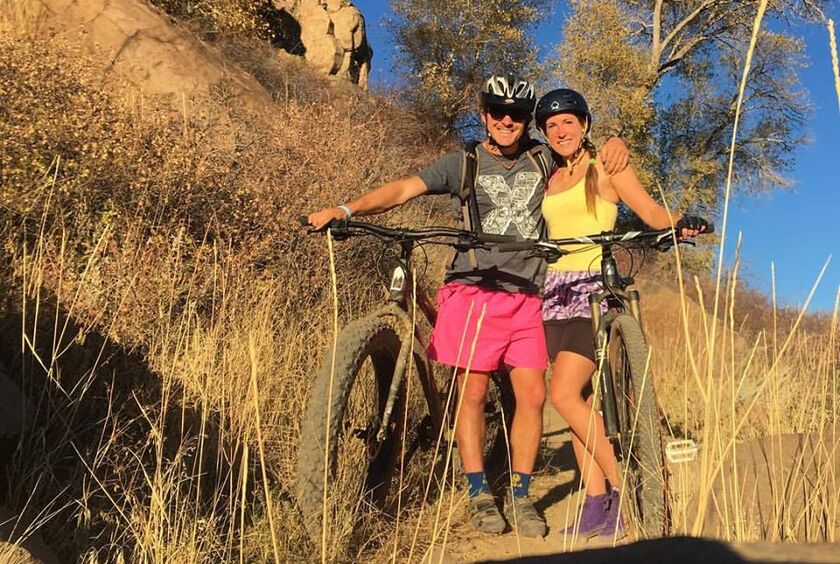 They met again after a long summer (during which Mickey traveled to slacklining events in Europe and Purple attended summer school in New Hampshire), at a highline in Elk Creek Canyon on September 19th, 2015. Purple was on the highline as Mickey arrived, and Mickey began to free solo the line when it was his turn but at almost half way across decided against walking the rest of the way and came back. Another reason that day was so memorable for both of them was that they witnessed a young man slide down a very slick part of the canyon and crush his ankle and lower leg when he came to a very sudden halt on a rock at the bottom of it. Their team quickly took the highline down and was able to call for help. Purple sat with the young man and offered him water and ibuprofen. He was clearly in shock for some time. Purple stayed until a fire squad came, and pointed out all of the bolted anchors and sturdy trees that they could use to rig a haul system on in order to get him out. Then she left to join the others for dinner where the only open seat was next to Mickey of course.
The next day Mickey sent Purple a message to ask if she would help him set up two parallel slacklines in his backyard. From there, they talked for a long time about slackline rigging, pulleys, physics, astronomy, traveling, and the wonders of eye color. Purple was staying only a few blocks away at their friend Heather's house while she was in town preparing to teach at a Waldorf high school in Boulder. Mickey introduced Purple to his mom Diana at a slackline competition a week later and the two became fast friends.
GGBY Highline Festival Thanksgiving 2015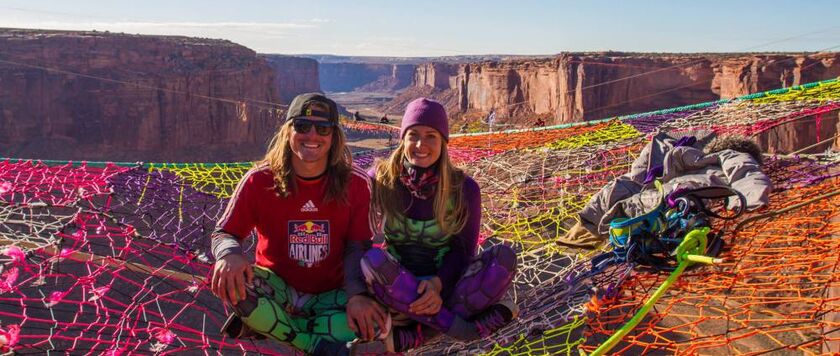 Even though Mickey and Purple often travel for their jobs, they have been able to meet and spend time together in many different places, and are usually only apart for two or three weeks at a time. The GGBY highlining festival in Moab Utah, held every year over Thanksgiving, is a good middle ground for meeting between California (where Purple was working at the time) and Colorado. Here they are sitting in a net that they helped set up 500 feet above the canyon floor. In November 2015 they spent the 10 days there camping together for the first time.
Summer Trip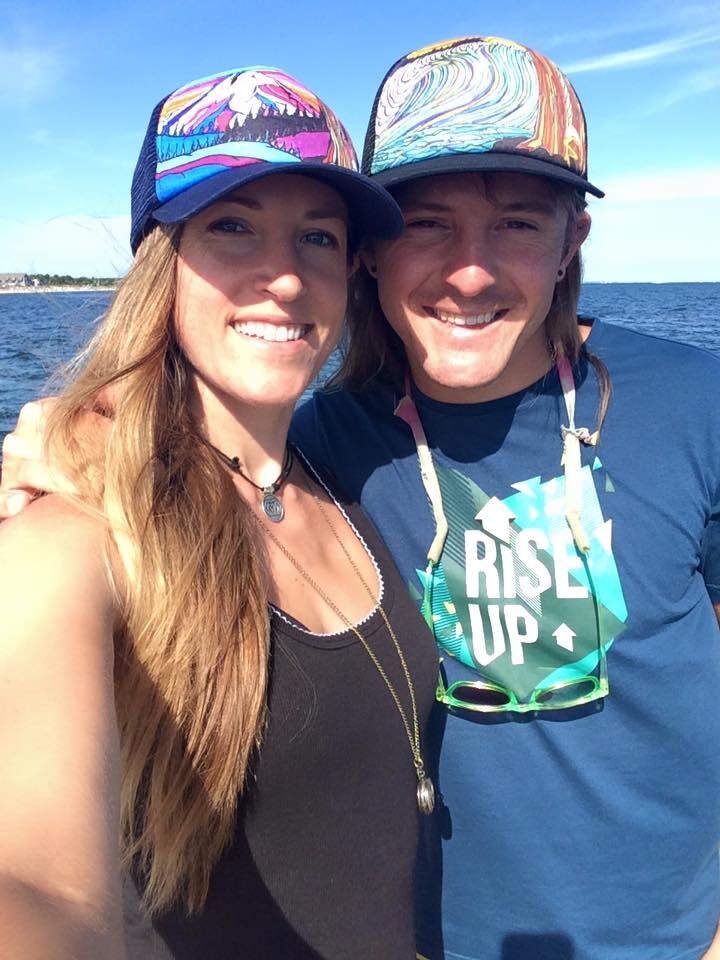 After their longest time apart (at 6 weeks!) Mickey and Purple reunited in Boston and took a 3 week long road trip together back to Colorado, visiting as many of their relatives as they could. They visited Purple's grandfather in Cape Cod, and many of her aunts, uncles and cousins, as well as her brother and brother in law on the East Coast. They savored their visit to the Laird family's Lake house in New Hampshire with some kayaking and waterlining. This was also the first time Mickey met Purple's parents.

They continued on to Missouri, where they visited with Mickey's grandmother and grandfather, and many of his aunts, uncles and cousins as well. They were also able to spend some wonderful warm days at the family's Lake house on the lake of the Ozarks where they water skied behind jetskis and set up another waterline. They even visited the state fair in Kansas City one night.
Tandem Slacklining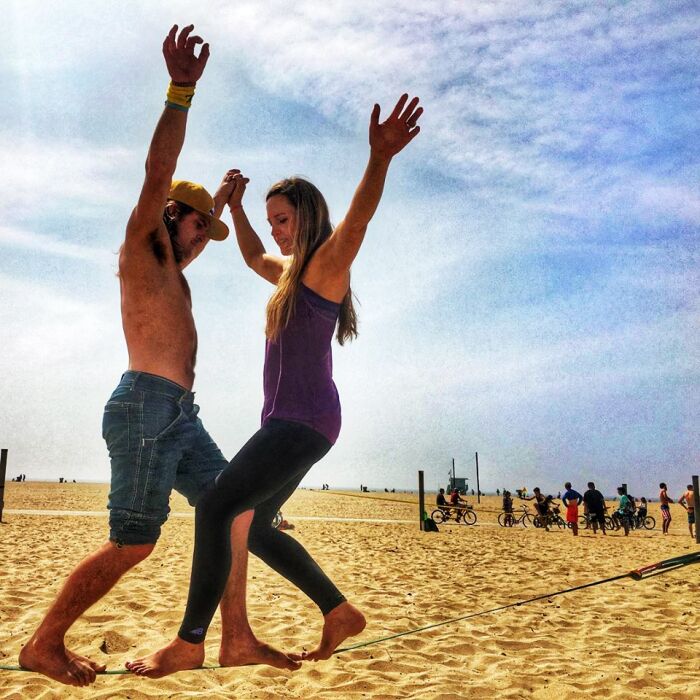 In the meantime, Mickey and Purple have made many more trips to the Santa Monica slackline park where they met for the first time!
Our Engagement Story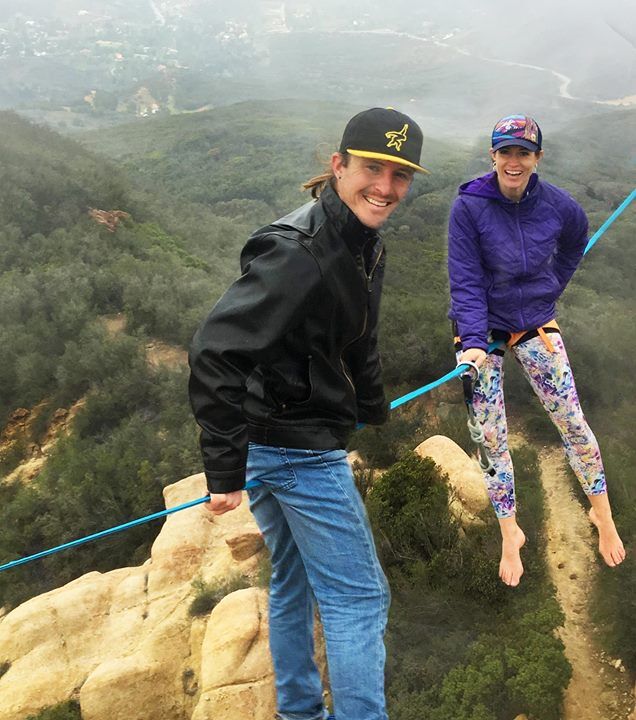 Purple wrote on her Facebook page following the engagement:
"I truly couldn't have dreamed up a more perfect proposal! The day we arrived in LA on our trip to the Ellen DeGeneres show, I cancelled the car she sent us and decided we were going highlining with our friends straight away. Highlining is an extreme form of slacklining (with some similarities to tightrope walking) that Mickey and I do professionally. Our friend Kirill took us to the Saddle Peak highline, one that is very dear to me and has an incredible view of the landscape and ocean in the distance. When we arrived, it was a bit chilly but the veils of fog made the most beautiful ethereal atmosphere.
Soon it was my turn to get out on the line so I scooted out, stood up and took some steps. I gave it a couple more tries, but without any of my personal highlining gear I was feeling very unsure of myself so I sat down and turned to come back earlier than expected, only to see Mickey coming onto the line to join me. I didn't think it was particularly unusual, EXCEPT that he was not wearing a harness or any form of safety gear! He told me how truly special he thought I was, let go of the line completely and pulled a ring box out of his pocket. He asked me to marry him and I answered 'yes, of course'. I was stunned, and excited, and so many things all at once I can't even really say what they were. We kissed but did not want to risk dropping the ring into the bushes hundreds of feet below us so we went back to the anchor rock."
The Ring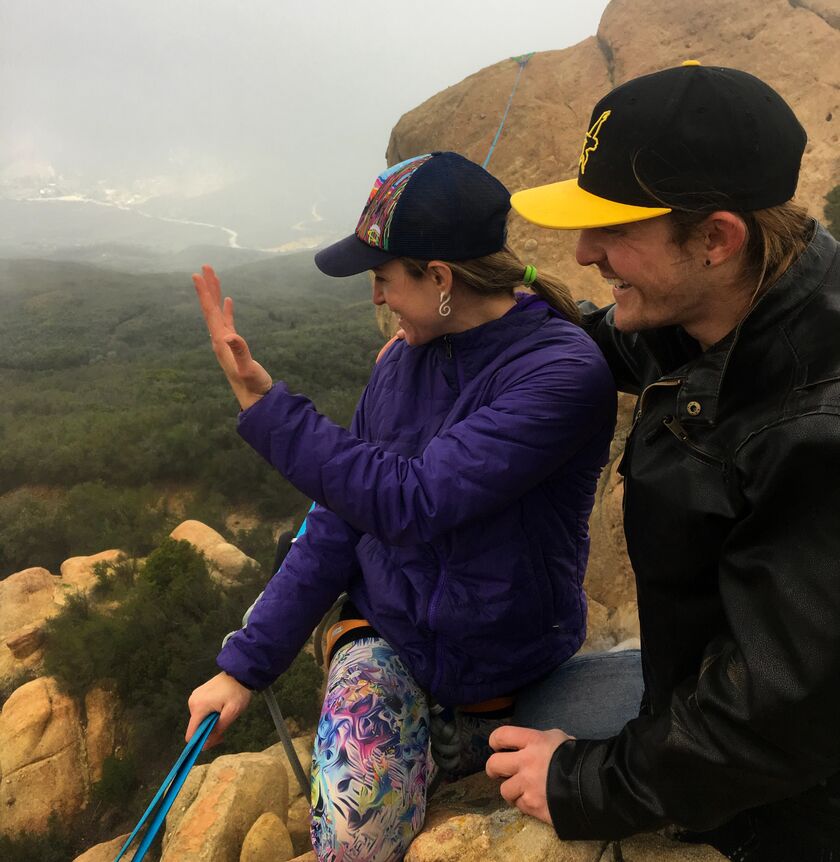 "Mickey told me that the ring had belonged to his grandmother, a wonderful woman I had the chance to meet last summer on our road trip. It fit me perfectly even though he had not had it sized!!! It felt like I was in a fairytale, a bit like Cinderella with her slipper... I love that he proposed in LA where we first met, cherish the fact that he did it on a highline, the activity that brought us together, am honored to be wearing a gorgeous family heirloom, and blushed when he announced our engagement to the world on the Ellen show the next day. Needless to say, I was blown away, so happy, so grateful, so in love, so many things. And neither one of us could stop smiling for a long time
It's a day I will remember for the rest of my life."
Photos by Andy Lewis and Pam Neal

#wilsonslackerwedding
Don't forget to use the hashtag #wilsonslackerwedding for all things wedding related so photos and comments will show up in our wedding album on this site :-) Thank you!!!