Our Story
How they met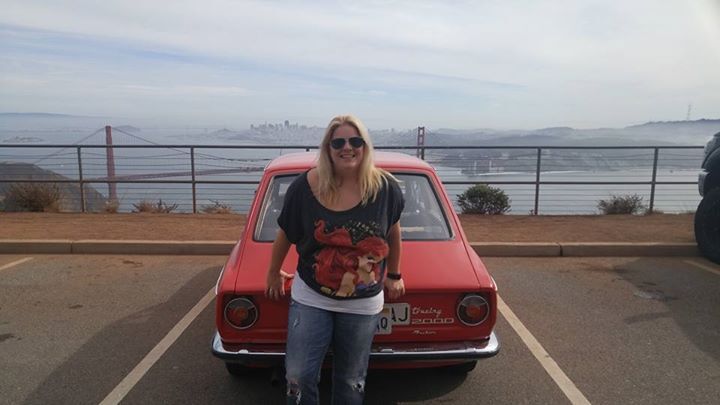 Steve and his buddies were out that Saturday night for a Sharks game. They all decided to hit up a few bars downtown after them game and headed to the fire house. The bar had changed a bit since they had last gone but they made the best of it by playing with the table candles. Rachael was out with a friend and her husband, they dragged her all over San Jose claiming it was so cool. They couldn't decide on where to go and Rachael was sick of them arguing so she bolted into the first bar she saw. After convincing them this was it "lets get beers" Rachael wondered the bar looking for a place to sit. She saw Martin and Steve and asked if her friend and her could sit, they said yes. Rachael happen to be carrying a rather large purse which became the topic of conversation so far that they all dug through it to see what was in it. The bar they were in had this odd habit of every time someone ordered a bottled beer, after it was poured in a glass the bottle was smashed in the trash flowed by a bell ringing and all sorts of woo-hoos, it happened about every minute. As the clock hit midnight Rachael's friends decided it was time to head home. She got up and said to good bye to the man who wouldn't revile his name. He looked at her with his hands up and said can I get your number? Since his phone was dead it had to be old fashion so Rachael quickly attacked a waiter for a pen and on his torn up Sharks ticket she wrote her name and number. The next day with a simple text "My ears are still ringing" Rachael giggled she knew who it was. The next few days they text from the moment they woke up till they fell asleep. The following Sunday they had their first date, and the rest is history...
The Wedding
Saturday, October 1, 2016
3:30 PM
Attire: Semi-Formal
Ceremony and Reception
Silicon Valley Capital Club
50 W San Fernando St, San Jose, CA 95113, United States
Wedding Party
Melissa Bordley - Maid of Honor
Melissa, my maid of honor is my cousin by relation but so much more to me than just that. She's my sister, my best friend the one person who knows me. She's been there through all my ups and downs and I her. We have shared tears, heartbreak, so many laughs and crazy adventures. She is my heterosexual soul mate, she is my sister!

John Pratt - Bridesman
John and I have been friends since his freshmen year of high school. He is a truly amazing man! John is the straight guy that can always hang out on ladies night he knows when to help us and back off. His compassion and creativity are what I love most about him. Johns sense of humor is unique and only a few of us get why sometimes he makes chicken noises.
Jean Blomo - Bridesmaid
Jean and I became friends through Steve. She is a amazing soul that challenges and drives me to be a better person everyday. Jean adds such a nice balance to my life. She has such a positive energy around her and brightens the room up! I appreciate everything she has done to help me in my life.
Courtney Hackley - Bridesmaid
Courtney and I have been friends since Jr High. Courtney is someone who I can go months without talking to but in just one text we are right on track. We both became closer when we lived together as room mates on and off about 3 years in total. Courtney has a very caring heart and a amazing witty sense of humor. She can always survive my family functions since she's so quick on the sarcastic comebacks.
Laura Petschul - Bridesmaid
Laura and I have been friends since we were 9yrs old. We were next door neighbors. After we met we were inseparable we wanted sleep overs every weekend and sometimes our parents didn't, but a quick temper tantrum and me screaming "I always have to sleep alone!" fixed that. Laura has such and energetic soul and she's always up for new crazy adventures! She has always stayed true to herself, what she wants and what she believes, I admire that about her.
Mallory Precord - Bridesmaid
Mallory.... shes a girl I never knew I needed in my life. We are so alike in so many ways that I never knew. Our love of cheap beer, hockey, Seinfeld, hockey and sarcasm oh did I mention hockey? Our worlds have come close recently and I wouldnt change a minute. Her smile an sarcastic remarks light me up. Shes beautiful on so many levels and brings life to any situations. Mallory is my shoulder to lean on, my favorite Seinfeld episode, my PBR, my 4th line, my kick it chick, my friend.
Robert Flores - Best Man
Bob and I met in college over 20 years ago. After countless adventures and roommates at 3009 Solito our time in Davis ended, but the friendship did not. Though we live 350 miles apart and might only see each other 5 times a year, we were always there for all our life changing experiences. I am glad he will be there this one.
Martin Lunacek - Best Man
I do not remember the day I met martin, but I do remember that he seems to be always around over the last 20 years. It could be that we were roommates for a few years in Daly City, or that he was our honorary roommate in Davis or that he is just always there when needed. I will expect nothing less on the big day or the few months leading up to it.
Mike Kupper - Groomsman
My brother Mike, the person who I've known his entire life and practically was the one to raise him, but don't blame me for everything. Though he is now living in Albuquerque, sometimes it feels like he is about to come down the stairs stomping in his bicycle shoes.
Alexander Echeverri - Groomsman
A columbian brother that everyone needs, but not everyone gets. I am one of the lucky ones. I met Alex through a vibrant BMW 2002 community and we became friends almost instantly. Probably because i was suppling the alcohol. Though it might seem that our relationship might be purely revolving around cars, we both know that cars is just an excuse to get together.
Ken Spindola - Groomsman
Ken and I have met on the ice, or was it at the upstair bar? We started goaltending around the same time about 8 years ago. Struggled together, but it started a great bromance on and off the ice. Many rock shows, a few "successful" rounds of golf, and liters of beer led us to creating a Hockey Club. Most of you know it as Please Hold. Ken is a captain and I am not only a mascot, I am also a goalie. Reminders from Facebook surprise me on how much we have done together in the short 8 years.
Karen Yu - Groomswoman
Oh, Karen, where woudl I be without my Grooms *****? Another soul I met in college. Those dorms were good to me. Through these years you have been my roommate, dog walker, house cleaner, realtor, exercise buddy (that did not work out), psychiatrist, travel agent, and now you will be standing next to me on my biggest day.