Our Story
Our Love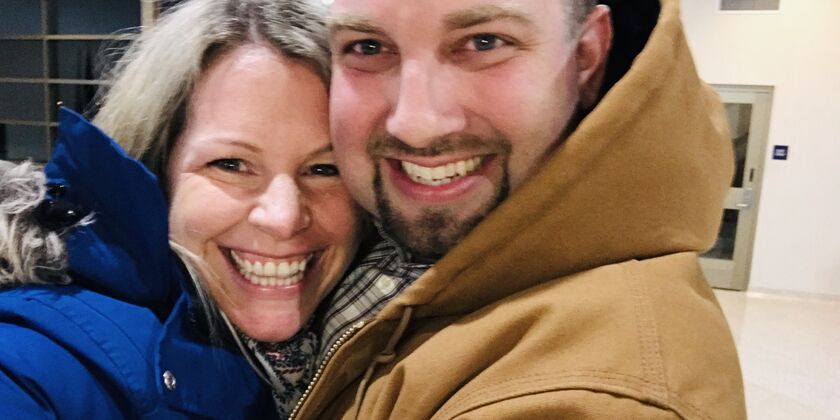 It was July 11, 2018 when I wrote to a long-time Facebook friend. He had commented on a picture from my graduation and I had noticed he was single. Over years of dating other guys, I had developed an appreciation for the kind of depth of character and honesty he exuded. I wrote asking how he was and stated something like, "Hey Blake....You have one of the most honest faces of anyone I know." He quickly wrote back and from there we wrote back and forth, with the messages getting longer and longer, realizing how much we understood each other in quite a deep way. Before we knew it, we were falling in love. He was the first to say it, I was shocked...and thrilled. I cried. I felt I couldn't say it back yet, because I thought I couldn't until we saw each other in real life again. However, while out hiking Lake Superior with my sister, I realized that whether or not it was normal or ok, that I too had fallen in love and that I should tell him. He cried.

Several months later we saw each other at the airport in Sault Ste. Marie, Michigan. It felt awkward, but he held on to me so tight that there was no room for awkwardness (photo above). Months later, we were standing by the bridge in Frankenmuth when I looked over and saw him kneeling with my beautiful gold bridged diamond ring. He asked me to marry him that day, to which I whole-heartedly agreed.

I never dreamed I could fall in love so deeply that I would love talking to someone for eight hours and want more. I can not wait to spend the rest of my life with this man. He loves me so deeply, still is the most honest person I know, listens to me, prays for us, and is now my very best friend. Certainly hoping you can all join us on August 3, as we make this love official matrimony!! ❤️💕
Our Wedding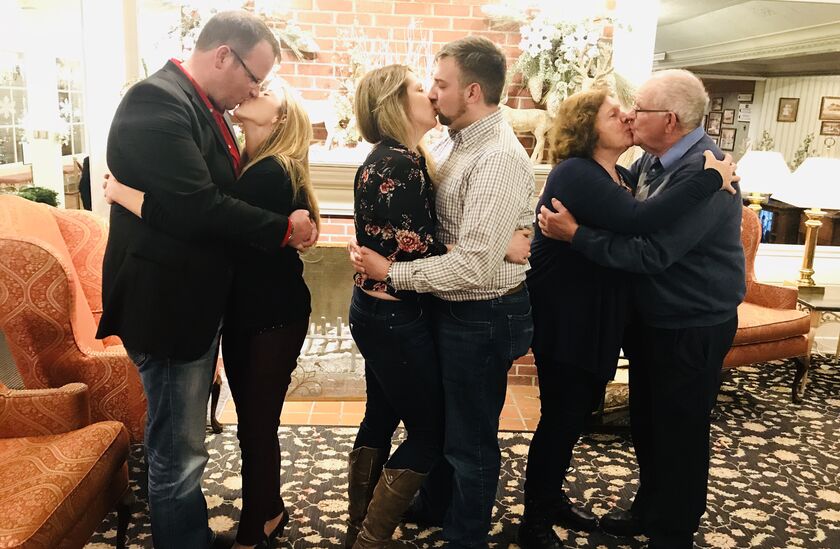 Saturday, August 3, 2019
1:00 PM
Ceremony and Reception
St. Joseph Island Free Methodist Church
1589 Hilton Rd, Hilton Beach, ON P0R 1G0, Canada
Mr. and Mrs. Harold and Martha Stewart
and
Mr. and Mrs. Mike and Becky Myers

Request the honour of your presence at the wedding celebration of their children

Ruth-Marie Beatrice
&
Blake Ryan

Saturday, August 3, 2019
1:00 pm

St. Joseph Island Free Methodist Church
1589 Hilton Rd, Hilton Beach, Ontario

A light reception and receiving line will follow the ceremony.

#BlakeAndRuthie2019

We are so excited to see each of you this August long weekend on beautiful St. Joseph Island, Ontario, Canada!

Wedding Party
Laura Stewart - Maid of Honor
Laura is my friend from birth. She read to me at night, played alligators on our beds, and is now my co-adventurer!
Jodi Ristau - Bridesmaid
My kindred spirit (my Anne or Diana), I know we will always be friends no matter how often we see each other.
Amy Denhoed - Bridesmaid
The dearest friend a girl could ask for. Amy made me love sushi dates and honest chats. My cheerleader and I hers!
Marney Stewart - Bridesmaid
Years ago I stood in your wedding as your soon to be sister-in-law, now you stand in mine as one of my dearest friends.
Vicky Boateng - Bridesmaid
I will never forget our late night chats as we poured out our hearts and laughed. My prayer warrior, and confidant.
Vanessa Collins - Bridesmaid
You've known me for a long time, but it took Blake to reconnect us! Excited for many more sister-shopping dates!
Jubilee Potts - Flower Girl
I have known you since you were born because of your amazing parents! Honoured to have you in my wedding Jubilee Potts!
Bob Porter - Best Man
Bob was my boss years ago while working in the flooring installation industry. He helped my out during times that I was struggling and was there for me with wisdom, encouragement, Scripture, and prayer. He always pointed me to Christ. He has my absolute highest respect and means the world to me.
Hayden Myers - Groomsman
Hayden is another amazing brother! As the youngest brother, 18 years younger, he use to be my little buddy. At over 6'7", I now have to look up to him to talk to him haha! He loves art and is an AMAZING artist, but he is more importantly a very good friend.
Wesley Myers - Groomsman
Wesley is an amazing brother who loves cooking and I love eating his delicious food! We both enjoy wearing watches, but most of all, I really enjoy and appreciate his friendship and support.
Jonathan Stewart - Groomsman
Jonathan is my to-be brother-in-law. I haven't known him for long, but he's already become my friend, and I'm looking forward to the friendship growing.
Quentin Myers - Groomsman
Quentin is another amazing brother. He's always encouraging and pushes me to better myself. He also loves helping others, not only in the physical fitness realm as a personal trainer, but in life in general. I really appreciate that he's always there for me.
Kevin Craney - Groomsman
Kevin is a great friend who I met through my church. He is a firefighter by trade and a committed husband to his wife, Nikki. He is always encouraging and a lot of fun. Ruthie and I are looking forward to some great double dates.
Bennett Collins - Ring Bearer
Bennett is my oldest nephew, He has such a good heart and outlook on life. He is always smiling when I see him. He makes me very proud to be his uncle. Love you Benny!
Invite Only Events
Ceremony Rehearsal (Wedding Party Only)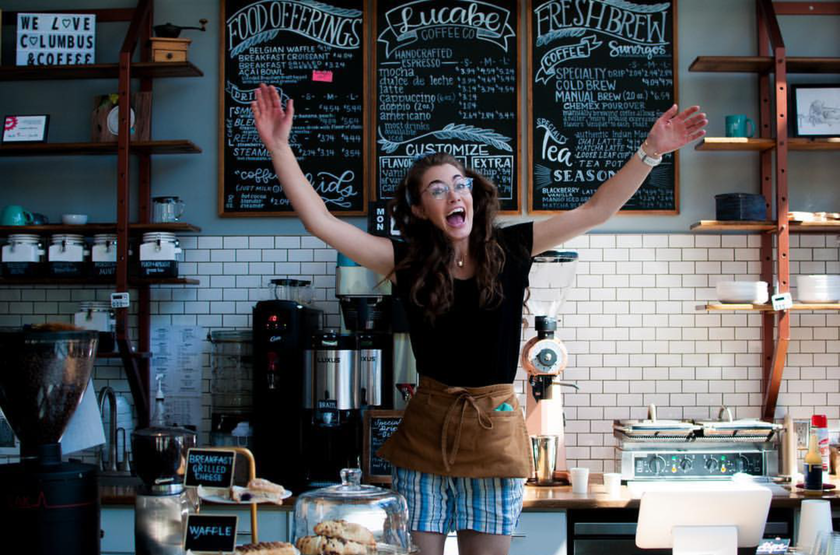 Friday, August 2, 2019
9:00 AM
St. Joseph Island Free Methodist Church
1589 Hilton Rd, Hilton Beach, ON P0R 1G0, Canada
9:00 AM Ceremony Rehearsal
For Wedding Party and Parents
Coffee made by Rachelle Myers!
Beach Party (By Invite)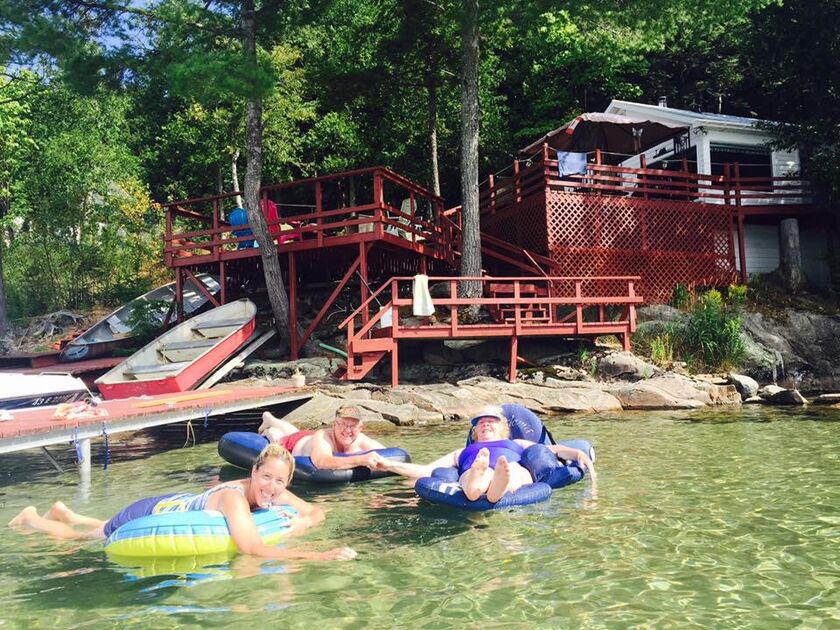 Friday, August 2, 2019
3:00 PM
Stewart's Cottage - Big Basswood Lake
16304 Hwy 17 East, Huron Shores, ON
3:00 - 10:00 PM Beach Party
For Wedding Party and Immediate Family
Please join us at 16304 Hwy 17, the Stewart's cottage, for an evening of relaxation, visiting, and fun on Big Basswood Lake before the big day.
Arrangements have been made for chili-dogs and make-your-own sundaes.
Bring your swimsuit, chips, a beverage, and your sense of fun!
DIRECTIONS AND MAP
The cottage is between Thessalon, Ontario and Iron Bridge, Ontario (a 50 minute drive from St. Joseph Island and 1 hour drive from Sault Ste. Marie). There will be signs at the Highway entrance.
If you would like to google or GPS the location, use this GOOGLE MAPS LINK, or enter Meyers Road, Huron Shores, Ontario and continue past on Hwy 17 when coming east from Thessalon, turning left (north) into our driveway; or if coming west from Iron Bridge, enter Fowler Drive, Huron Shores, Ontario and continue past on Hwy 17, turning right (north) into the cottage. 16304 Hwy 17 is between Meyers Road and Fowler Drive on Hwy 17.
Evening Dinner Reception (By Invite)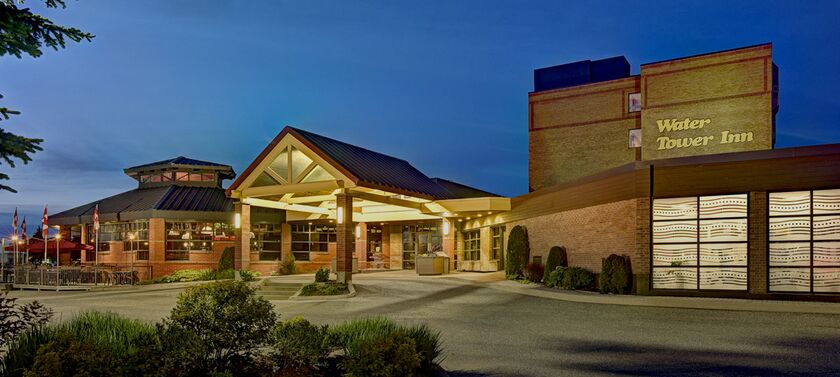 Saturday, August 3, 2019
5:00 PM
The Pavilion at The Water Tower Inn
360 Great Northern Rd, Sault Ste. Marie, ON P6B 4Z7, Canada
The evening dinner reception is by invite only for immediate family and out-of-town friends! We wish we could include everyone attending the wedding, but we only have so much money and had to trim down our list! :-/
If you got a dinner invitation, please join us!
RSVP below!