Our Story
Our Cute Little Story
Once upon a time, in a land far, far away…or maybe it was a skatepark 12 years ago in Southgate, Michigan, I can't recall exactly… Anyway, Samantha and Ron's paths first crossed. Although it would be years before a romantic relationship flourished between them, an instant chemistry was born and they could both feel it before speaking one word to each other. First there was a great friendship, one that may or may not have involved Sam forcefully hurling a live frog at Ron's truck some time ago. Although it's hard to believe, from there things grew even more romantic. Separated, at times by thousands of miles, and often many of life's forces that drive most apart, their bond has only grown stronger. They may have been dating for nearly 7 years but they had a friend ship of nearly equal length prior to that. They're mutual love of adventure, optimism, and bucking life's trends, sometime to questionable results, is what makes them a beautiful couple so uniquely suited to one another. Individually, they both worked with what they had to overcome many of life's hurdles. Together, they are even stronger, each often picking up where the other one lacks. Ron, at times, foregoes fun to work too much. Sam's, on the other hand, often has so much fun that her fun is said to 'begin when everyone else's fun ends'. Sam scolds Ron for eating french-fries because they are unhealthy. Ron ignores Sam and orders them anyway. Sam then eats half of Ron's fries. Yes, these two people are as similar as they are different.
And through it all, the two have become a loving couple whom deeply admire one another, and want to invite you to celebrate the closing of one chapter and the opening of another. They both promise to take this next chapter more seriously…but their fingers may be crossed….
Our Honeymoon Adventure
One of the things that has helped create our bond from day one has been our mutual love of adventure, of discovering the unknown for the first time together. Our first trip together set the tone for our relationship. We rented a small car and spent 3 weeks traveling the across America, visiting National Parks, bathing in random pools and sleeping in our rental car! We realized early on we could vacation more if we 'roughed it'…which happens to be a great time! Since then we've had the good fortune of experiencing a great many places together, and in the process have been to all but two states together, Alaska and North Dakota. So for our honeymoon we plan to round out the last two.
Along with our partner in crime, Watson, we're planning to drive to North Dakota first. Then, after viewing a field and checking that box we plan to promptly speed out of Fargo (is there another town there?), for a 7,600+ mile trek across the land of Tim Hortons and denim tuxedos. Along the way we want to explore cities and parks in Canada and Alaska. Our only real plan is to take proper showers this time around, hopefully escape phone service for a while, and end up at Denali NP. The rest will, no doubt, end up on Instagram.
The Proposal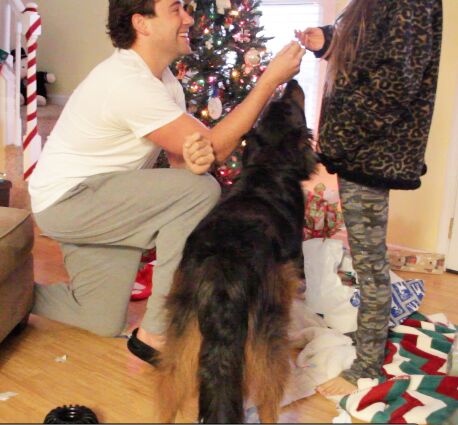 Well… allow me to throw myself under the bus by first saying that my proposal was as much for myself as it was for Sam. If the wedding is for the bride, then I think it's only fair that I proposed in the way that I did to A) entertain myself and B) set the bar as low as possible for all that come after! You see, Women get these grandiose expectations of what a proposal should be. It's no longer adequate to ask the woman you love to spend her life with you. Now, you must make a public display and drop on one knee for all to see, or arrange a stadium megatron to document it, or personally 'Mt. Rushmore' an engagement ring out of a mountainside and present it atop a skyscraper of Pintrest crafts. Not me, I had simpler ideas and motives. I simply wanted to ask my best friend to share her life with me, it didn't matter much how, I only cared that she was surprised and I was entertained. And so began my search for rhinestone covered, camouflaged Walmart jeans…
First, I went ring shopping with my sister. Now, I must admit, my sister took it WWAAYYYY more seriously than I did. To my sister, I was picking a wedding band that Sam would wear for life then pass along to live on in her family for generations. I very much appreciate her help…but I knew better. I'm a realist. I know Sam loves me. I also know that we are getting married soon, and as such Sam generally trusts the opinions and tastes of a random newspaper delivery boy more than mine. So for me, the most important thing in choosing this ring was how forgiving the jeweler's return policy was. Once we found a store with the appropriate policy I picked something shiny and off we went, so that I could engage in step 1 of Sam picking a ring for herself like I knew she would.
Next stop for me was the fashion capital of modern America, Walmart. Here, my plan was to pick the most horrendous outfit one could imagine. My intent was to pretend like I attempted to buy a woman clothes all by myself, to pass off my ridiculous outfit as a real attempt at an actual gift, and to hide the ring in a pocket to be pulled out once I forced her to put on the clothes I bought. The outfit was perfect. Camouflage, Duck-Dynasty-ish, rhinestone covered denim pants from the kids section topped off with a starkly contrasting, fake fur, leopard print zippy. Like I said, fashion capitol of modern America.
Fast forward to Christmas morning, a thoroughly confused Samantha, wearing the outfit I just described, pulled a to-be returned ring from the her denim pocket and said yes! I couldn't tell you why. Now, however, she has the ring she wants, we returned our Walmart rental clothes, and anyone that botches a proposal in the future can point to me and say 'at least I didn't do that'!
Our Wedding
Saturday, May 30, 2015
3:00 PM
Attire: Formal/casual
Ceremony and Reception
Camp Blodgett
10451 Lakeshore Dr, West Olive, MI 49460, United States
Here is the low down for our wedding weekend! Ron and I will be arriving Thursday and the place has to be empty Sunday by noon.
You may arrive Thursday starting at 4pm. Friday will be the 'Wedding Olympics' with games, a rock wall, rope coarse and drinks (optional). This is basically some fun recreation activities we have arranged on site for the wedding party and friends who'd like to join. Rehearsal, to be announced.
You may stay on the campgrounds but there some things you may want to know. There are cabins you may stay in for $10/person/night. Though it is quite rustic (check the photo gallery), they are all twin size bunk beds. If you've been a Woodward camper, the cabins are very similar. Prepare yourself as if you're camping. You will need to bring your own bedding and food. There is one bathroom in each cabin. There are showers and more bathrooms all within a 2 minute walking distance of every cabin. There is also an area to get ready with large mirrors.
If you decide to stay elsewhere, Grand Haven is a great area to explore and has an incredible beach. You may find cheaper places to stay in Holland, Muskegon or Spring Lake. You are more than welcome to enjoy the day at Camp Blodgett as well. They have basketball courts, soccer, and a large beach with nightly fires to be had!
Wedding Party
Whitney Johnson - Matron of Honor
Kayla Wolak - Matron of Honor
Melissa Everett - Bridesmaid
Malory Lauren-Juliana - Bridesmaid
Chelsea Faust - Bridesmaid
Kristen Greenlee - Bridesmaid
Melissa McNally - Bridesmaid
Dan McNally - Groomswoman
Kurt Luttermoser - Groomsman