Our Story
The Proposal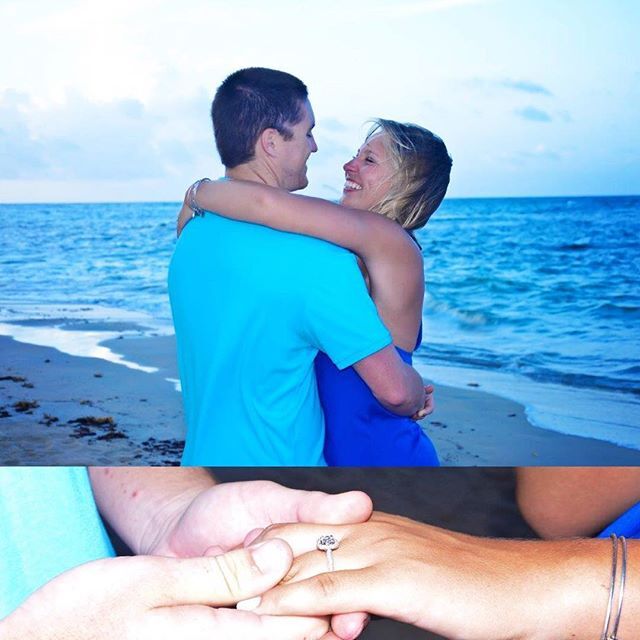 Tyler deserves an award for not only how much planning he put into the proposal, but also how much he paid attention to things that were important to Sara.
He planned a trip to Punta Cana to "celebrate successful adulting," since each had graduated college and had begun successful careers. This made total sense to Sara, so she never really questioned it. Little did she know that Tyler had all along been planning to propose.
Fast forward to about a month before the trip...
Tyler got a little help from his mom and Sara's sister in getting the ring. With a few little white lies and creativity, Tyler was able to get Sara (unknowingly at the time) to choose the ring of her dreams. This was all done while she truly thought the proposal was in the distant future. Basically, she still had no idea. Tyler hid the ring somewhere in his truck leading up to the trip (against his fathers wishes) but the real kicker is that he hid the ring in one of his socks (yes, a black under armor sock to be specific) to make the trip from Baltimore to Punta Cana.
Tyler knew that receiving her family's blessing was very important to Sara and he did exactly that. He also knew that Sara always dreamed of having the special moment photographed, but Sara also made sure Tyler knew that wasn't a "necessity." She had always said it would be so neat if that were a possibility but, in the end, all she cared about was saying yes to Tyler. But Tyler listened and made it possible for this special moment to be captured. Ironically enough, he never even met the photographer until the start of their session. Tyler had told Sara that his parents suggested that they have some pictures taken by the resort photographer, since they hadn't taken any of the two of them on their trip. Once again, this made total sense to Sara because they really hadn't taken that many pictures of themselves. Though Sara loves pictures, she doesn't like asking other people to take them because she says she "doesn't want to bother them," but the real reason is because she's so picky and knows she'd probably ask the person to retake the picture 14 times. That would get awkward real quick.

Fast forward to the hours before the proposal...
It was time to leave the pool and get ready for the photos and Sara should've known that there was something fishy going on. If you know Sara, you know that she has a tendency to use every last millisecond of time to get ready when going somewhere. Because of this, Tyler has learned to always have her shower first so she has as much time as possible to get ready. But this day was different (for obvious reasons) and Tyler made up an excuse about needing to shower first. He needed to do this so he could retrieve the ring from his balled up sock and position it in his pocket so she wouldn't see it. Sara almost made them late (shocker) but they made it to the appointment on time.
Tyler says he's never been so nervous in his life but he really did not show it. To Sara he appeared as normal as ever; he was very calm and acting like his usual self. As they took pictures at various places around the resort, the photographer kept the same routine: individual of Tyler, individual of Sara, and then the two of them together. Sara thought that was a little strange but thought it was just the typical routine for portraits there. There was a reason for it that she later found out...
Fast forward to the pictures on the beach...

The photographer was continuing his routine but finally had Sara turn and face the ocean. Sara was so confused, especially when he said "just play with your hair, you know like toss it around in the wind." That would've been fine for like a few seconds but she had to do it for a few minutes (or so she says). While she was looking super awkward staring out into the ocean and messing up her hair, Tyler was getting down on one knee. The photographer finally told Sara to turn around, and as the pictures show, she was so happily surprised to see the man of her dreams down on one knee. Commence Sara's ugly crying, Tyler's relieved nerves, and the continuation of their adventure together!
The Wedding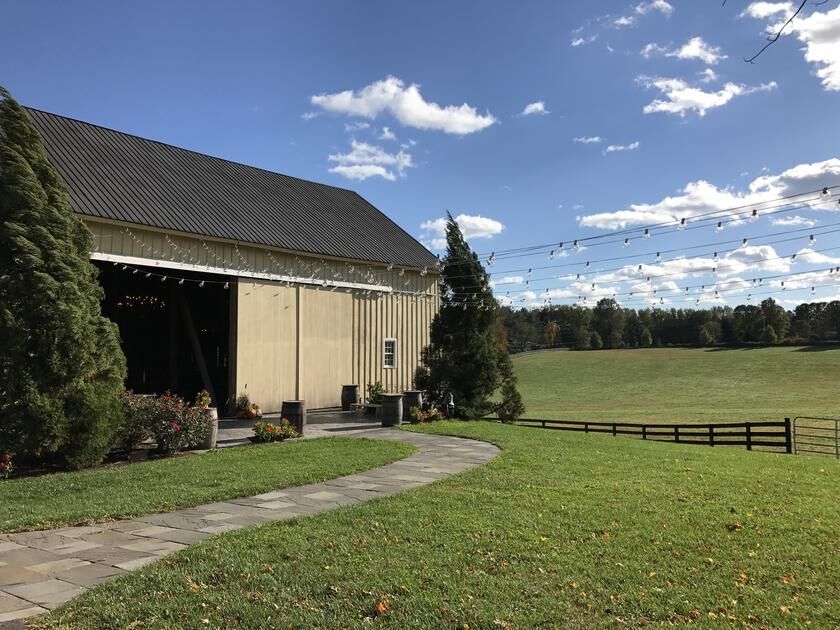 Saturday, September 16, 2017
4:30 PM
Attire: Semi Formal
Ceremony and Reception
Inverness Farm
2800 Monkton Road, Monkton, MD, United States
Our ceremony will take place at 4:30PM at the long time family friend of Sara's beautiful farm in Monkton, Maryland, Inverness Farm. Please be aware this is a rural setting, and the ceremony will be on grass. The ceremony will be followed by an adults-only cocktail hour and reception on the back patio and in the barn. Please dress appropriately; this will happen rain or shine! For those driving, parking will be available at the farm. Parking will be on grass.
Wedding Party
Cori Beck - Maid of Honor
Melissa Dierdorff - Bridesmaid
Brittany Douglas - Bridesmaid
Michelle Oosterwijk - Bridesmaid
Amanda Childs - Bridesmaid
Ashley Claunch - Bridesmaid
Olivia Claunch - Flower Girl
Hannah Claunch - Flower Girl
Goddaughter of the Bride and Groom
Ryhana Milord - Flower Girl
Travis Bergman - Groomsman
Jesse Jednorski - Groomsman
Breck Lebo - Ring Security