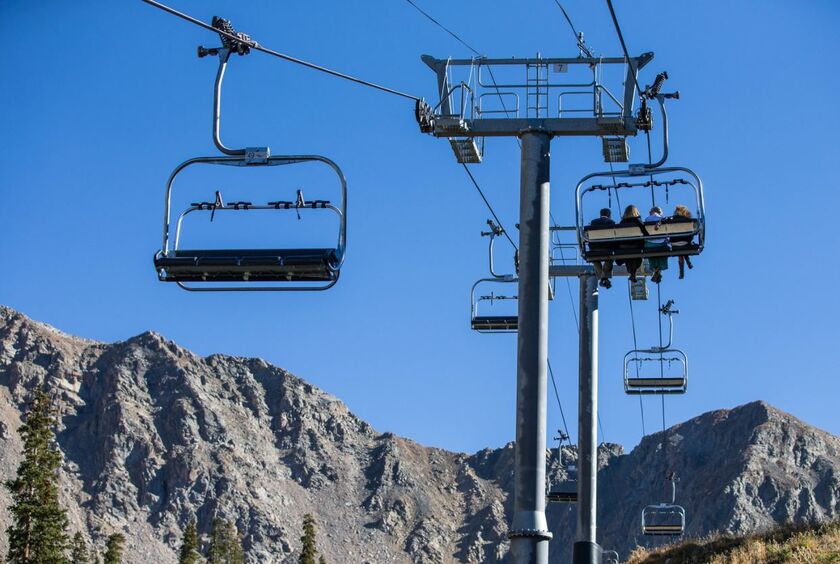 Friday, September 8, 2017
4:30 PM
Attire: Cocktail Attire
Ceremony and Reception
Arapahoe Basin Ski Area
28194 US-6, Keystone, CO 80435, USA
The Black Mountain Lodge, located in Dillon, Colorado, has rugged and majestic mountain surroundings, an ambience that can only happen at 11,550 feet of elevation.
After riding the Black Mountain Express to the Lodge, our ceremony will take place on the deck with the Continental Divide as the backdrop. A reception with dinner and dancing will follow immediately inside. Please arrive at the venue by 4:00pm to allow for enough time to get to Black Mountain Lodge
Arapahoe Basin Weather History
Sunset - 7:10pm
Riding the Lift
The lift will start taking guests up at 4 pm the day of the wedding. If you're taking your own transportation please arrive in the parking before then. The bridal party will start heading up at 4:30pm.
It's probably one of the most frequently asked questions thus far: what's it like to ride the chairlift? Is it difficult? Will my grandma be able to do it? Can I do it in heels? Well, check out this video and see for yourself!
Video: Black Mountain Express Video
Please reach out to Krisit's sister with any questions about the lift
Kylie: 719 371 3250
What do I wear?
What does cocktail attire mean?
What the internet says: He should wear a formal suit and tie. She should wear long dress, a dressy suit, or a formal cocktail-length dress.
What the bride says: I do understand that the location does make dressing up a little more difficult. I would like everyone to dress comfortably and suitably for the weather, but with a dressy flare.
Post-Wedding
Oktoberfest in Breckenridge
Saturday, September 9, 2017
12:00 PM
Breckenridge, CO, United States
We invite everyone to join us at Oktoberfest on Saturday, September 9th in Breckenridge.
Wedding Party
Kelly Wong - Maid of Honor
Kelly is the reason we're all here. She introduced Scott and myself and has been a great friend to both of us ever since.
Kylie Twilleger - Bridesmaid
Kylie is my little sister with a big heart. She's always been supportive of me and Scott and I hope I picked a good brother-in-law for her.
Shannon Farrar - Bridesmaid
Shannon is Scott's younger sister. Definitely the biggest perk of marrying Scott is getting her as a sister-in-law.
Katie Hanger - Bridesmaid
Katie is married to Scott's cousin Brett. Katie is a great friend and a great example to me of what being a wife/mother means.
Casey Mitchell - Best Man
Casey and I were friends in High School and have had yearly trips together ever since. Kristi started tagging along and Casey recommended it'd be a good idea to lock someone like Kristi down as soon as possible.
Andrew White - Groomsman
Andrew and I met through work and became fast friends. Later through Kelly, Andrew helped introduce us by playing host to double dates.
Kat Taylor - Groomslady
Kat and I met in 2005 at the Air Force Academy and we've continued to be friends ever since. She was one of the first ones to find out when I was proposing to Kristi and had a full endorsement after hosting us in Portland.
Brett Hanger - Groomsman
My cousin Brett and I grew up together in New Hope, PA and along with his wife Katie became some of our closest friends in Colorado.