Shuttle to Ceremony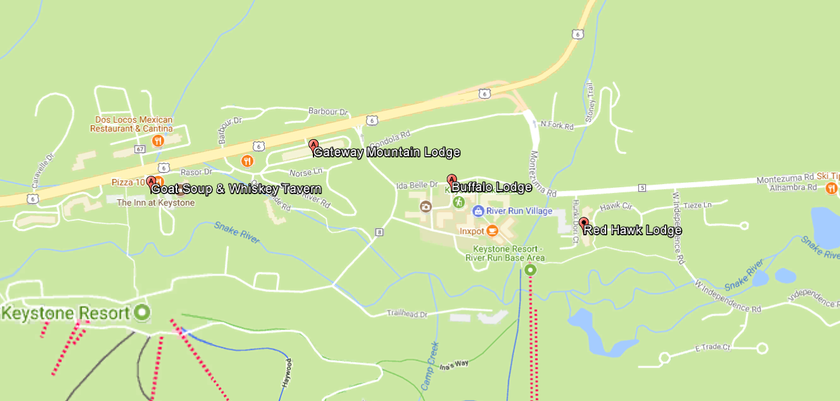 Pick up Times and Locations
Pickup times will be 3:30pm and 3:50pm to ensure all guests arrive by 4:00pm at Arapahoe Basin.
Location 1: Goat Soup Tavern, 22954 US-6, Dillon, CO 80435 - Ideal for guests staying in Snowdance Condos, Tenderfoot Lodge, Alpine Slopes, The Inn at Keystone
Location 2: Gateway Mountain Lodge, 21996 US-6, Keystone, CO 80435 - Ideal for Guests Ideal for guests staying in Central Keystone, Snowdance Manor & Condominiums
Location 3: Buffalo Lodge 133 Dercum Square, Keystone, CO 80435 - Ideal for guests staying in River Run Village and River Bank Lodge.
Location 4: Red Hawk Lodge 0020 Hunki Dori Ct, Dillon, CO 80435 - Ideal for guests staying in East Keystone, Hawk Circle and Ski Tip Lodge
Return Trip
Dropoffs will run as needed from 8:30pm until 10:00pm. Ask the driver for Snake River Saloon if you don't feel like your night is over...
If you're driving yourself
Make sure that you are in the parking lot of Arapahoe Basin by 4:00 pm. You will be taking you up to the ceremony site.
Wedding After Party!
Post Wedding Party
Worried the festivities might be ending too soon? Have no fear, we've arranged to have bar stay open a little bit later and they'll be having a live band - all for us!
Snake River Saloon
23074 US Highway 6
Keystone, Colorado 80435
Accommodations
Key to the Rockies
Keystone | Dillon | Silverthorne
970-468-1898
Key to the Rockies is pleased to provide lodging accommodations for the wedding party and guests. There are options for hotels, condos, and entire homes.
Ideally, the Keystone area is the best place to stay for wedding festivities as we will be providing transportation on Friday to Arapahoe Basin if you book through Key to the Rockies. We will be having predetermined pick-up locations so any guests staying in the town of Keystone will not need to worry about transportation to the wedding. The pickup locations will be based on where our guests decide to stay. If you're looking for suggestions, check out River Run, East Keystone, Mountain House, and Central Keystone. If you're staying in Silverthorne/Dillon or Breckenridge, there is some public buses that run during the day but will not be running at night.
Visit the website below to reserve discounted lodging.
Travel & Transportation
Map from DIA to Summit County Locations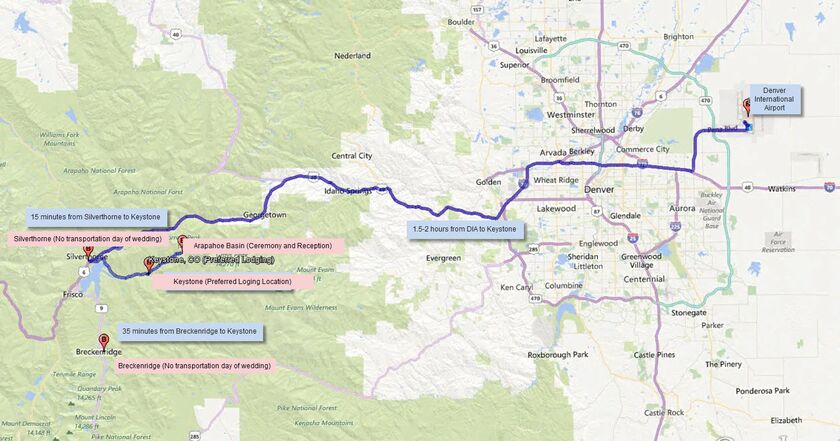 For our out of town guests we recommend renting a car as it's easier to do other activities in the area like hiking, fishing, site-seeing, etc.

If you do not want to rent a car, we recommend Fresh Tracks Transportation. Use discount code FT for 20% off. Expect to spend about $100/pp from Denver International Airport to Keystone, depending on the amount of guests in the van.
The Summit Shuttle is a free bus that runs year round and connects towns in Summit County.
Things to Do
Check out Key to the Rockies Website for full details on events
View the website below for a full list of recommended things to do, otherwise feel free to scroll down for more about Summit County, home to Arapahoe Basin, Keystone, Breckenridge, Silverthorne, Dillon and Copper Mountain.
Outlets at Silverthorne - Red Village
Stephens Way, Silverthorne, CO 80498, USA

The Outlets at Silverthorne is situated in the heart of the Rocky Mountains in Summit County Colorado - affectionately known as "Colorado's Playground!" With tons of year round activities from hiking, biking and golf to skiing, ice fishing and snowshoeing there is something for every outdoor enthusiast. With five world class ski resorts within a 20 minute drive from the Outlets, it is no wonder why many vacationers plan an extra day just to take advantage of the savings!
Breckenridge Museum and Ski Resort
203 S. Main St.​, Breckenridge, CO 80424, USA

The Breckenridge Welcome Center is now an interpretive museum featuring displays on life in the 1880s and the town's evolution from gold-mining mecca to Victorian ski village.

Visit the website below for an up to date listing of events in Breckenridge.

Hiking around Summit County
There are many popular and challenging hikes around Frisco. Favorites are Rainbow Lake, North Ten Mile, the Rec Path to Breckenridge or Dillon and Meadow Creek/Lilly Pad.
Hiking in Dillon and Silverthorne Old Dillon Reservoir (1.5 miles/ vertical 150 ft.)
While most visitors focus on prominent Dillon Reservoir, nearby is a small but charming body of water, which is the goal of this short, easy hike. The gentle trail climbs only 140 feet in three quarters of a mile to offer a view of Dillon Reservoir below as well as the many mountains beyond. The goal is a tranquil pond reflecting massive Buffalo Mountain. Wildflower Alert: A bounty of fragrant wild roses leads to pretty views of Dillon Reservoir and a serene scenic pond.
To get here from Keystone: Take Highway 6 back towards Dillon and turn left onto Dillon Dam Road (CO Rd 7) and the Old Dillon Reservoir parking will be on the right several miles down (there are no roads to take you directly to the reservoir). On the other side of the road is Lake Dillon, so take a walk over there to enjoy the views of the lake.
Tenderfoot Mountain (2.5 miles/ vertical minimal)

Tenderfoot Mountain Trail offers wonderful views of Dillon Reservoir and the peaks of Tenmile Range beyond a flowery hillside. Thanks to a south-facing slope, this easygoing hike is especially fine on early season mornings and evenings; traversing cool aspen copses, sagebrush-studded open hillsides, and lodgepole pine stands, this one-and-a-quarter-mile trail heads up at a fairly steady pace.
To get here from Keystone: Take Highway 6 back towards Dillon, then turn left onto the Roberts Tunnel Access Road. Take the first left hand turn from here to find the trailhead, enjoy the wildflowers and other flora while you make your way to fantastic views of Lake Dillon.
Salt Lick Trail (4 miles/ vertical 650 ft.)

The cool days of autumn are best for enjoying the spectacular aspen and scenery of this trail. A golden carpet of Aspen leaves covered the trail during our recent fall outing here. Lily Pad Lake is about a half mile from this point so if you continue on you will add about one mile to your hike. Locals report occasional Moose sightings here so stay alert and keep that camera within reach! This hike is absolutely gorgeous in the fall with the changing of the leaves.
To get here from Keystone: Take Highway 6 back towards Dillon and connect with route 9 (Highway 6 turns into route 9) north to the Wildernest Road (across from Wendy's) turn left onto Wildernest and continue for .9 miles and turn left on to a dirt road that is located on a sharp curve just as you pass the Wildernest Center (Conoco station). Park here and follow the road to the trailhead. Follow the trail for about 15 minutes until you see a log bridge on your left that crosses Salt Lick Creek. Cross the bridge and continue up the path past beaver ponds and open meadows and a sign that marks the entrance to the Eagles Nest Wilderness area. If you miss the first bridge, there is another a couple dozen yards ahead – you can cross here.
Oro Grande Trail (6.5 miles/ vertical minimal)
This is a gentle, easy hike for the whole family as there is no significant elevation gain as the trail gently undulates up and down while providing outstanding views of the Ten Mile Range across the valley from Lake Dillon. This is a great winter hike for snowshoes and also an excellent site for fall Aspen viewing in autumn. It is probably best avoided on warm summer days when the southern exposure and relatively low elevation (under 9500′) can make for some discomfort.
To get here from Keystone: Take Highway 6 back towards Dillon, turn right onto Dillon Cemetery Rd. (CO Rd 98) and then take first right (about ¼ mile down and follow that to the parking area for the trailhead.
Ptarmigan Peak (12 miles/ vertical 3407 ft.)
The Ptarmigan Trail climbs steadily through various ecosystems including sagebrush meadow, lodgepole pine, aspen, spruce-fir, and alpine tundra —the land above the trees. While thick forest envelops the trail the first 4 miles, a few open spaces provide great views of the Gore Range or the lower Blue River valley. As you hike above tree line, keep your eyes open on the north ridge for the resident elk herd. The long hike is rewarded by beautiful vistas from the top, including four 14,000-foot peaks, much of the craggy Gore Range, the Tenmile Range, and Dillon Reservoir. This is hunting area so be wary of hunters. There are shorter versions of this trail, so don't feel the need to hike to the top.
To get here from Keystone: Take Highway 6 back towards Dillon and connect with route 9 (Highway 6 turns into route 9). Head north on Highway 9 and turn right onto Rainbow Drive (by Wendy's). Then take your first right turn onto Tanglewood Ln. Follow this and turn right onto Ptarmigan Trail, continue on Ptarmigan Trail (it becomes a dirt road) and trailhead parking will be on the right about 1 mile down the road. The trailhead will take you on the dirt road and follow this to the mountain. The trailhead is across from the parking lot.
Mesa Cortina (15 miles/ 2532 ft.)
One of the most challenging but rewarding hikes, this 14.9-mile hike traverses the Gore Range over Red-Buffalo Pass. Along the way, you can see almost everything that is special about the Eagles Nest Wilderness. Flower-filled meadows, views of craggy peaks and spires, marshes, avalanche paths, old graves, a set of waterfalls, and coniferous forests provide for a continuous change of scenery and feeling of remoteness. Most of the trail follows the route originally pro- posed for Interstate 70. The hike can be done as a long day hike, backpack, or separate hikes. Enjoy the beauty of the Gore Range and Eagles Nest Wilderness!
A shorter option is available; a (5.2 miles/ vertical 400 ft.) milder hike starts from the trailhead. A 20 or 25 minute walk brings you to a sign marking the entrance to the Eagles Nest Wilderness. Soon, you begin the most difficult part of the hike by ascending a series of switchbacks through the forest. Here you will enjoy opportunities for views of Lake Dillon off to the south and glimpses of the snow capped Williams Fork Mountains to the northeast, just simply make a loop and turn back to make this hike shorter.
To get here from Keystone: Take Highway 6 towards Dillon to connect with Colorado 9 (Highway 6 turns into Route 9). Take Rt. 9 north and turn left onto Wildernest Road at the traffic light – A Wendy's is located on the right and a 7-11 store on your left. As you start up the mountain Wildernest Road becomes Ryan Gulch Road. Look for Buffalo Drive on your right and turn right here. Buffalo Drive dead ends at Buffalo Mountain Drive and you will turn right here. Take the next left, Lakeview Drive, which is soon intersected by Aspen Drive. Turn left onto Aspen Drive and the parking lot for the trailhead will be on your right.
​Fishing in Summit County
One of the great, relaxing past times is fishing and there's no better place to fish than in Keystone and Summit County. The high mountain rivers and lakes are filled with many different kinds of trout, salmon, and other tasty critters. You are required to have a fishing license to fish in Colorado and fishing is allowed all day, everyday unless otherwise stated. Non-resident licenses run $56 for an annual and $21 for 5-day passes or $9 for a single day pass. Some of the fishing areas have restrictions such as type of bait or catch-and-release. Here are some of the hot spots around Keystone and Summit County:

Golfing at Keystone
River Course Dr, Keystone, CO 80435, USA

Keystone is home to not one, but TWO amazing golf courses, just a few miles apart in the rolling hills of Keystone Resort. The Keystone Ranch and Keystone River Courses both offer spectacular views, beautifully manicured courses and amazing Rocky Mountain golf, you'll love to tee off at Keystone Resort.
The Keystone Ranch clubhouse has locker rooms available for players and a fully-stocked golf shop that sells gear, apparel, accessories, and don't forget the sunscreen! The area is also home to the Keystone Ranch Restaurant, serving up fine-dining and includes dishes like wild game and other Colorado Specialties, rated one of the best in Colorado.
There is also a practice facility which includes a putting green, practice bunker and a driving range, and all the practice balls you want are included in your fee to take advantage of
Both courses require a collared shirt and non-metal spiked shoes. Don't forget to bring a hat, gloves, and extra layers in case the weather changes (as it often does!) and as always layer on the sunscreen, Colorado gets 300 days of sunshine a year!

Go for a drive!
For stunning views of Lake Dillon Reservoir and the Tenmile Range, head up Swan Mountain Road to Sapphire Point between Keystone and Breckenridge. Make sure to park at Sapphire Point and take a short 5 minute hike to beautiful views.
Get a drink!
Summit County is home to a few well known breweries and distellieries. A few of our favorites:
1. Dillon Dam Brewery in Dillon
2. Broken Compass in Breckenridge

3. Breckenridge Brewery
4. Breckenridge Distillery (Tasting room and Airport Road)
Or head to any bar and grab a few other drinks from other famous Colorado breweries.
Rent a boat in Frisco
Rentals can be found on Lake Dillon thru either the Dillon or Frisco Marina. There are also Kayak, Canoe, Skulls, and paddle boat rentals available at the Frisco Marina. Both Marinas have a fun bar/restaurant the Dillon Tiki Bar and Frisco's Island Grill. Both Dillon and Frisco have the option of renting a grill on the boat, and/or a captain. Fishing is allowed in Lake Dillon and Green Mountain. In Heeny you can rent boats at the Heeny Marina to go out on Green Mountain Reservoir. Both lakes are mountain lakes and may be too cold to swim. However, many people enjoy water sports like water skiing and jet skiing at Green Mountain reservoir.
Horseback Riding
Keystone, CO, United States

Horseback riding is a great activity to participate in Summit County. There are numerous trails perfect for exploration and several different companies in Summit County will help you find the right horse and the right trail! The later season still has gorgeous views and in September you have the awesome experience of fall with the changing leaves and cooler temperatures.
In addition to horseback riding, some companies do joint river rafting and riding packages. An example is the Rusty Spurr Ranch and Kodi Rafting do a package together. Other companies like Arkansas Valley Adventures, Highside Adventures and others do multiple activities in one area. You can also participate in rock climbing, zip lining, hiking and other activities. Keystone is central to a lot of these activities and lodging in Keystone will give you access to all of these amenities.
Trail Ridge Road, Grand Lake, CO, United States
A bit farther from Summit County, a sight not to miss is Rocky Mountain National Park's Trail Ridge Road.
Rocky Mountain National Park's 415 square miles encompass and protect spectacular mountain environments. Trail Ridge Road crests at over 12,000 feet including many overlooks to experience the subalpine and alpine worlds – along with over 300 miles of hiking trails, wildflowers, wildlife, starry nights, and fun times. Give yourself plenty of time on the way back to Denver to take a a few hour detour and enjoy the view.