Our Story
How We Met
Scott and I met through our mutual friends Kelly and Andrew. We had already heard a lot about each other before we officially met playing on Kelly's kickball team. We spent that summer running into each other at games and at Kelly and Andrew's BBQs but never really hit it off.
It wasn't until I started working at the same company as Scott in 2014 that we really started getting to know one another. We would carpool to work and have lunch together. During a work party a few weeks later Scott came up and kissed me in front of everyone! He said he'd had a crush on me for a while. We've been inseparable ever since!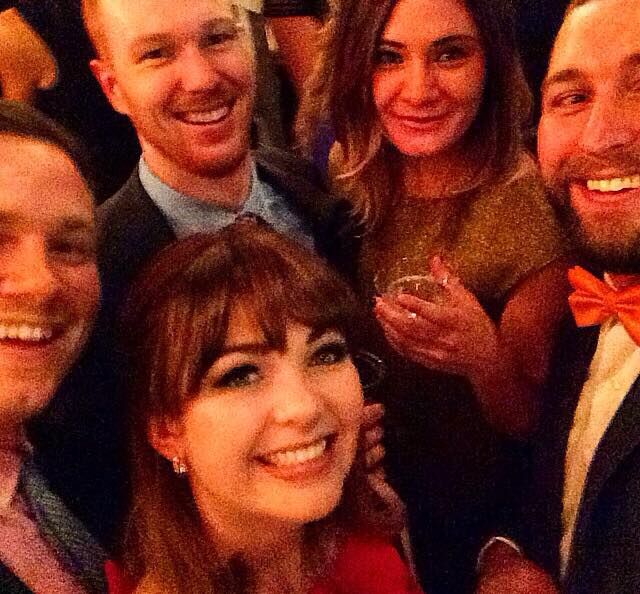 (picture from said party)
How Scott Proposed
I intended to propose to Kristi in March 2016. Kristi's parents had planned an incredible scuba diving trip in Roatan, Honduras. After looking at rings and picking a few out for Kristi to "take a look at", Kristi, always the honest one, told me I was way off with my taste in rings. Apparently, there are like, ten different kinds of rings now. Time ran out, and even though it was a great vacation, we returned to Denver to continue living in sin with much murmuring among family and friends (mostly at the lack of grandchildren in the pipeline).
After a few months of Kristi pinteresting, *I* picked out the perfect ring. Wanting to still surprise Kristi, I kept it a secret and had it shipped to a friend's house. Kristi and Kelly continued to open packages not addressed to them, only to be rewarded with sponges and toilet paper from Amazon.
As luck would have it, my parents Jeff and Patty were finishing sailing classes while living in Puerto Rico. We had planned to visit them already, but they were able to get a good deal on a week sailing cruise around the British Virgin Islands. I packed the ring away and before leaving asked Kristi's mom and dad for her hand in marriage in secret over dinner while Kristi was getting the car.
As we prepared for our sailing cruise, I realized I had no plan actually proposing. Soliciting some advice from my parents on the best spots, they had been to a few islands previously, Jeff mentioned a great sunset hike and Patty agreed that Virgin Gorda was the spot to do it. Unfortunately, that was about 4 days into the trip. On the 3rd day, my parents seemed to be getting more nervous and antsy than I was and kept convincing/settling for other spots. "Look at that island over there, that beach looks nice. Just take her on the dinghy."
On the fourth day after finding no suitable beach spots and hearing the hike was not "that good" for the fifth time from my mom, we began our sunset hike. Jeff had packed a bottle of champagne to celebrate, and Patty was ahead looking for the perfect location. As we hiked up the hill, a clearing and meadow showed up with a prophetic sign stating "Scott's Meadow". This was the spot. I made a plan to stop there on the way back to propose - but I forgot to pass on this plan to my parents. We arrived at the top, took some great photos, and stood around awkwardly for a few moments. Jeff, getting tired of lugging a bottle of champagne up a hill, and Patty, beginning to think her son had gotten cold feet, decided it was time to make our way back down the trail.
As we were passing Scott's Meadow on the way down I said to the group we should take in the scenery one more time. Exasperated, Krist and my parent's followed. As we stood there looking over the bay I turned to Kristi and told her how much she means to me, how much I love her, and I asked her to marry me. Luckily, glancing over their shoulder to see what was taking us so long, both Mom and Dad returned to get a great candid photo. The four of us celebrated drinking champagne as the sun set over the harbor (which made for a difficult hike down, with a lot of worrying from Patty).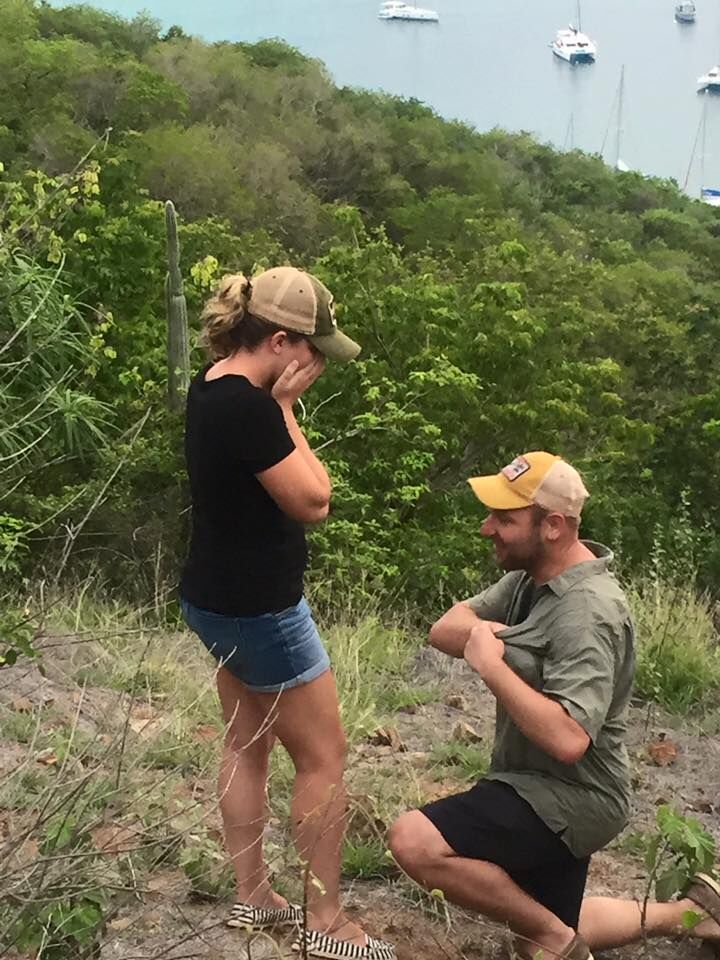 Scott proposed, May 11th, 2016 at the Bitter End Yacht Club, Virgin Gorda in the British Virgin Islands.
What we do
Scott and I like to keep as busy as possible.
One of the main reasons we chose Arapahoe Basin as a wedding venue is because we love to ski and snowboard. Some of our favorite memories are hanging out on the mountain with family and friends and enjoying the mountain together.
We also love warm weather. My parents got us into scuba diving a few years ago. We've taken some great trips so far: Puerto Rico, Honduras, and the British Virgin Islands. Scott's parents have taken us on some sailing trips as well. Sailing is truly about the journey, but the beach destinations are pretty great too. We hope to add to our scuba/sailing list in the years to come!
In 2015 we purchased an RV to take on an epic road trip to Philadelphia for Christmas. Since then we've enjoyed taking her out with the dirt bikes to some of our favorite places like Leadville, Red Feather Lakes and Winter Park. We also took the Farrar family on a tour Southwest CO to check out some places like Black Canyon of the Gunnison and the Sand Dunes National Parks as well as Durango and Silverton.
Our greatest love is our spunky pupper Porter. I got him for Scott as a birthday gift after moving into our new house. Full disclosure - Scott was adamant about not getting a dog until we had settled into our new space. I don't usually listen to Scott, thank goodness.