Our Story
Once Upon a time ...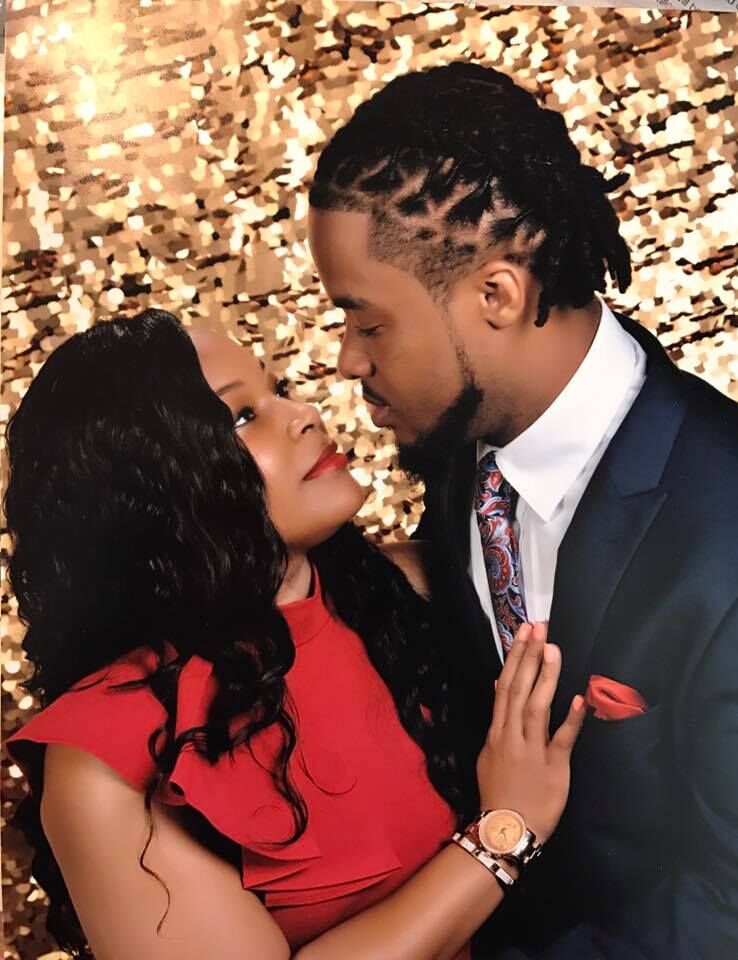 Of all the crazy places to meet your soul mate…would you ever imagine meeting them at work - glancing at them briefly throughout the night and watching them interact with others?...talking and laughing and not even realizing that you're looking at the greatest love of your life? Neither could we! Our first encounter was September 2012 at Merck in Wilson, NC. We both worked 2nd shift. One evening while eating lunch, Tevin overheard me and my best friend Arniece discussing crazy things we had seen on Twitter. Tevin joined our conversation and asked for our twitter names so that he could follow us. Later that night he sent me a message, YES!-he slid in my DMs - Lol! He asked me for my number. I played hard to get, and told him he could give me his number instead. I asked him his age because I wanted to know if what I suspected was true. He replied "text me and I'll tell you!" Of course I didn't text him right away. I let time pass purposely. He then messaged me again on twitter and said "Okay, I'll tell you, I'm 19, but I'm a mature 19" and I will understand if that's too young for you." I was 23 years old and looking for a real man. I immediately sent him a text. I did so because I appreciated his honesty. I could tell he was an honorable guy. We enjoyed texting each other and later in the week he tweeted "I would love to take OOMF out on a date!" and that's how our love story began, our first date was in play! He took me to my favorite restaurant, the Cheesecake Factory on a rainy Saturday night; however the rain didn't stop our show! We enjoyed a night filled with great conversation, enticing questions, laughter and lots of romance.
In a short time our friendship began to grow into something different, something great, something I had never experienced. For the next year, we hid our feelings for each other while at work. Random nights after work he would leave beautiful flowers on my doorstep. As things became more serious he expressed his love for me and expressed that he wanted a relationship with me…I was hesitant at first and said no- I just didn't think it was healthy to date a co-worker. My answer didn't bother Tevin at all, he persisted and I finally said YES to being his girlfriend. I introduced him to my son Zai'Mierh who had just turned 4 and boy did they hit it off! Zai'Mierh loved Tevin and Tevin loved Zai'Mierh. Three years later we grew into a family of 4 with our new addition, our daughter, Miss Taylor Rae. Zai and Taylor Rae bring us so much joy. Together we continued to grow as lovers and parents, experiencing the joys and challenges of parenthood, our growing careers, being new homeowners, and maintaining a healthy relationship.
On November 23, 2016, Tevin proposed to me on the Carnival Magic while in the middle of the Ocean on a family cruise to the Dominican Republic and Grand Turks. It was Captain's night and we were dressed in our formal attire! I was complaining about how bad my feet were hurting from wearing new heels. Tevin insisted that I keep them on until after dinner, that way we wouldn't miss the farewell performance. I was not a happy camper! We had two tables reserved for dinner. Shortly after arriving to dinner he asked me to walk with him to the table next to us. This walk was different though; he seemed nervous and held my hand leading the way saying "You know I love you right?" I said "Yes I know." He stopped between the two tables, got down on one knee and proposed. Everyone started screaming and cheering when they realized what was happening. "Me," I didn't see a thing because I was covering my face to hide the tears that were flowing. Once I regained my composure, I said "YES!" I said yes for so many reasons, and I'll say yes a million times again. Are we perfect? No, but we are perfect for each other. Tevin and I met at the most unpredictable time in our lives. We were so young …19 & 23…both longing for real love, both longing for someone who wanted more out of life; someone we could love and build a great life with and most importantly, someone who knew and loved God! We have grown so much since 2012 and we are continuing to grow into the man and woman that God desires us to be. Our love is strong, patient, selfless, imperfect, understanding, and most of all our love is unconditional. We believe that God made us for one another and on October 8, 2017, at three o'clock in the afternoon, we will declare our love in front of our family and close friends and become ONE.
# ONEYelverton #YelvertonForever #MeetTheYelvertons
The Wedding
Sunday, October 8, 2017
3:00 PM
Attire: Formal Wear
Ceremony
Reception
Wedding Party
Taylor Rae Yelverton - Flower Girl
Daughter of the Bride & Groom
Honesti Covington - Bridesmaid
Future Cousin in Law of the Bride

Tanya Brown - Maid of Honor
Arniece Applewhite - Bridesmaid
Bestie of the Bride since age 4

Kenya Yelverton - Bridesmaid
Future Sister in Law of the Bride
Shanee Williams - Bridesmaid
Ashley Smith - Bridesmaid
Bestie of the Bride since College
Essence Collins - Bridesmaid
Ta'keria Daniels - Bridesmaid
Zai'Mierh Bynum - Ring Bearer
Brandon Sutton - Best Man
Martavis Crawford - Groomsman
Close friend of the Groom since Childhood.

Khendra Reid - Groomsman
Close friend of the Groom since Childhood.

Clint Strickland - Groomsman
Future Brother in Law of the Groom
Antoine Eason - Groomsman
Close Friend of the Groom
Tevin Daniels - Groomsman
Chris Silver - Groomsman
Close Friend of the Groom