Everything you need to know about UAE visas
You'll find information about visas on this link.
UAE visa on arrival
30,90,180‑day visit eligibility
If you are a passport holder of the mentioned countries or territory, no advance visa arrangements are required to visit the UAE. Simply disembark your flight at Dubai International airport and proceed to immigration, where your passport will be stamped with a visit visa free of charge.
Dubai immigration procedures
As an added security measure, Immigration Authorities at Dubai International Airport are now conducting random eye screening for visitors to Dubai.
Visitors asked to proceed for eye screening are required to present a hard copy of their visa or a printed version of the visa number confirmation page at the screening counter. If you do not have a copy with you, a charge of AED 30 per copy applies ‑ payable only in AED.
Important information
Before you travel to the UAE, please check your visa requirements and make sure you have a valid visa if needed, or if your passport needs to be valid for a minimum period. Holders of non‑standard passports and travel documents may also have different entry requirements: find out if you need to apply for a visa and other passport requirements.
As of 29 April 2016, GCC residence permit holders will need to apply for a UAE visa before arriving in Dubai.
As of 1 May 2017, Indian nationals holding a normal passport valid for a minimum of six months from the arrival date, and a visit visa or green card issued by the USA which is valid for a minimum of six months, or holding a UK or EU residence, can obtain a visa on arrival for a maximum stay of 14 days for a charge of AED120 (subject to change). They can apply to extend their stay for an additional 14 days for AED250 (subject to change).
Lapita, Dubai Parks and Resorts, Autograph Collection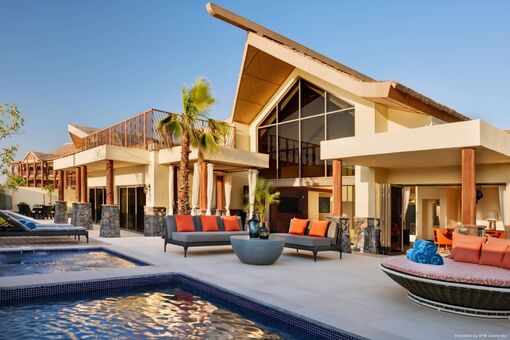 Dubai Parks & Resorts - شارع الشيخ زايد - دبي - United Arab Emirates
04 810 9999
For your best convenience, book at the same hotel where the Wedding Ceremony will take place. Enjoy facilities and benefits such as:
1- Scenic location "Polynesian themed resort"
2- Located in Dubai Parks & Resorts
3- Located in one of the biggest theme parks that include:
- LEGOLAND
- MOTIONGATE
- BOLLYWOOD PARKS
5- STAY NEAR US, WE WOULD LOVE SEEING MORE OF YOU!