Our Story
How We Met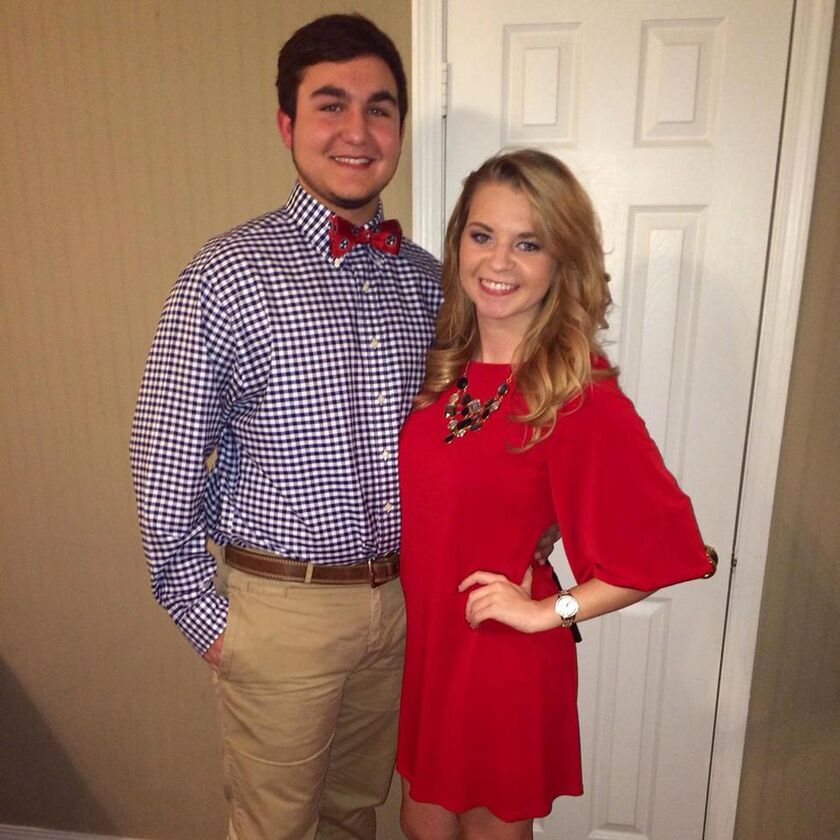 I could keep it simple and tell you that we met in English class our freshmen year of college. We hung out through mutual friends and Greek Life, quickly hit it off and fell for each other fast... but how boring would that be?
To give you a little more of the juicy details... during the fall of 2013 Dylan and I had english class together. The only thing I knew about Dylan was that we had one mutual friend, his pledge brother Seth. One day we had our class in a conference room of the library and we were placed in random groups. Dylan and I got placed in the same group, we took turns reading each other's papers and giving constructive criticism. Dylan read my paper and as he was giving it back he said, "Wow, that's really good. Way better than mine." He laughed it off. Since I enjoy writing so much, it meant a lot to me hear how genuine he was. I told him then that I loved writing & would be happy to help him anytime he needed it...
A few months later I walked into our actual classroom and I sat in the middle of Seth and Dylan. The guys made a bet that whoever could make me blush the most would win and they spent the whole class doing just that (Dylan especially, Seth was just there for support). They kept making me laugh and when the professor threatened to break us all up, it made me feel like a child in grade school again. That whole day I thought about (I know, I know, as cheesy as it may sound) Dylan's eyes. The next week I received a text from Dylan asking for help on his paper. I responded and we set up a time to meet.
I got to the library an hour early that day to work on homework and prepare for finals week that was quickly approaching. Dylan never showed up. I thought he just forgot but I wasn't too worried about it. The next day he texted me apologizing that he got caught up in "pledging stuff". I brushed it off, no big deal. (He now tells me he was way too nervous to show up back then). A week after that he texted me and asked me to be his date to his fraternity's Christmas party which was coming up at the end of the semester. It sounded fun, so I agreed to going with him! We didn't talk much the next couple of weeks, classes became shorter or hardly even met since the semester was coming to an end. I thought he may reach out to me again before the party, but he never did. So, I thought something had come up and we wouldn't go anymore. He texted me later into the night of the party and asked where I was. I felt awful that we had such a huge misunderstanding. (If you know Dylan, you know he isn't that great at picking up the phone and talking to people so this is now funny to me.)
When the semester finished, I was getting ready to move into a house with my best friends. One day I was in Cookeville bringing some things to our new rental house. I don't know what came over me, but I decided to reach out that pretty eyed, genuine guy in my english class who I had recently (and accidentally) blown off.
To my surprise we didn't just have a small flirty conversation like we usually did. We talked, a lot. I mean, we were sending back novels and novels of text messages to each other. Then we started texting each other everyday, all day. It just felt right. He stayed in Cookeville over Christmas break and one day while I happened to be in town, he asked me to come to a party that night.
I got ready with a couple of my friends and we went (casually late, of course because we didn't want to seem too eager). When we pulled up to the address Dylan gave me there were about three cars in the driveway, so we hesitated to walk in. It was pretty early but the party was definitely over. There were a few guys walking around cleaning up and after a really awkward conversation with a guy I had never met before, I saw Dylan come around the corner with his friend, Adam. We all talked for a bit and then quickly left to head back to my house. A group of us hung out then before I knew it, it was just Dylan, Gracie and I up watching Dear John late into the night. When Gracie went to bed Dylan and I stayed up talking for hours (literally until the sun came up). I felt so comfortable with him. I didn't feel a need to impress him and we laughed and laughed and just had good, real, deep conversation. I told him my cheeks were hurting because he made me laugh so much. (He still does that.)
I knew then Dylan was someone special. After that night, Dylan and I talked every single day for the next couple of months and found random times to meet up. We ate lunch on campus, hung out in his dorm room, meet up and greek life events. It was just simple, we didn't have to go out of our way to be around each other because we loved it. He made me so nervous yet somehow I was so comfortable, a feeling I had never had before. He was always such a kind, patient, gentleman to me. He opened my car doors, he held my hand and he made sure I always felt safe. We could talk for hours and hours, never running out of things to say. He would pick me up at night after all of our classes and work were done for the day and we would drive around Cookeville, just talking about everything. He became my best friend so quickly. I grew close to his group of friends and his fraternity (having no idea I would be their sweetheart a few years later). It was kind of hard not to love them anyway, they were always over at our house. Then after we had been together nonstop for a couple of months, on Valentines Day February 14, 2014, he told me to get dressed up because he was taking me out. It was the best first date ever.
We went to Crawdaddy's (my favorite restaurant), where you can't make reservations. So, we waited over an hour for a table (he was so patient the whole time). It started pouring down rain when we left the restaurant and we headed to the movie theater but we both forgot our ID's so we couldn't watch the movie we planned on, then we left and I realized I spilt all of my leftovers in his back seat (things never go as planned for us, that is kind of our thing). Dylan laughed it all off. When we got back to my house I went to open the car door and get out but he stopped me and I knew he was about to officially ask me to be his girlfriend.... but he didn't. Confused, I went inside. I walked downstairs to my room and gave him the present I got him. Then he stopped me in my tracks and said, "Shelby, I was too nervous to do this outside, will you be my girlfriend?" Then hugged me. He was so nervous and it was so cute. It was just the two of us, so intimate, everything felt perfect, real and right in that moment.
Proposal
On the weekend of January 12, we were supposed to go to Gatlinburg with my family. Since we received a lot of unexpected snow, we decided to postpone the trip. That Saturday night Dylan suggested we go out and do something fun since we spent the past couple of days locked inside because of the bad weather. I agreed to get dressed up and go to a brewery (one of our favorite things to do together) and pick up my best friend, Kayla on the way. Then before I knew it, he rushed out to his truck and ran back inside. There I was in a cute top, jeans and bean boots, standing in front of my front door, ready to leave and he was on his knee. "Really? Right now? This is happening?" My voice was shaking. "Yes, I mean. If that's okay with you." He always just wants to do the right thing and make me happy. "Of course it is," I replied. I have always been told you get so caught up in moment you don't know what the guy says before he asks but I remember everything Dylan said. Of course, he started off by saying that he knows things don't always go as planned for us...then he said a lot of other sweet words before he asked the question. He was crying, I was crying. It was so special and intimate. It was just the two of us. Everything felt perfect in that moment too. I honestly got flashbacks of when he asked me to be his girlfriend. He told me he had planned on proposing while we were in Gatlinburg and that he was sorry it didn't work out that way but I didn't mind where it was. I didn't care at all. Then, we told my parents and on the way to pick up Kayla we called family. We told Kayla when we we were sitting at the brewery. She watched our story from the very beginning, so it meant a lot to me to tell her with Dylan sitting by me. The next day he suggested we get dressed up and take pictures. So we went to Cedars of Lebanon State Park and took some pictures. We spent the next couple of days making sure to tell everyone (if we forgot to reach out to you, I do apologize it was very overwhelming). That weekend turned out to be the best weekend of my life (so far).
The Wedding
Saturday, April 13, 2019
Ceremony
Gladeville United Methodist Church
8770 Stewarts Ferry Pike, Gladeville, TN 37071, USA
Reception
Duck Pond Farm
9400 Couchville Pike, Mount Juliet, TN
Wedding Party
Kayla Bates - Maid of Honor
Gracie Smith - Bridesmaid
Hailey Hubbell - Bridesmaid
Jennifer Denby - Bridesmaid
Landon Newman - Groomsman
Paul Ten Eyck - Groomsman
Dylan Barstad - Groomsman
Cody Jernigan - Groomsman
Anderson Owen - Ring Bearer