Our Story
Our Wedding Story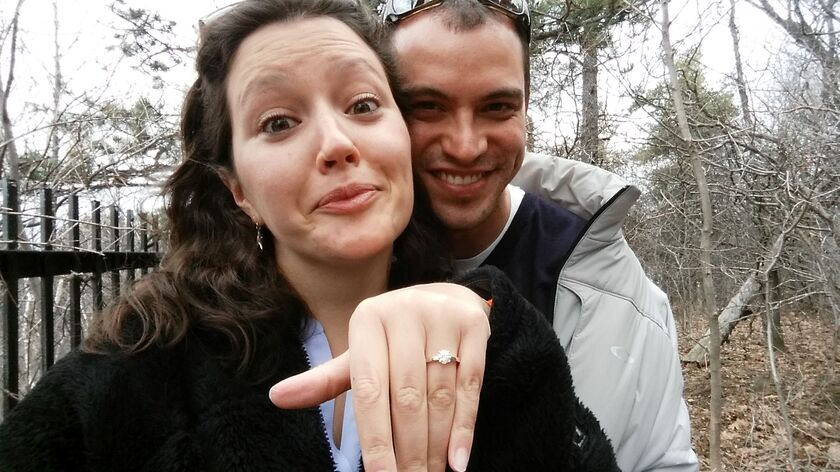 After circling Baxter Boulevard with our mutual friend and eventual match-maker, Jennifer Harder, Steph found herself standing at my kitchen table. She was completely unprepared to meet her future husband, hair disheveled and her ensemble replete with dusty shoes, grungy t-shirt, and yoga pants – and this was before yoga pants were sexy or cool. As beautiful as I considered Steph even then, she has taken her trend-setting to the next level and worn only pajamas and fuzzy-socks ever since. (A pajama deal with Lulu Lemon is already in the works.) Incidentally, I find her most radiant in this garb, as it represents the contentedness and warmth-of-spirit that shapes her personality. She is my "Cozy Monster" and my best friend. We have so much fun together that we sometimes get downright weird, in a crazy-cat-people sort of way, which is to say nothing of the stuffed animals that we treat like real children. She is an eternal wellspring of laughter and kindheartedness that has bettered me in every way. It's a miracle that she agreed to marry me, so let's get down to business and get this ceremony underway!
Over the last several years, we have made a humble and rewarding life together in Portland, Maine, most recently on the re-emergent Eastern Promenade. We lucked-out with a "fixer-upper" apartment in a beautiful seaside neighborhood and have shared our daily lives, dreams, and ambitions with one another, while building our respective careers. After four years together, we steal each other's every thought, bearing testament to just how well we know each other: well enough to say, "I DO".
In April, among the secluded trees atop Montreal's highest peak and namesake, Mount Royal, I knelt before Steph, in reverence and humility, to ask her hand in marriage. I went to great pains to keep the "how and when" secret from her, so she was genuinely surprised and completely blown-away when I proposed. Yet without hesitation and bearing immediate tears of astonishment and joy, she said, "Of course, Benny!" We shared an unforgettable moment that will always remind of us how powerful it is to surrender and commit to another human being completely and unconditionally. Altogether, it was an amazing weekend on the island of Montreal, and we will forever remember this amazing city as the formal origin of our lives together.
It would be remiss of me not to mention that we even adopted our first child, Ava, who bears the "Felus Catus" crest, better known as "Common House Cat". Despite her lineage, she is anything but common and is preparing us well for anxiety-inducing children who stay out all night and don't call home.
I pushed for a speech at my own wedding, but was pooh-poohed unanimously, so this is my only shot. Those closest to me know that I'm a workaholic with a disposition that swings like a wrecking ball. (Thanks, Grampy Buster! 'Preciate it!) When I'm not glued to my computer in seclusion, I am tolerable only in trace amounts, ranting and rambling on subjects that sane people don't find interesting. Or screaming out the car window at negligent pedestrians, bicyclists, and motorists – "You're TRAFFIC, you jerk!" (as some bicyclist passes on the left and then blows through a red light without slowing-down). Given the above, I am deeply thankful that Steph appreciates the rare instances in which I say something surprisingly sweet, or muster an unprecedented gesture of loving-kindness that makes my appreciation for her known. Steph has sacrificed countless hours of our time together to give me the latitude to do what I do best: hunch over a keyboard. Whether I'm working on my community-centric music website, or otherwise burning the midnight oil, she is patient and supportive. I am forever indebted to her grace in that regard, and can only hope to be the same pillar of encouragement and support in her life.
It is with tremendous honor and sincerity that we share our "Wedding Story" with you! Each and every one of you has been a driving-force in one or both of our lives, and we now consider you to be family! Surprise – you're stuck with us!
The Wedding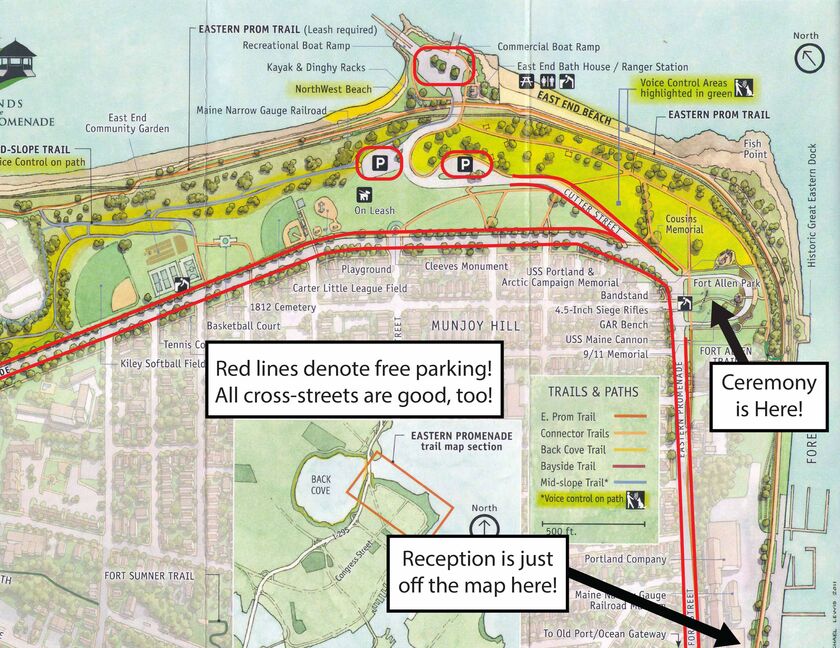 Saturday, May 28, 2016
Ceremony
Fort Allen Park
Portland, ME 04101, United States
Reception
Portland Ocean Gateway
14 Ocean Gateway Pier, Portland, ME 04101, United States
PARKING WILL BE AVAILABLE AT OCEAN GATEWAY FOR THE RECEPTION!
There should be parking lot attendants there to guide you, but if not:
- OVERNIGHT PARKING: Those who plan to spend the night in town can park by the Visitors Center, but people must collect their cars by 9AM.
- DAY OF PARKING: Those who plan to drive home that night can park in the overflow lot to the right of the building.
Wedding Party
Zach Johnson - Best Man
Zach is my eldest sibling. He's a sage in many respects; a trusted adviser and confidant whose positive outlook is a boon to any family affair. It is with great privilege that I count him among my best-men. He was off to a rocky start when he offended several ladies during the second occasion on which he met Steph (to be fair, it was during his own wedding and he was stressed), but he has since redeemed himself and earned Steph's forgiveness, and perhaps even respect. Nobody told Zach that he was supposed to have a gift for his bride on the night of his wedding, in 2013, and Steph pulled a sapphire bracelet out of a hat in the final hour. Ever since, Zach has been one of her staunchest supporters.

Marshall Johnson - Best Man
Marshall is my youngest sibling. I dazzled the guests at his wedding, also in 2013, with a heartfelt speech that actually brought me to tears, too. I choked on a sock mid-delivery. But the impromptu and genuine sincerity was a real hit! (Marshy, you owe me one!) Accordingly, everybody can expect from Marshall no less than perfectly-quaffed hair, baby-smooth cheeks, and a well-curated speech that will fool everybody excepting only his wife. Marshall is quite possibly the funniest person I know, and I'm sure that Steph would agree, so it is a distinguished pleasure to have Marshall taking the stage on our big day.
Matthew Dunn (a.k.a. Matty/Mattiz) - Best Man
I'm just tickled to call Steph's little brother, Matty, my bro-in-law. Matty and I have clicked from day-one and never have to work too hard at having a good time whenever we get together. Matty is one the nicest, most gentle guys I know, not to mention an intellectual and a scholar (did I mention that he's tall and handsome, too?); his perspective on the world is unique and valuable. We appreciate that Matty is willing to take a break from his arduous graduate studies in Glasgow, Scotland, to fly home and take part in the wedding.
Ava Kitty - Flower Girl
Princess Meow Meow Ava Marie Johnson (also known as "Ms. Cat" or "MisssshhhCahhht") will be our honorary flower girl. However, she will be watching from afar as she sits in the porch window across the street from the ceremony. We adopted Ava Marie after she showed-up on our front porch last fall. She would run out to greet us every time we opened the door or came home from work. After a few weeks, I decided I was going to have to bring her to a shelter so that she could find a nice home. A frequent Eastern Promenade walker stopped one night to inquire about the kitty and mentioned that her good friend was the Executive Director at the Animal Refuge League of Greater Portland. By chance (or fate!), at that very moment, the Executive Director came walking down the promenade. The minute I opened my mouth to ask how we might get her to the shelter, I knew that she wasn't going ; I just had to find a way to convince Ben that we should keep her. When I came home to find Ben cuddling kitty in his arms one night on the porch, I knew he was hooked and no convincing was needed. Baby Ava Kitty is the apple of our eye – our little Princess Meow Meow. We only wish she could walk down the aisle with us on the big day!
Paige Holtsclaw and Alyssa Russell - Ring Bearers
So thrilled to have my girls Alyssa and Paige be our official ring bearers! I have been great friends with Alyssa and Paige for years and love these two to death. In high school we were together almost every weekend (and Allison, too!) spending our weekends in Gray/New Gloucester or Scarborough visiting friends and running the roads. I have such fond memories of driving my 1993 Jeep Grand Cherokee around town with these girls blasting my "system" and rapping Jadakiss, Tupac or Fabolous – Real Talk on repeat (This one goes out to you two - Can you hear me - https://www.youtube.com/watch?v=hhZ4YFP4EBo ) . Every time we are together we laugh hysterically and have the best time. 10 years later you can still find us on a Saturday night blasting Spice Girls on Pandora, dancing, or taking over karaoke at a sketchy dive bar screaming Garth Brooks – Friends In Low Places at the top of our lungs. I love each and every minute we spend together and am so honored that they will be holding our rings when we tie the knot in May!
Luis Santana - Groomsman
A best friend and inspiration in too many ways to mention, Lou has always been there for me. We met in college, in an entirely chance encounter, and have remained best-buds ever since. Our mutual interest in computers and technology has propelled our respective careers, and our plans for imminent future collaboration undergo perpetual refinement. Lou is one of the smartest, most talented people I know and I am forever appreciative of his unwavering support in all that I do. He knows me as well as my own brothers in some ways, and better in others, and I am excited that he can be there on "The Big Day".
(Real photo coming as soon as Lou sends us a selfie! We could be waiting a while!)
Ben Harder (a.k.a. Benny Hah) - Groomsman
A best buddy since moving to Maine in 6th grade, Ben is an all-around hero. He is an educator, an outdoorsman, a music buff, a connoisseur of fine ales, a sports-nut, and one of the best-rounded people whom I've had the good fortune to know. It's a real treat for me to be in Ben's wedding in August, 2015, and even more so to have him in ours in 2016. Ben, his parents, and his two brothers have considered all of the Johnsons to be family, and have shown us unbridled generosity over the years. Whether a "goose-egg weekend" at Sugarloaf (that's when guests don't spend a penny), a fishing trip on the family boat, or an insistent invitation to an otherwise family-only feast, Ben ensures that we never miss-out on a great time.
Chelsea Johnson - Bridesmaid
Chelsea is my only sister and she has impeccable taste. The fact that she loves Steph and has always supported our relationship is testament to its deep roots and authenticity. As the "family baller" and most worldly, best-traveled member of the inner-circle, her counsel is invaluable. Chelsea's opinion has always meant the world to me, which is why her unrestrained blessing is non-negotiable where a future wife is concerned. Chelsea and Steph share a taste for high-fashion and overall class, so we are especially grateful to have Chelsea's discerning eye casting vigilance upon every aspect of the wedding.
Lindsay Murphy aka Linny Poo - Bridesmaid
If you look through any family photo album, Lindsay is bound to be in at least one picture per page. Whether we were wearing crazy Halloween outfits or matching sweaters picked-out by our mothers who were also best friends, Lindsay and I were inseparable growing up.
Even at the age of 5, Lindsay has always been my fashion icon. I can remember being that young and telling my mom that I wanted to have the gymnastic clothing or bell bottom jeans that Lindsay was wearing. I realize now I didn't have them because those cute clothes didn't actually come in my size… That's why I rocked the size 16 L.L. Kids corduroys! To this day, I always admire how perfectly put-together and coordinated her outfit looks.
Linny and I may not see each other for months at a time, but every time we get together it feels like we haven't missed a beat. We love sharing a Casco Bay flatbread (don't forget the goat cheese and red peppers!) and a beer down at Flatbread Pizza Co. and I am easily able to twist her arm to split my favorite brownie a la mode sundae. I am so honored to have such a long childhood friend by my side on May 28th.
Allison Holbrook aka Alli Kat/Al - Bridesmaid
My friendship with Allison goes back to kindergarten when we both went to Mel Pickett's after school care program. We would always get in to mischief together and our daycare provider frequently asked my parents to stay behind for a "talk" as Allison was a master at pointing the finger when it came time to fessing upJ We would call and beg our parents to go to each other's houses just about every night from daycare and I would hope that her mom would whip-up some of my favorite mac & cheese (I thought Allison's mom made the best mac & cheese, but she argued that my dad did). We have remained friends ever since. Allison came and visited me while I was in Madrid, Spain and we had the time of our lives (well, after we got over the crisis when I accidentally booked our plane tickets to Barcelona for the wrong day and showed-up to the airport a day late). Allison also came to visit me frequently while I lived in NYC which always made me so happy! I am ecstatic Allison finally moved home from Stamford, Connecticut last winter after having moved away for a few years. I love having her so close by and knowing that a "wine night" is only a text away.
Jennifer Harder - Bridesmaid
All I can say is thank God I went to the bathroom at just the right time during an awkward middle school dance. It was because of that that I met one of my best friends - Jenny Lynn. We got to know each other during the days of Instant Messenger (Babe2Lax? J) and would talk to each other late into the night. We hung out every single day that summer and I would visit her every shift at Classic Custard for an ice cream… I visited her so much that her boss hired me on the spot to be a "Super Scooper" with Ms. Jenny. Jen is one of the most kind-hearted individuals I have ever met. She is also an incredible match-maker. After setting-up her brother-in-law (Benny Harder) with his future fiancée Liz, she got right to business with Ben and I. I can still hear her saying "How 'bout that Benny J, huh? Huh?!" as we sat on the 120 Sherman St. porch one night – the apartment building that both her and Ben shared. The rest is history.
Kristen Testo aka Krit/Kritty/Kritty,Krit,Krit/Kritter Bug - Bridesmaid
Kritter Bug and I met my freshman year of college. After having trouble connecting with my initial roommate from Long Beach, California, Kritty was my saving grace at Manhattan College. I knew we would be best friends as she seemed to tolerate my odd-humor and appreciate my "weird quirks". When I witnessed her sneak a fully-loaded bagel in to her purse from the cafeteria for a midnight snack, I knew that she's a girl after my own heart. Shortly thereafter, both of our "odd" roommates became best friends, allowing us to switch rooms and be roommates after 1st semester. During Junior year we finally moved to an off-campus apartment together and rejoiced in painting and furnishing our "first place" as grownups. Anyone who can tolerate sharing a tiny bedroom with two double beds and two desks crammed on top of each other for two years is someone special. Kritty now lives in upstate New York by her family after having just moved home from the big city. P.S. If you're ever in Albany, take a short trip to Troy and visit her family's absolutely "delish" Italian restaurant, "Testo's" – I highly recommend the ziti and meatballs : )
Catherine Lee (Cathy) - Officiant
Cathy has been a mentor, a best friend, and a role model to me since I was a young teen. I have never met a woman with more energy, ambition, drive and charisma. Cathy has been pushing me to new limits and challenging me since the day I started my first job, which was with her company, Lee International. At 14, I will never forget how nervous I was when she had me calling the governor to confirm a meeting the second day on the job. To this day she continues to challenge me and foster growth in both my personal and professional life. I always count down the weeks and days until Cathy comes home from another worldly adventure so we can catch-up over dinner. Whether she is examining a non-profit project in Uganda, traveling to a landfill in South Africa, or flying to a Carbon Expo in Barcelona, I frequently start my emails with "Where in the world is Cathy Lee?" (after one of my favorite computer games growing up "Where in the World is Carmen San Diego?"). I take immense comfort and solace in knowing that she will be in Portland, Maine standing by my side for one of the biggest days of my life, May 28, 2016.
Mathapelo Ngaka-Mtati - Bridesmaid
I met my "sister" Mathapelo (Mathaps) when I lived in South Africa after graduating college. As the Community Organizer for the non-profit Monkeybiz, I spent many of my days working alongside Mathaps in the township of Khayelitsha. Determined to accomplish my project of interviewing many of the Monkeybiz artists during my time in South Africa, Mathaps was there to encourage me every step of the way. She would arrange meetings with the artists, drive me (many times off long dirt roads where we'd get stuck in her Toyota Solaris!) to each artist's house. She spent countless hours translating between her native Xhosa and English so that I could document each and every one of the bead artists' incredible stories. I will never forget these trips to the township and my time spent with Mathaps for the rest of my life. It did not take long before we quickly deemed each other "sisters" – we have shared so many laughs, stories, and hugs. Mathaps is one of the most generous, gentle, and kind souls I have ever had the honor to meet.
After 5 years of not seeing each other, I had the wonderful opportunity to re-connect with my "sister from another mister" in NYC last month. Set out to surprise my dear friend thousands of miles from her home, Ben and I showed up at Mathap's hotel one morning and knocked on her door. These couple of days were so special for me because Ben finally got to meet Mathaps (after years of stories!) and experience the passion and vibrancy behind the Monkeybiz organization. We had the chance to see Monkeybiz featured in an amazing exhibit at the Cooper Hewitt Museum in Manhattan and Mathaps was the star. She even got Jay-Z and Beyonce to come visit her! We were so proud of her and her dedication to the organization.
Little did I know, Mathaps had a surprise of her own up her sleeve. While in NYC I got a call from my friend Cathy who delivered the news that she would be flying Mathaps to Maine for our wedding this spring. Right then and there I decided I was going to ask Mathaps to stand by my side on May 28th. I am just so thrilled and honored that she will be there to experience this day with me.
Our Beautiful Parents
Pam (Pammy) Dunn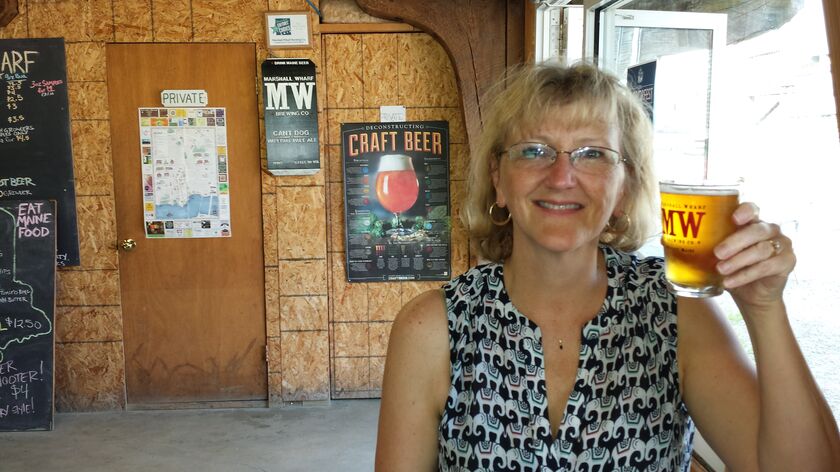 Richard (Dicky) Dunn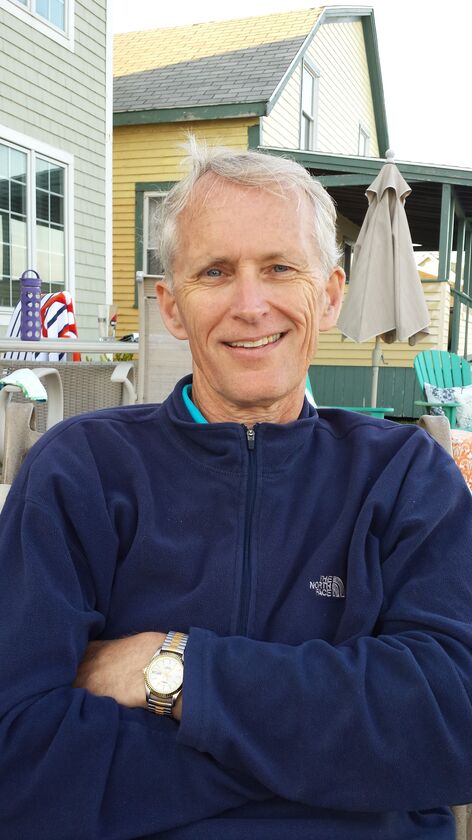 Jo Ann (Jo Jo/Jo Ji) Palmacci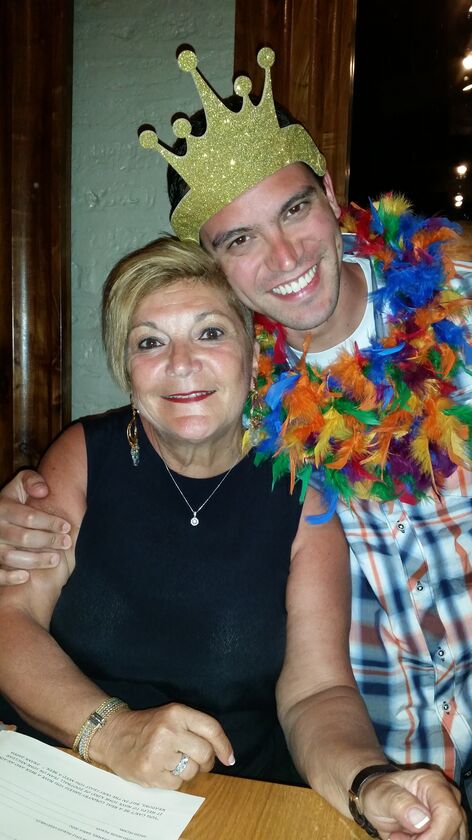 Charles Johnson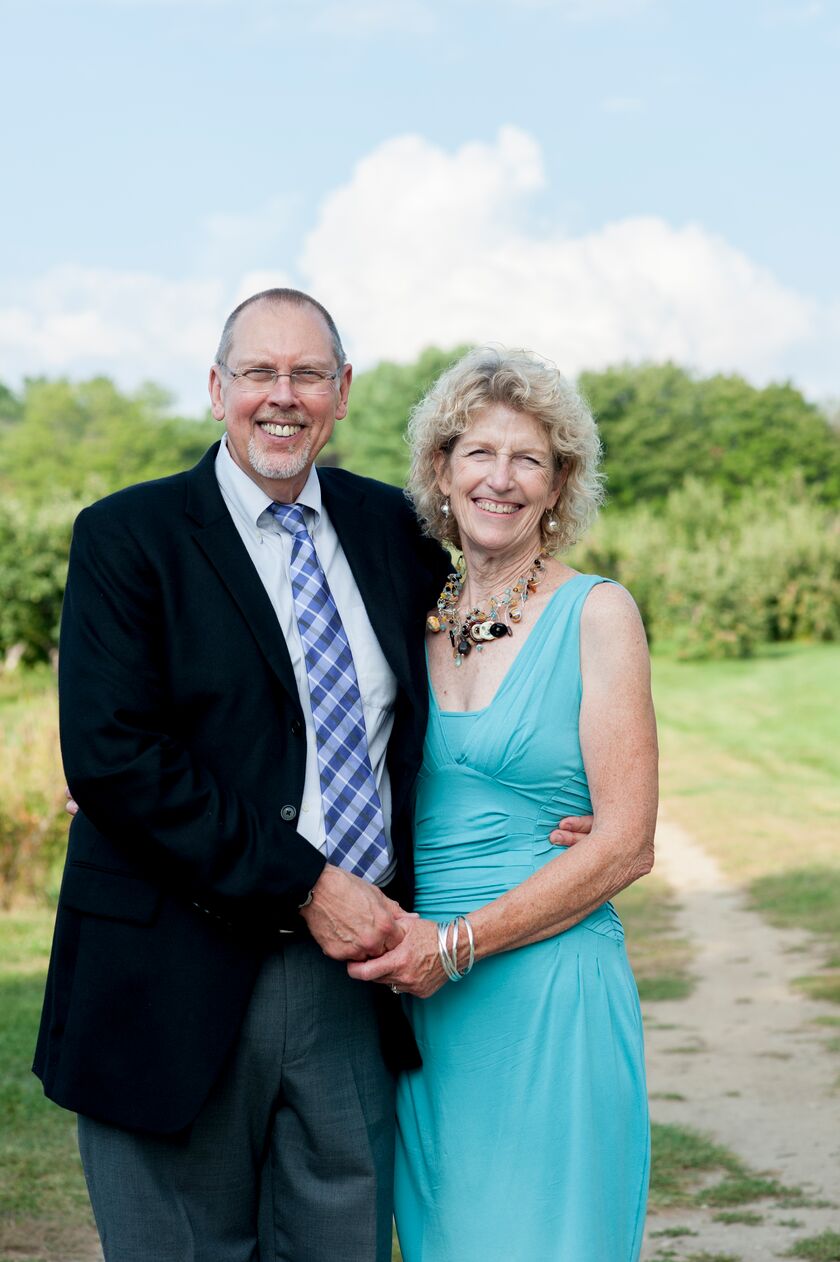 Dave Pepin