Our Story
//://Our Story//://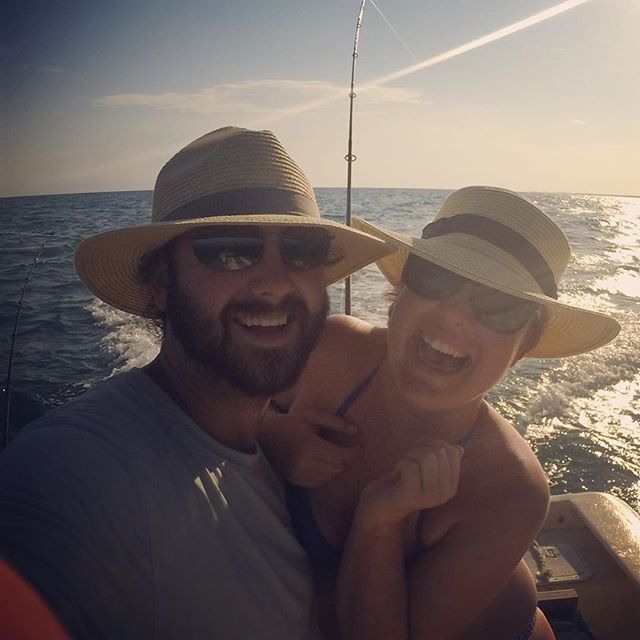 In April 2015, Eric and I were both in my cousin's wedding. The weekend before we had Batchelor and Batchelorette parties. The girls went to play laser tag and the fellas went to play paint ball. Eric being newly single asked my cousin's future husband, Casey, if there were any cute single girls in the wedding. Casey ended up showing Eric my Facebook page and telling him a little about me. After the paint ball and laser tag, we were all to meet up at their house to have some drinks and hang out. The girls got there first and were joking around and hanging out, when the fellas arrived. Eric, worried about his littlest pup, went straight to the back to check on Mowgli. While back there, the rest of us were talking, when all of a sudden a Eric made a pun of a joke. No one else laughed, except ME. Eric came rushing to the front to see who had just laughed and it was then that we were introduced.
The rest of the night, Eric did not leave or let me get toofar ahead of him. Everyone else was spending the night there, except me. I left and shortly there after, my cousin starts texting me saying that the guy, Eric, I just met thought I was cute and wants my number. Me, being super naive, did not think that he really liked me. Eric got my number and started texting me. We talked until we both fell asleep. The next morning, Eric texted me again. Trying to get to see me again, he preceded to ask me to go to lunch. I declined, seeing as we had just met and I was a little uncertain about him. As a side note, I haven't had the best of luck with relationships prior so I was very guarded. Well, Eric tried about four different times to attend something with him. Declining all of them, my cousin called me to ask me to lunch. I said yes.
I went and met up with, what I thought was going to my cousins and their boyfriends. However, they asked Eric to come as well. Lunch was a little awkward and quiet. We ate pretty fast and left as quickly as we got there. Eric texted me after I left and said it was good to see me again. I thought for a second and thought it would be nice to see him again just us. I asked him to go walk at Lake Wilson, seeing as he had his dog with him.
Eric, quickly said yes and we met back up at Lake Wilson. We walked and talked for hours. it was the easiest conversation I had ever had. I laughed and smiled so much after my cheeks were sore. I had never met a guy so fun and sweet as Eric. It was in that moment that I began to fall for him.
<<Proposal>>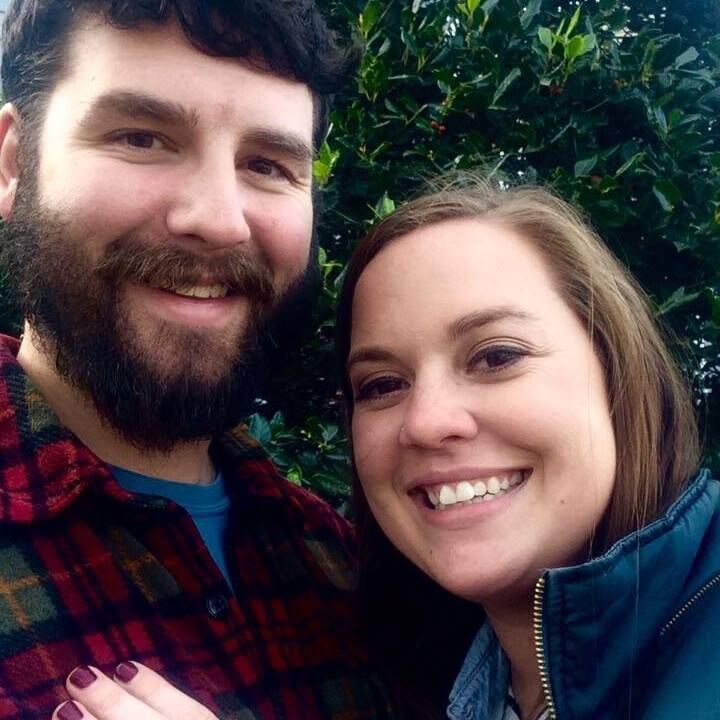 December 15, 2016, a day I will remember forever. Eric put so much thought and love into every ounce of what he did for me. That morning, we woke up and he made breakfast for us, which is his specialty. As he says, I handle lunch and dinner. We drove to Wilson to as I thought visit some farmland so that Eric could go hunting. Well, we ended up driving to Lake Wilson. We got out, on this super windy and freezing day , to walk down and talk. This was just like how we did were first hung out just us over a year ago. Once we turned a corner, Eric pulled me closer the water and got down on one knee. I was started getting super excited. He was a little nervous, as if I would ever say no to him.
He talked about our relationship and brought in Friends quotes, since this is my favorite TV show. It was more than perfect. I could not have dreamed of something more meaningful. I said yes and he slid this amazingly gorgeous ring on my finger. The ring is made out of our families old jewels, which is just so amazing and makes me love the ring so much more.
We left there and started to make the calls and headed off to see my mom. She was so thrilled for us. We made our way to my dad's restaurant to have lunch. It was the most prefect day and I won't ever forget it
The Wedding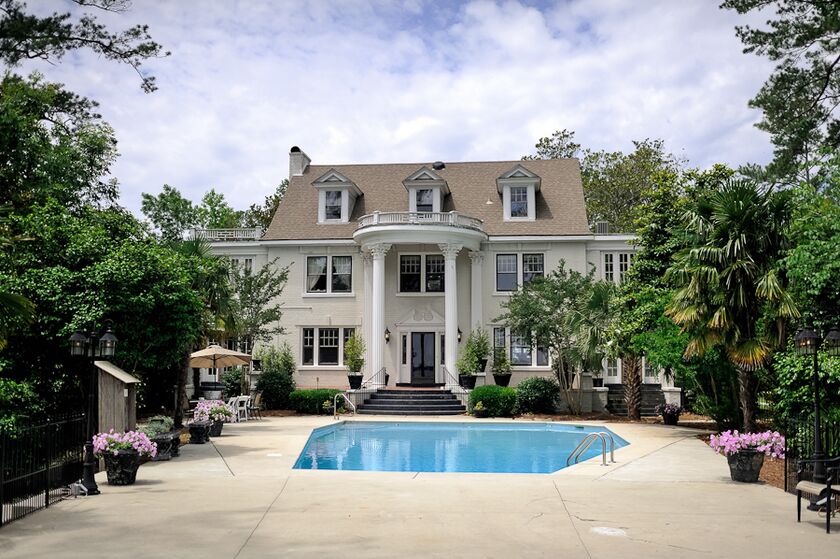 Saturday, September 2, 2017
5:00 PM
Attire: Beach Chic
Ceremony and Reception
Abelina Plantation
2814 Old Cherry Point Rd, New Bern, NC 28560, USA
Riverfront home. Rehearsal dinner, ceremony, and reception will all be held at this location. Parking will be available for all of the guests on site.
Wedding Party
AJ Iadanza - Matron of Honor
I met AJ when I started working at The Spa at Merle Norman in 2012. I met her in a time in my life when I needed someone who was so independent and strong willed. She helped through some tough times in my life; always making sure I made the most out of my experiences. AJ is more than just a friend to me; she is like family. One of my favorite memories with her is when we went to the Lil Wayne concert. I am not the biggest fan of rap but AJ loves Lil Wayne, so saying no is out of the question. We had the best time, making friends with everyone around us. I do not think I have ever danced so much in my life.
Brooke Beasley - Maid of Honor
Brooke is full of life. She is always inspiring and always puts a smile to anyone's face. I met Brooke when I was a sophomore in high school. We spent the entire summer together. This was back when I had a VW bug. I can not even count the memories that we shared in that car. So many road trips, trips to coldstone, stopping to dance in the rain. Even though Brooke and I have never lived close to each other, we have always made a point to stay in each other's lives. Brooke has always been the person to make me break out of my shell and try new experiences. She has helped mold me into the person I am today and I could not be more grateful to have her in my life. To me, Brooke has always been a member of my family.
Ashley Stanton - Bridesmaid
I met Ashley after my first year in Greenville. We had a mutual friend, Melissa, that introduced us. I met her the day that we were all moving into our apartment. The second we met, we bonded over our love of the TV show Friends. From then on, we have been inseparable. I have known Ashley for 6 years and I would not trade them for anything. She is an amazing person and even better friend. Ashley has been there to be my partner in crime, when we just did not get along with the other girls in the group. She was there to remind me that I do NOT like salt and vinegar chips. She was also there to come up with reasons why we should NOT go to Winslows. We have been each other's savior when we did NOT want to dance with the creepy guy. Ashley and I have always had such a great time together and I would never want any of our memories to be with anyone else. She is more than family to me; more like partner in crime.
Whitney Mills - Bridesmaid
I met Whitney when I started working at Artisans. We bonded over our love of the beach. We started going to Mexican and having margaritas together. I spent so much time at her first home with her now husband. She and I would talk about the future and where we wanted our lives to go. We spent many days road trippin' to the beach. I would not trade those trips for anything. She has always been there to give me advice or just sit back and listen to my crazy stories. She has helped me through some trying times in my life and has always had my back. Last year, I had the honor of being her Maid of Honor. I was so thrilled to be able to do that for her and to be by her side on such an important day in her life. I would not trade our friendship for anything.
Oliver Russell - Best Man