We swiped right, and it will never be wrong!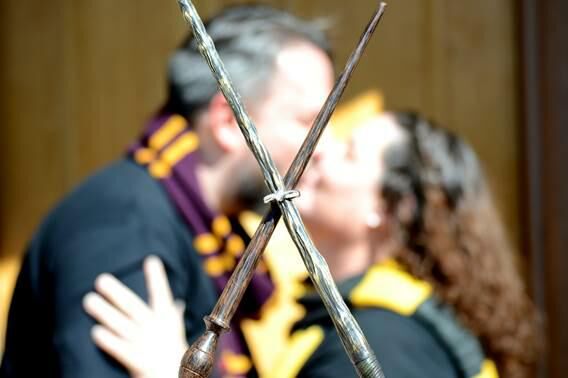 Suzzana, a single mother of three, was no stranger to online dating and was beginning to give up hope. A string of bad dates and disappointment had her believing she would die with only the love of 15 cats, only she didn't even have a cat! James, a man and his cat, had been in his fair share of bad relationships that had led him to accept living a hermit's life. They both decided to give it one more shot and made the swipe that would change their lives.
It was love at first sight and the two bonded over geek fandom right off the bat. Their first date was for breakfast, and although Suzzana, who is notoriously late and did not disappoint in that regard, and James, who is an hour early for everything, shared bacon together. Their love for books, especially that of the magical variety, Harry Potter became an instant connecting force as they strolled through Bookman's for hours on that first day.
No love story could be written however, unless the three teenagers approved of the main characters' love story. Over the following months, the kids were won over by James despite his 'dad joke' like wit and the kids in turn made themselves a spot in James' heart.
Even though the two spent every chance they could together, Suzzana's life across town with three kids kept them apart and made them soon realize that living apart would never be enough. After five months they took the leap and combined their homes with James joining the bustling Acevedo household. Life was never the same for either of them again as James inherited three wonderful teenagers and Suzzana got herself an often grumpy old man and small kitten. By the time James popped the question on May 19th the old man was less grumpy and the kitten was a fat cat but the house was no less bustling.
Suzzana and James look forward to spending a magical evening with their friends and families and more over, a fabulous life together!