The Wedding
Saturday, November 20, 2021
7:00 PM - 1:00 AM
Attire: Black tie optional
Ceremony and Reception
Houston Museum of Natural Science
5555 Hermann Park Drive, Houston, TX, 77030
We're married! Please join us for our celebration on November 20, 2021 in Houston, Texas. Both the ceremony and celebrations will take place at the Houston Museum of Natural Science. Parking at the museum's garage is complimentary. After parking, take the elevator down to the first floor and then cross the walkway to the museum itself. Upon your arrival, enter the museum through the gift shop. Then having entered the main hall, proceed to follow the signs to the Morian Hall of Paleontology/ Sydney and Axel's wedding.  The wedding ceremony will take place upstairs at the Overlook above the Hall of Paleontology. Drinks, dinner, and dancing to follow at the reception below in the Hall of Paleontology. We are so thrilled to be celebrating the start of our marriage with our loving friends and families. Get ready to party like it's 190,000,099 BC!
Our Story
Sydney and Axel
Sydney and Axel met at their very first college party-- of all things, a foam party-- at the University of Texas at Austin in September 2011. Despite being ridiculously dressed in an absurd amount of neon and as a haute chef, respectively, Sydney and Axel somehow found one another in a sea of bubbles and bumbling college freshmen. They became inseparable shortly after and began dating after almost two years of close friendship and eating late night chocolate chip pancakes at Kerbey Lane. While totally different on paper, as a couple, they quickly discovered their shared, deep love of family, trying new things, adventure, and animals. After college, Sydney and Axel moved to Houston together to take on adulting side-by-side. Since then, Axel has put up with constant chatter about Harry Potter (because some things never change) and the Federal Rules of Evidence (because law school is all-consuming), while Sydney has endured a staggering number of sports games (because somethings never change) and pretending she understands Excel forecasting models (because finance is finicky). They have created countless, increasingly goofy couple costumes. They have traveled to over seven states and five countries and have a bad habit of planning their next trip while still on a trip. They have adopted two purrfect, precious felines who they feed far too many treats but who they can never give enough pets. Over the past seven years, they have grown in love and laughter and look forward to the next seventy-seven years together.
P.S. Sydney and Axel regret that their biggest party of all, the wedding, cannot also be a foam party, but hope you will join them at the Houston Museum of Natural Science. More details to come!
The Proposal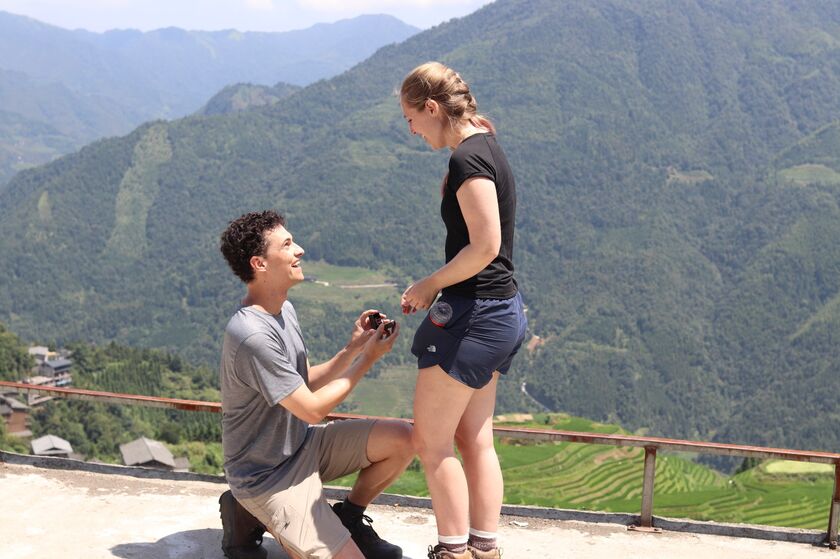 In March 2019, Sydney and Axel agreed to travel halfway across the world to visit Axel's best friend, Travis, in China. After watching a BBC nature documentary, Sydney suggested they visit China's world-famous rice terraces. Axel decided to make those dreams come true and booked a guided hike of the rice terraces and the nearby villages in the mountains of the Guangxi province. The rice terraces, cultivated by local farmers for over 600 years, uniquely represent the beauty, history, and industriousness of China.
Ready to go in her trusty hiking boots, Sydney was awed upon their arrival at the rice terraces. The trail winded through the ridges of the terraces and the villages, and the weather was unbelievably beautiful with clear skies and a light breeze. It was better than she dreamed-- little did she know that Axel was about to make another of her dreams come true. At the end of a two-hour hike along the Dragon's Backbone, Axel suggested they take a photo together with the phenomenal scenery. Mid-photo, Axel knelt down and asked Sydney to marry him. Totally surprised, she said yes, and the two snuggled up to enjoy the incredible view, suddenly even better than ever.
Wedding Party
Elizabeth Upenieks - Maid of Honor
Grace Klein Beardmore - Matron of Honor
Megan Ziegler - Bridesmaid
Melissa Story - Bridesmaid
Sara Bratcher - Bridesmaid
Sydney Hynes - Sydney of Honor
Andrew Reed - Ring Bearer
Matthew Gomez - Groomsman
Gunnar Swanson - Best Man
James Bramlett - Groomsman
Justin Chairez - Groomsman
Matthew Grotzinger - Groomsman
Travis French - Groomsman
Tyler Reitanga - Groomsman
Keira Swanson - Flower Girl