Bengali Wedding Rituals
Indian weddings are full of traditions. These traditions vary across different regions of India. Since both of us come from the state of Bengal, we will follow the traditions of a Bengali Hindu wedding. It comprises of a series of elaborate rituals. We have listed a few of them below:
Adhibash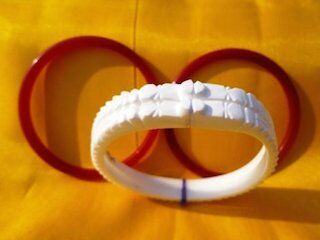 This is a first ceremony that takes place on the eve of the marriage day. Seven married ladies adorn the bride's hands with the traditional bangles: one pair of Shakha (made from a white conch-shell) and another pair of Pola (made from red corals). Shakha and Pola signify blessings for good health and prosperity.
Nandi Mukh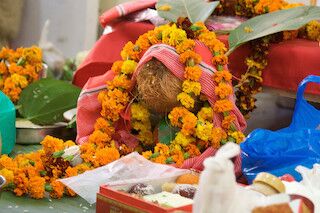 At this ceremony, the priest or the eldest male family member pays tribute to the deceased ancestors through an elaborate pooja ritual, requesting their holy spirits to bless the couple to-be.
Gaye Holud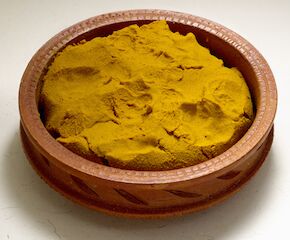 This is a ceremony on the wedding day morning, where a group of five to seven ladies apply turmeric paste on the bride and the groom's skin separately at their places.
Bor Boron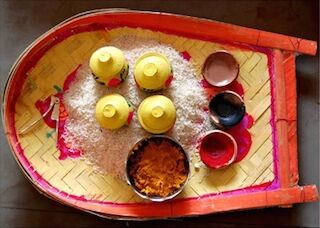 When the groom along with his family reaches the bride's place, the mother of the bride along with other members welcome the groom and his family with the holy earthen lamp, sprinkling trefoil, and husked rice placed on a bamboo winnow (kula). They are then served with sweets and drinks.
Saat Paak & Shubho Dristi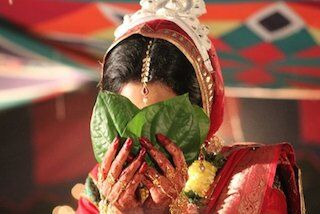 In Saat Paak (literally meaning seven rounds) the groom remains seated on a 'peeri' (wooden plank), while the bride covers her face with a betel leaf and is carried by her brothers on a 'peeri' to encircle the groom seven times, before being face to face with him for the 'Shubho Drishti' ('auspicious sight').
Mala Badal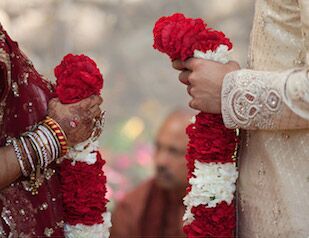 After 'Saat Paak', the bride exchanges garlands of fragrant flowers with the groom for three times, marking the first step in which they accept each other.
Yagna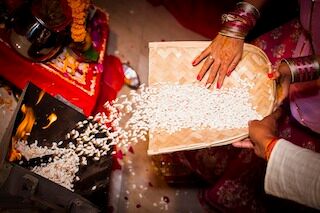 During Yagna, the bride and groom sit in front of the holy fire and recites mantras after the priest. This signifies that the fire God is witness to the marriage. The groom also takes the bride palms in his and offers khoi (popped rice) to the scared fire.
Saptapadi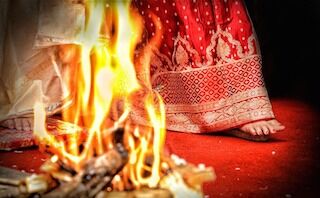 Saptapadi "seven steps or circumambulations" in English. During Saptapadi, the couple takes seven rounds around the fire, while reciting marriage vows.

Sindoor Daan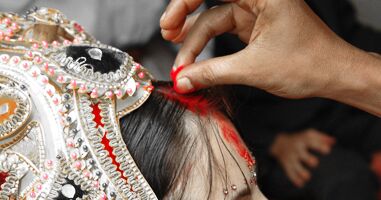 The wedding rituals is completed by sindoor daan. Here the the groom applies sindoor or vermilion to the bride's hair-parting.
Bidaay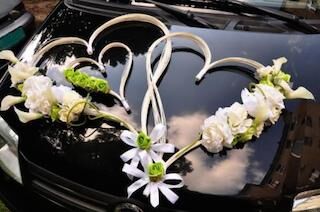 This ceremony marks the departure of the bride and groom. This is a mixed moment of joy and sorrow as the bride bids farewell to her parents and relatives to start a new life.
Bou Bhaat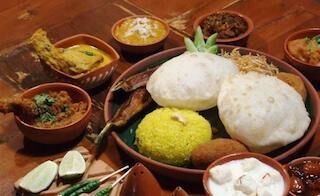 The second day of the bride at her new home is celebrated as Bou Bhaat as on this day,she serves Rice with Ghee to all her in-laws at lunch.