The Wedding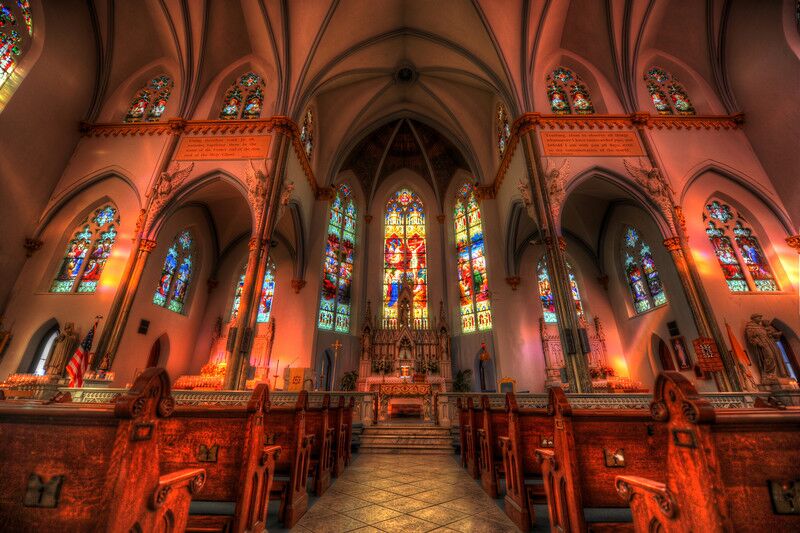 Saturday, May 19, 2018
1:45 PM
Attire: Formal
Ceremony
Basilica of The Immaculate Conception
121 E Duval St, Jacksonville, FL 32202, USA
Reception
The Reception
The Florida Yacht Club

5210 Yacht Club Rd, Jacksonville, FL 32210, USA
Cocktail Hour will be held at 5:00pm followed immediately by the Reception - Dinner, Dancing, and Open Bar!
Our Story
How We Met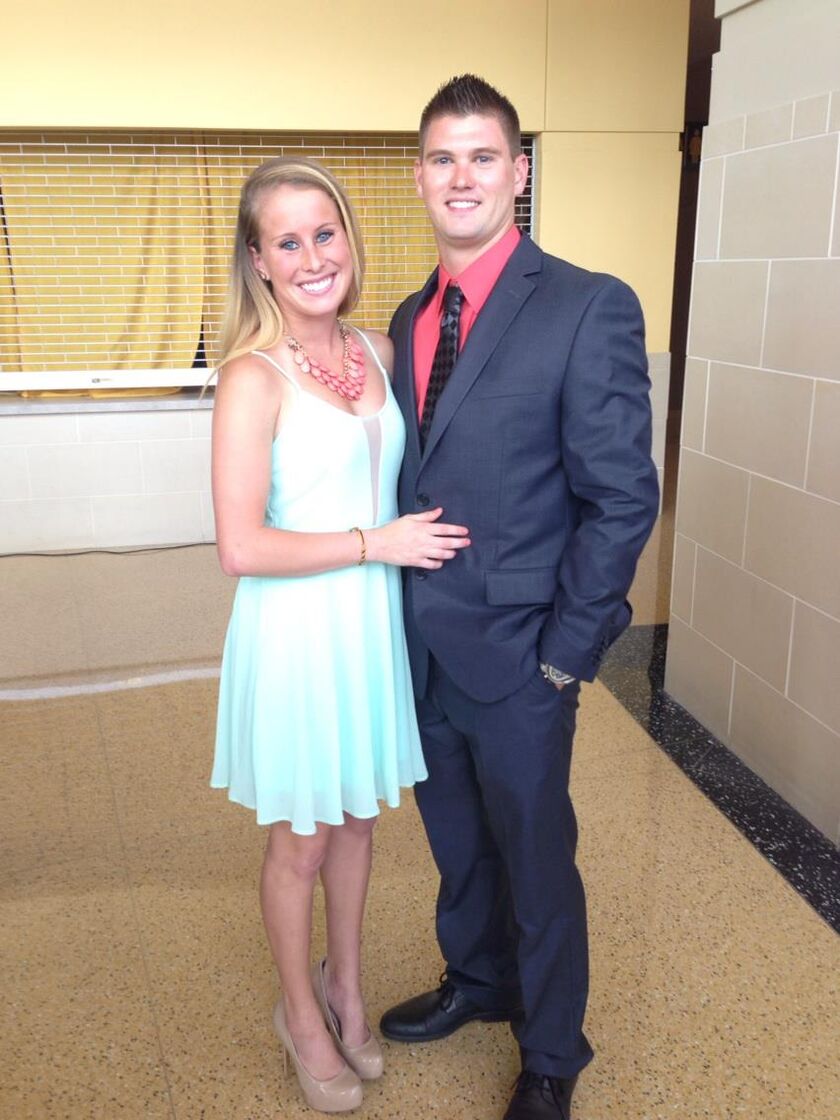 Tyler and Teresa met in college at UCF back in 2012 when they were both members of athletics. Teresa was on the Track & Cross Country Team while Tyler was a UCF Cheerleader. They met through mutual friends on the Cheer Team. On October 21st, 2013, while vacationing in Amelia Island, Tyler asked Teresa to be his girlfriend.
The Proposal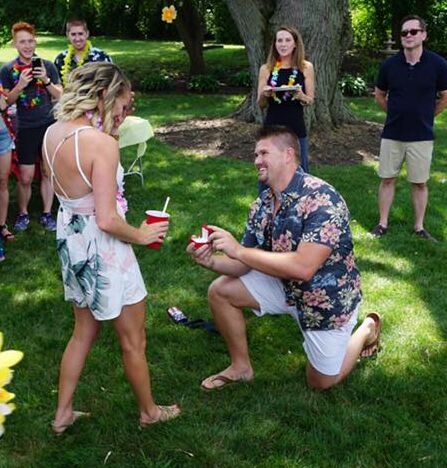 Tyler proposed in Glen Ellyn, IL in the backyard of her Grandfather's home where the family threw a Pre - Jimmy Buffett concert party. With family and friends gathered around, Tyler got down on one knee to ask Teresa to marry him. She said YES!!
Wedding Party
Katie Norris - Maid of Honor
Katie and I have been best friends since I joined the High School Cross Country Team in 2007. We have been inseparable ever since. We became life-long friends by sharing a great passion for running, gossiping, beach trips, and spontaneous adventures around town. Although we attended different colleges, we have always stayed in touch and supported each other along the way. Katie is my second half and I couldn't fathom my life without her! There is no one in the world that could replace her as my Best Friend and Maid of Honor.
Bethany Huff - Sister of Honor
Bethany is my middle sister. We have grown from family to best friends over the past few years. We have bonded over our UCF spirit and she has been very supporting of Tyler and I throughout our relationship. I can always count on Bethany to give me her honest, unbiased opinion to help me make decisions in life. I have always admired her confidence and free-spirit. I am thrilled to have her by my side in life and as my bridesmaid!
Anna Huff - Sister of Honor
Anna is my little sister! Although I still picture her as a 5 year old little girl, it has been so awesome to watch her grow up. Anna has been an amazing "puppy-Aunt" to my my dog Daisy. Growing up, we bonded over our love for playing Nancy Drew and Zelda games together. I will always cherish the small moments and I am thrilled to be able to create more special memories together.
Kristin Hansen - Bridesmaid
Kristin is Tyler's only sister and soon to be my sister-in-law! I never thought I would want another sister until I met Kristin. We share a love for the Jags, Jagar-bombs, and I guess her brother...? ( LOL ). Kristin is the most kind hearted and loving person I think I have ever met. I always said when Tyler and I decide to have children, I hope I have a girl that is just like her. :-) I am so excited and blessed to gain another sister!
Kellie Pitocco - Bridesmaid
Kellie is my cousin by blood but she is my friend by choice. We have always been close since birth and even closer now that we have the freedom to see each other more often. Kellie's love for Disney, fashion, and classic music and movies has glued our friendship together at the heart. Although distance separates us, you would never know when we are together. I wouldn't have my wedding any other way than to have her by my side.
Katie Pitocco - Bridesmaid
Katie is my spontaneous & care-free cousin, & Kellie's Oldest sister. Growing up, I always looked to Katie as the "cool older cousin". From Abercrombie boy clothes, to sneaking booze at family reunions, we have shared a lot of laugh-attack moments. Cincinnati has become a second home to me as Katie, along with her Boyfriend Drew, have opened their home to Tyler and I over the past few years. I look forward to her being by my side and helping to create many more lasting memories to look back on for years to come!
Alessia McShane - Jr. Bridesmaid
Alessia is one of my "little" cousins who isn't so little anymore. She has come into her own and I am convinced she is way more mature than I am! I am blessed to have Alessia by my side as my Junior Bridesmaid.
Fiora McShane - Flower Girl
Fiora is the youngest cousin of mine. Her spunk and overjoyed love for life is inspiring. I can see the determination and innocence in her eyes with a smile that would turn anyone's day around :)
Jeremy Lallis - Best Man
Jeremy is the older brother I never had. We met my freshmen year of college at a party he was throwing for some mutual friends. Although he was a couple years ahead of me and thought I was extremely annoying (which I'm sure i was) he took me under his wing and welcomed me into his wild friends group which really shaped me into the person I am today. Jeremy has been there for me through the thick and thin and has really evolved into the older brother figure I view him as today
lukas Kangas - Groomsman
Lukas is probably the smartest guy I know and also one of my closest friends. I met Lukas by accident when i was looking for a new place to live after my first year out of college. As luck would have it, Lukas moved into the house around the same time I had to join along with my other Groomsman, Sean. Our friendship grew as Lukas showed me how to live life a little more frugal with a lot more care-free fun. Now we are neighbors living in the same neighborhood. Whether I need to run errands, get financial or logical advice, or a helping hand on a project around the house, Lukas is always there without any question, complaint, or excuse. Lukas is a great guy but an even greater friend.
Sean Hughes - Groomsman
I feel I have known Sean for almost as long as I have known Jeremy. Sean and I became close friends when I moved in with him and Lukas after I had graduated college. Sean and I developed a great and lasting friendship that has grown even stronger since meeting a great girl named Kay. The four of us developed a close friendship that landed Sean and his, now wife, Kay, to move down the street from us as well. Both have been very supportive and willing to stop everything to help if we need it, especially when it comes to helping out with our 3 dogs. Whether I just need someone to vent to, need a workout partner, or have any technology questions, Sean is there for me.
Jared LaMarca - Groomsman
I have known Jared the longest out of the bunch. He was one of the first people I met when I went to College and we also cheered together on the UCF Cheer team for 4 years. Funny part is Jared and I did not like each other initially. I'm not sure why (he probably thought I talked too much and was annoying). We quickly got over our differences when we moved in together our last few years of College and that's when we became best friends. Jared is the type of friend where we can pick up conversation right where we left off as if nothing in life has changed. Our friendship has always been strong but it has grown even stronger as we began to develop and share similar hobbies in building boats and other odds and end projects that keep us busy. Jared has played a major part in my life and always will.
Jake Serre - Groomsman
Jake was also one of my teammates from the UCF Cheer Team. Jake and I were friends on the team but it wasn't until after College that we really began to really hang out and become really good buddies. Jake and I share similar interests when it comes to our Jeeps, kicking back at the beach, or finding a good concert to attend. Jake really never has anything negative to say, always has a smile on his face, and makes the best out of life, and cracks a few "dad-jokes" every once in a while. If my group of friends were a bucket of hot-peppers, Jake would be the more mild one out of the bunch because he always seems to keep his cool (something I should mimic more often). I'm thankful our friendship has grown over the last few years and I am happy to have him by my side.
Drew Sweeney - Groomsman
Drew and I have more recently became close "Bros". I met Drew through Teresa's cousin, and Bridesmaid, Katie. Drew, living in Cincinnati has kept our friendship distant by miles but there is no doubt we are planning up the next trip to hang out somewhere. Meeting your future spouse's family isn't something that you're always going to connect with initially but Drew was the exception. Over the years, our friendship has grown closer and hopefully soon enough we might try and all live closer. Until then I am happy to have Drew be apart of this entire experience and welcome him along side me and my "Florida" friends!
Kage Novotny - Ring Bearer
Kage is Teresa's cousin, son of Chayne and Trevor Novotny.
We are so thrilled to have Kage as our handsome Ring Bearer!